Jessica Joly is Marketing Director for Sake Discoveries, a New York-based company spreading sake awareness through events, branding, and education. Soon after being recognized as the first Miss Sake USA (2016), Jessica created an evening event called "Soul of Sake" that has brought sake to new audiences and she continues to promote sake in new and creative ways. In Part 2 of our interview with Jessica, we talk about her experience in the sake industry.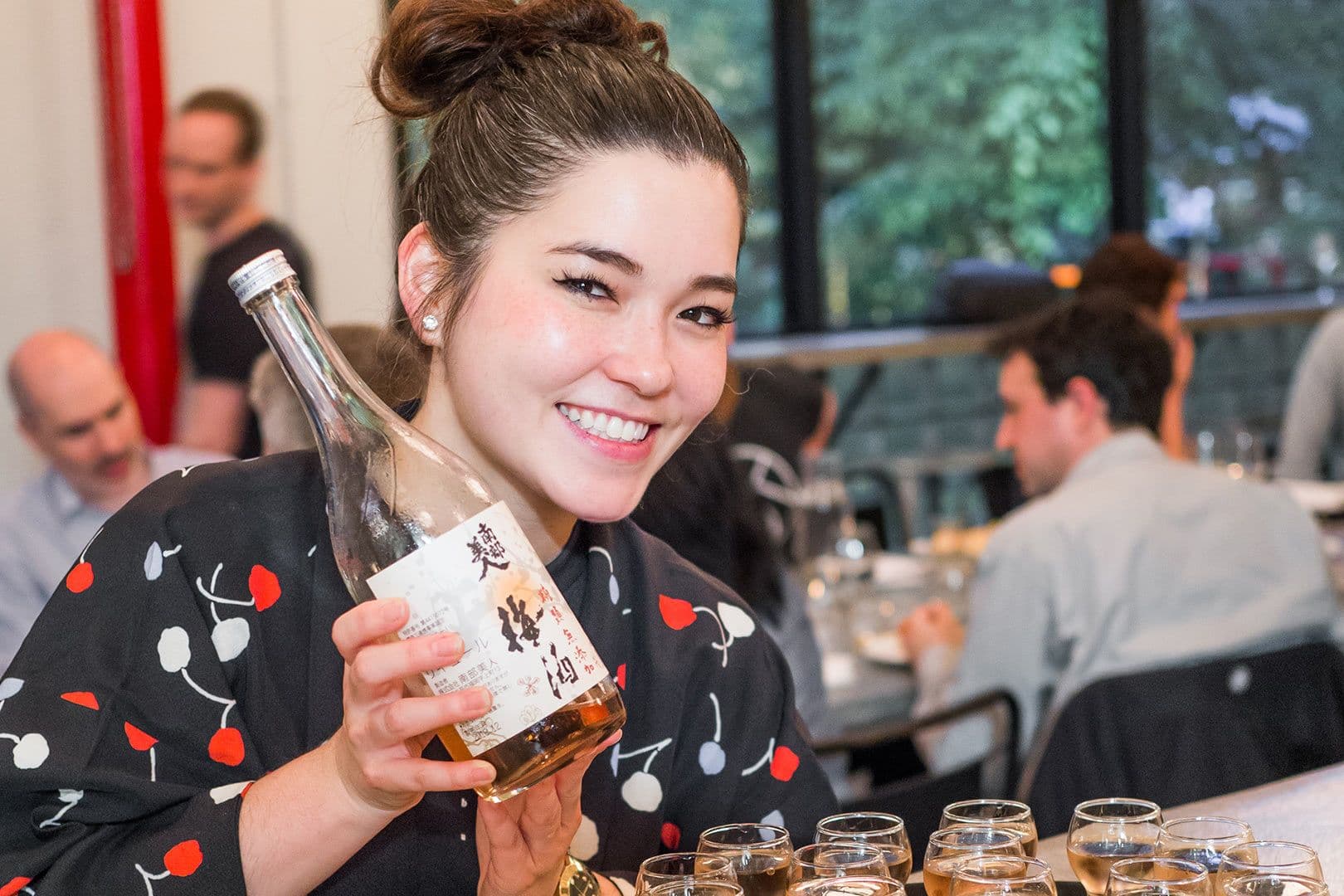 LA: We love following your adventures on Instagram. You really help make sake more approachable and fun. How were you first introduced to sake?
JESSICA: Funny enough, it was in college. I went to college here in New York City and studied fashion at F.I.T., and like anybody else, I had to make money. So I got a job as a bartender at a Japanese restaurant called Soba Totto. Being Japanese and American, even if I'd lived in Japan, I had never been exposed to sake; also, I had just turned 21. But the manager told me I needed to learn about sake since it was an authentic Japanese restaurant. They gave me one daiginjo sake and I was like, "This is sake? It tastes so good!" So that was the first moment and the rest is history.
LA: Was it at that moment you decided to formally pursue a career in sake?
JESSICA: At that time, I was meeting people in the industry through bartending. I went to expos, trade shows, and Sake 101 lectures. I kept it as a hobby and didn't really pursue anything until a few years later in 2015. I thought that being a young female in this male-dominated industry is really tough because they don't take you seriously. Your voice isn't really heard. That was something I encountered. But I was serious about this and I wanted to do something to further my career. I took the Sake School of America Kikisake-shi Certification, and that led to other things like meeting Timothy Sullivan and Chizuko-san, both of whom are definitely pioneers in the industry.
LA: Chizuko-san is the CEO for Sake Discoveries, right? That's interesting to learn that women also experience these obstacles in the sake industry.
JESSICA: That's why having those accreditations should be a backbone for you, and having mentors like Tim and Chizu is really helpful. Miss Sake has become more of an ambassador program. People have said to me, "Wow, you're doing so well for the millenials, the new generation," and I think things have definitely shifted from when I started a few years ago.
LA: That's really inspiring. I'm sure that some of our female sake enthusiasts who are thinking about becoming certified sake somms will appreciate hearing your insight. What's a typical day like for you?
JESSICA: Day to day can be different but on a typical day, I answer emails, coordinate social media posts—one of the biggest things for our company right now—just really be on top of those Facebook and Instagram posts, whether it's a story or an actual post, because the customers we're trying to attract is engaged in all those outlets. It's really important to capture that kind of attention because it creates buzz, people post about it, even just hashtags and good photos. We deal a lot with restaurants so we want to make sure we're promoting them and the clients who are coming. That's quite a lot of work and something that we really focus on building.
The afternoons are usually tastings and meetings, and coordinating events with restaurants. A lot of times, we're out in the market. It might be us going to restaurants to make appointments with beverage directors and managers and saying, "We want to push this event next month. How can we coordinate that?"
And in the evening, it's quite possible that we're hosting an event because peak dining time is dinner, not lunch, when it comes to sake. We're either hosting or attending a dinner to check-in and support the restaurant. Our days run from morning to night, and the busiest times for us is definitely evening.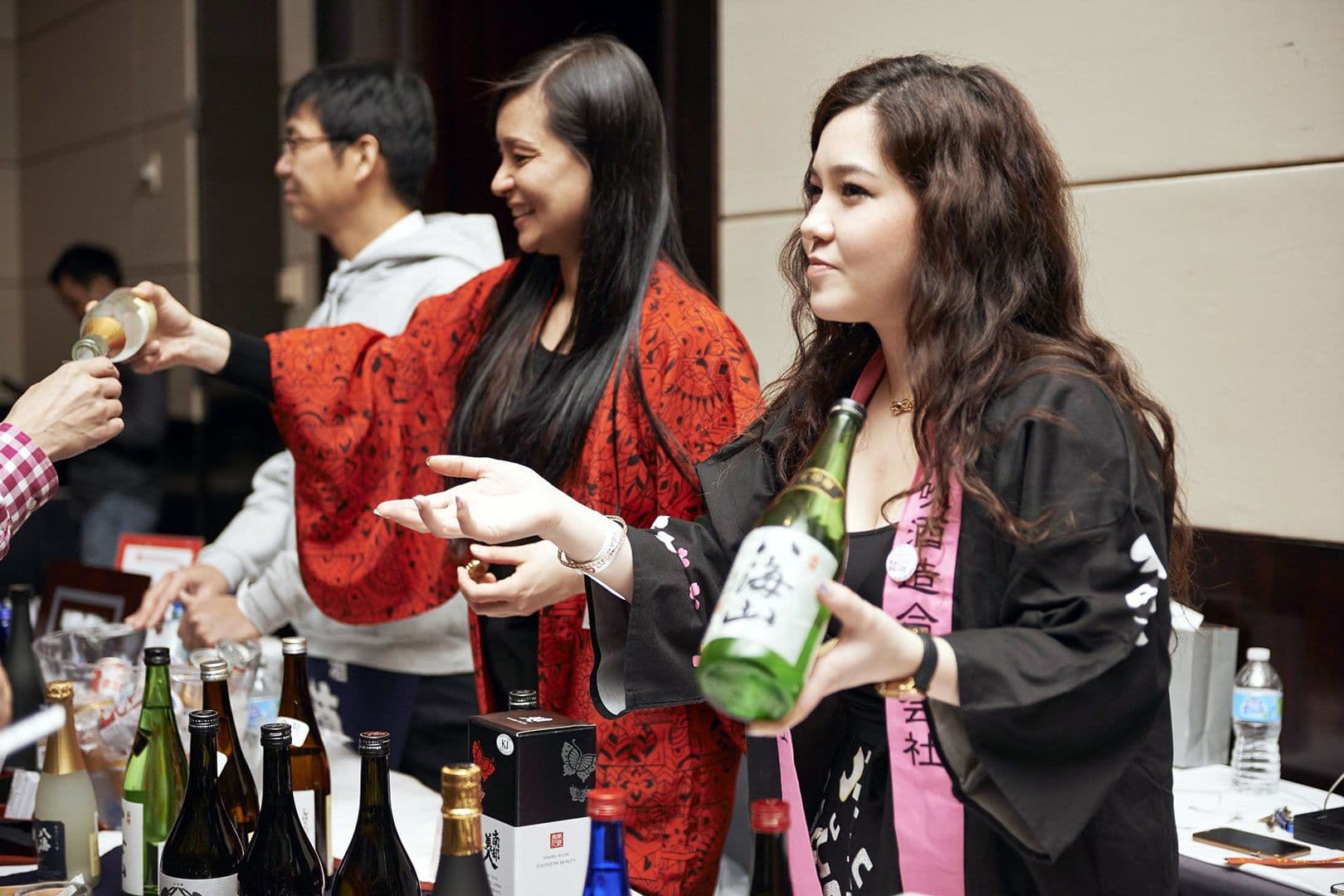 LA: How do restaurants approach you for the first time? Do they say, "We're interested in experimenting with sake. Can you recommend bottles to us?"
JESSICA: There's kind of two patterns: One is they've heard of us and want to put together a pairing or tasting event to promote the business. The second is restaurants who have no idea about sake. There's a lot of new restaurants we consult on that ask to help build the beverage program, and that extends all the way from staff training to operations, to really building the menu and service flow. It could take anywhere from a week to three months, you know, depending on the restaurant's stage during the opening. Many times, the opening is most important because you're setting that example. Whether it's a ramen restaurant or izakaya, we work with a lot of restaurants on their opening to help build their portfolio.
LA: What I imagine, when you consult on a restaurant, is an amazing spread of food and you get to chow down! What's your favorite part about working with restaurants?
JESSICA: (Laughs) My favorite part is the first meeting. It's rare that someone just reaches out to us by email, it's usually through someone they know. The most exciting thing is hearing the concept because it's really what ties the food and drink together. A lot of people don't realize that, yes, there's a great chef and a beautiful concept, but there's only so much that a customer can eat, right? The extra sales ties into the beverage. If you have a strong program, it ties in to guests spending more, and it's not just buying one glass of beer or a cocktail, it's having one glass of sake and then saying, "Oh, I want a carafe to share." And that leads to them becoming repeaters because it's about the experience, so it's not just about the food, but also about the beverage and obviously, the service.
I think what makes us really unique is that Sake Discoveries is not a distributor. We are PR. With the PR aspect, we're willing to train the staff and really focus on service, so it's about attention to detail in terms of the restaurant's needs, and how we can promote the breweries and our products in terms of sake. It's really a win-win.
LA: There are a lot of sake consultants but there aren't really a lot of duos or teams doing what you and Chizuko-san do. What are one or two of the training points you emphasize in your staff training?
JESSICA: For staff, "Trust your palate" and "Palate is subjective." It's really about hearing the voice of your customer. Don't assume that they won't drink sake. Don't create that barrier. As soon as they sit down, say, "How can I assist you? What kind of flavor profiles do you like? Are you a cocktail drinker, or whiskey drinker?" Most of the time, they've never had sake, but asking those questions helps servers guide them through the sake list. It's really about opening the door and making the customer feel comfortable with you.
LA: Right!
JESSICA: And being confident! Staff education and training ties into confidence which ties back to sales, and that's gonna move business, which also turns into tips for the servers. In a sense, it's this circle, and I can't stress that enough. Sometimes, business owners think that things are gonna move itself, but the truth is, it doesn't. Having a team that supports and believes in the products they're serving is what makes those sales.
LA: What advice would you give to females looking to break into the sake world?
JESSICA: I think one of the best advice is to have an open mind. Expand your palate because the palate is so sensitive and it's always evolving. Maybe your palate has become more sophisticated, or maybe you've changed and it's really about being aware of that. Nobody becomes a sake sommelier by saying, "I never tried any of these, I just know from reading books." It doesn't work that way. Not just saying, "I only eat Japanese food," but saying, "I totally think that this taco with lamb and cilantro is gonna be great with this sake because I can just imagine it."
LA: Excellent advice. Thanks, Jessica!
This interview was shortened and edited for clarity.
Jessica Joly is the inaugural Miss Sake USA, International Sake Sommelier by SSI and WSET Sake and the Marketing Director for Sake Discoveries. Enjoy her sake selections and oysters at Soul of Sake Happy Hour, every Monday from 6-8pm at Sakamai NYC.