Growing up, I had the impression that cheese and pepperoni slices were just common go-to snacks that parents would toss into their kids' lunchboxes. I didn't realize until many years later when I attended my first wine festival that there was so much more to cheese than lunchables. Cheese is, in fact, a very sophisticated snack and once I discovered this, there was no turning back!
From string cheese to sandwich slices, pasta and salad toppings, to melty fillings and fondue, cheese can be enjoyed in many forms and settings, just like sake. One of my favorite ways to consume cheese takes the form of the ultimate appetizer—a charcuterie board—and every so often, especially these days when we're not able to dine in restaurants, I entertain myself with a mini version for one (or two, if it's date night).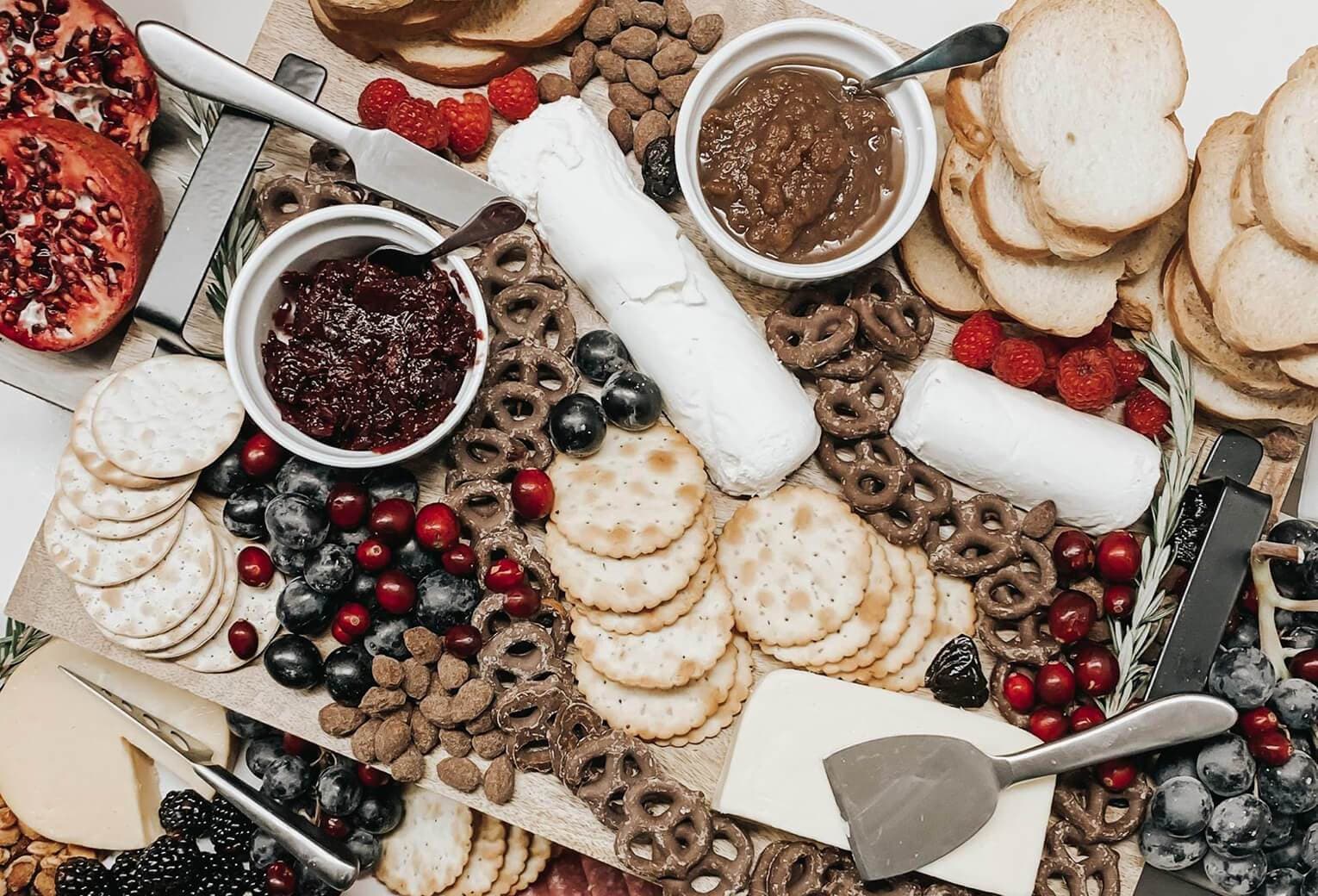 Wine and cheese are familiar partners, so I thought I might try some of my favorite cheeses with a glass of premium sake. Luckily, we were able to get a bottle of HEAVENSAKE "Junmai Daiginjo" (2020 IWC Gold Winner) and Izumo Fuji "Ancient Shrine" before the holiday rush. The juxtaposition of these two sake was intentional. HEAVENSAKE, presented in a dark, sleek and slender bottle is a modern brew and built on a collaboration between a renowned French wine maker and globally-popular Dassai. We tried this sake first, slightly chilled, and found it to be exceptionally smooth and aromatic. Dassai is known for smooth, almost cocktail-like sake, and we enjoyed it with brie, parmesan and fruit. For a Christmas dinner idea, I think this would go perfectly with a glazed ham.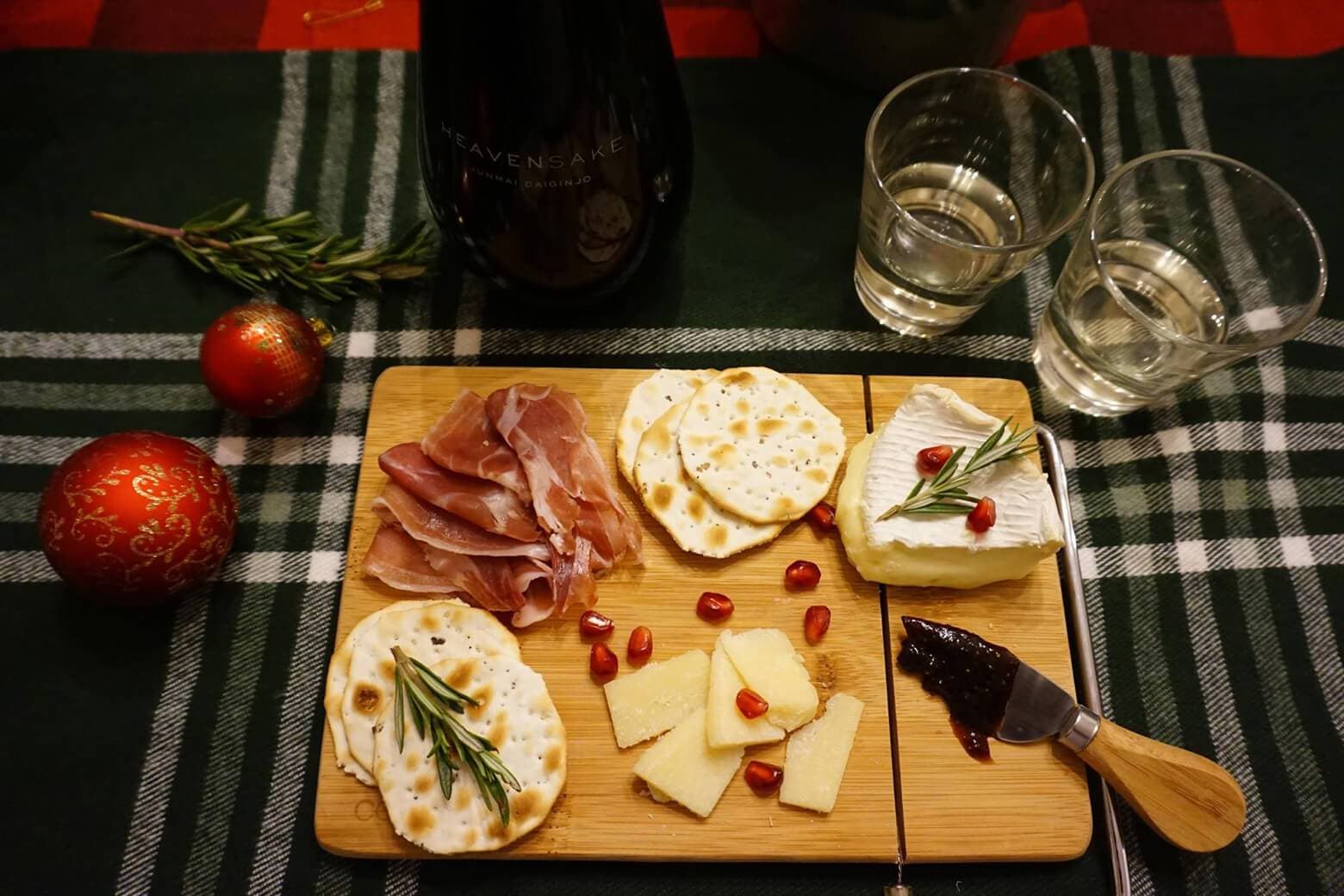 "Ancient Shrine," on the other hand, is brewed using very traditional methods. We tried this sake at room temperature and I was completely charmed by the depth of flavor. How do the brewers accomplish such a richness in spite of its dry profile? This sake was a good fit for the strong flavor of gorgonzola, a type of blue cheese. I am eager to try it warm with grilled scallops over hot coals or with a spicy lamb dish.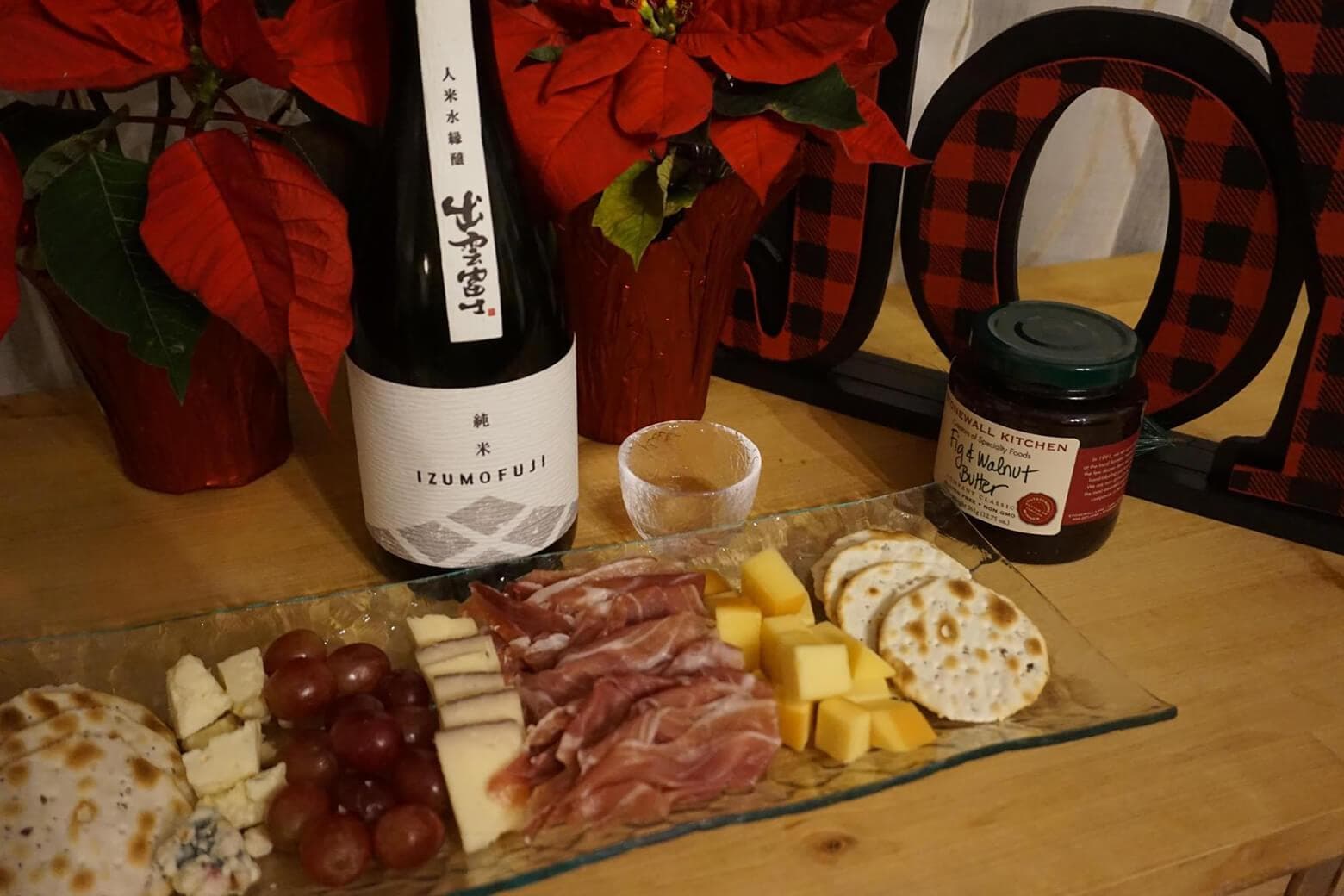 Assembling a sake-friendly charcuterie board
There are so many charcuterie board ideas (hot chocolate-themed ones are trending this year!), you really can't go wrong. Whether it's made of budget-friendly ingredients or more selective specialty foods, you can play with shapes, colors, textures and tastes to suit your liking and feed your family and friends. If this is your first time, don't get overwhelmed. Start with what you like, then add more layers as you become more comfortable with new ingredients.
Here are three simple steps to arranging a charcuterie board:
1. Choose your board. You can use any clean cutting board you have at home, or try different materials and shapes for a change of pace. Glass, marble and granite give a more urban and modern look, and wood and galvanized tin make for a homey feel.
2. Choose your ingredients. Cured, sliced meats and cheeses, a mix of fruit, nuts, olives, crackers and small breads typically make up a charcuterie board. I also like to keep in mind the sake pairing. For example: I tend to avoid pickled ingredients with an aromatic, fruity daiginjo. Tippsy has lots of helpful guides for beginners and ideas for food pairings; these are suggestions, not hard fast rules, so go with what you like!
And how much cheese should be on hand? As an appetizer, 2 ounces of cheese per person is ideal, and as a main dish, around 4 ounces per person should be sufficient. Cheeses and meats presented in odd numbers look great on the board, and for the accompaniments, consider offering a range of flavors and textures—sweet or salty nuts, crispy or chewy fruit and habanero jellies for a spicy kick!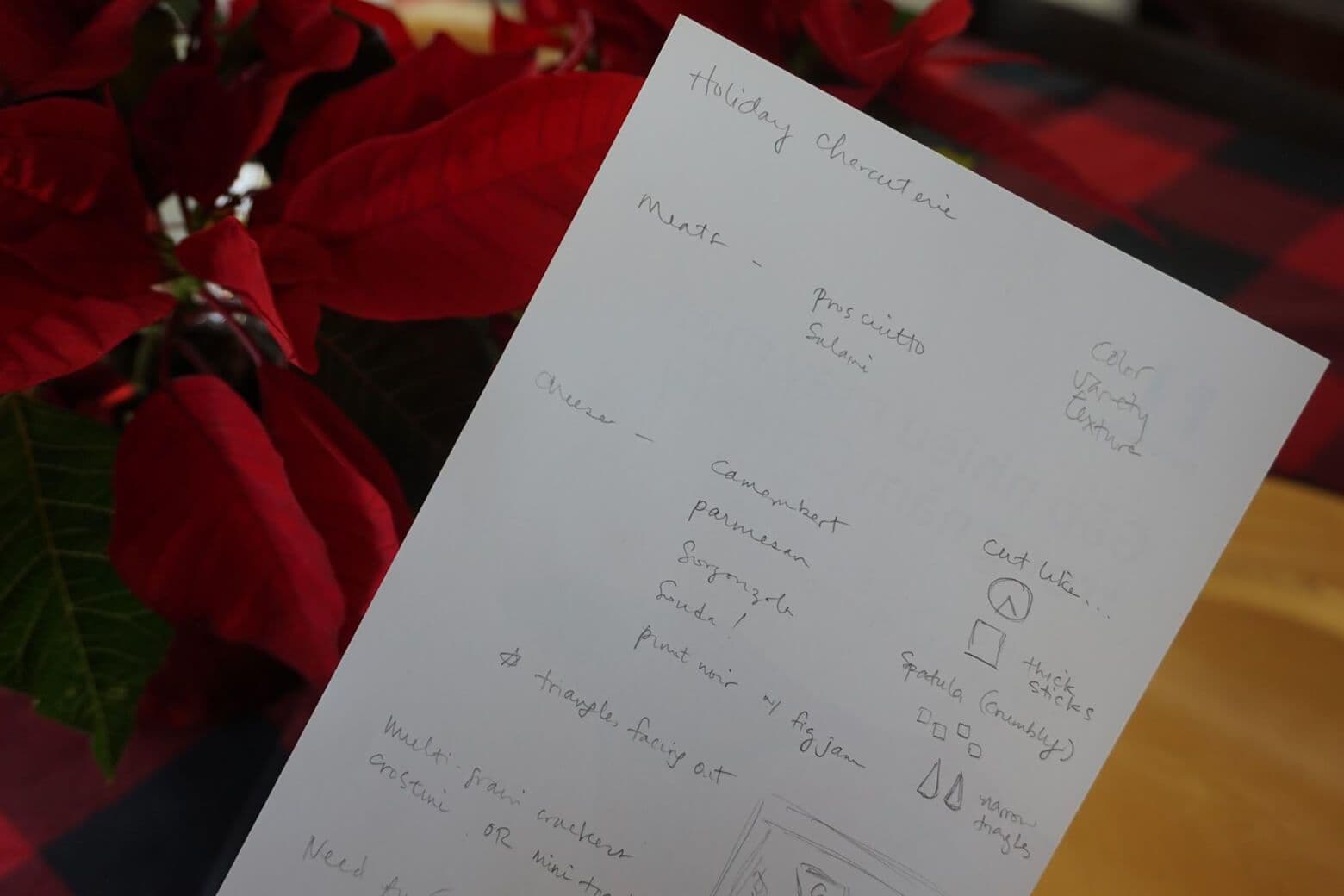 3. Start arranging! Once the ingredients are washed and prepared, here comes the fun part! Some like to start by anchoring the board with small bowls of jellies or spreads and others with a centerpiece like a bunch of grapes or prosciutto. I usually begin with the largest or most unique block of cheese first, and try to avoid putting too much of the same shades in one corner. Bright colors invite the eye to "travel" along the board, enticing the onlooker to taste the experience.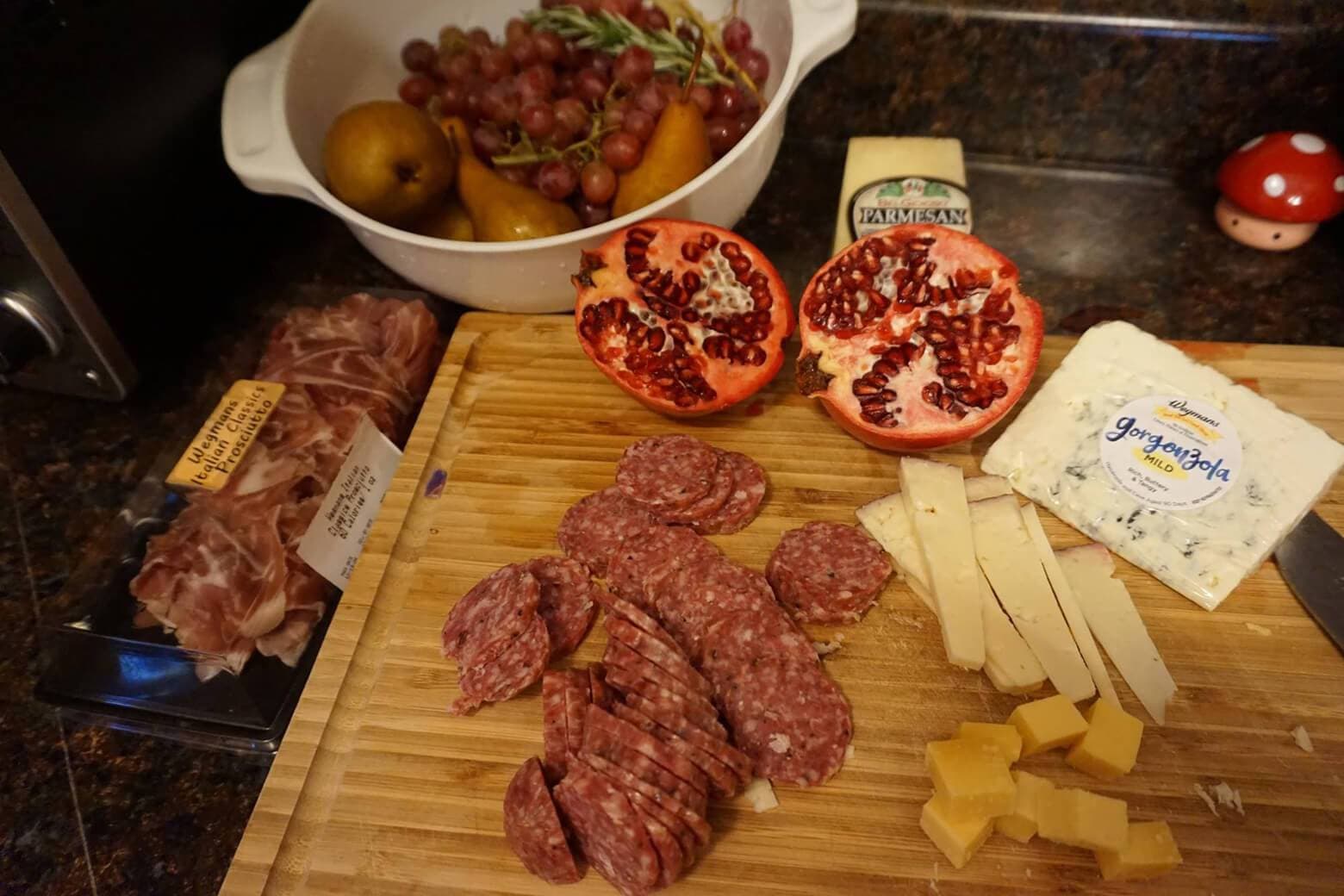 That's it! There's no strict regimen here, just let your senses be your guide. Think of the charcuterie board as a painting or a little room that you can design. The most important thing is to impart a feeling of abundance and a rich harvest of colors and variety.
How do you like to make your charcuterie board? Let us know at #tippsysake! Happy Holidays from Team Tippsy!