Here we are, 2021! Although we're still figuring out a lot, the new year brings a sense of relief and excitement that we might one day soon be able to reconnect and start anew. Could this be the year we fall back in love—with our lives, our homes and our work?
One of the things that draws me to Japanese sake is the love affair that exists within the kura (brewery) for their craft. The kurabito work very long hours for several months out of the year, and in many ways, they are isolated, focused on the sake that will connect them and the heart of Japan to the world.
Of the sake I've tasted so far, regardless of whether or not that particular brew became a favorite, the mystery and adventure that comes with each bottle is an experience unlike any other. Each bottle is a possible romance, a fling that goes with the season's end or a deep affection that never dies. Sometimes, the flavors that I thought would occur are completely different from the aroma on the nose! Yet, isn't it the unexpected that makes a great love story?
For those of us looking for Valentine's Day gifts, here are some interesting sake picks to go with chocolate et. al. But first! A haiku just for our Tippsy readers <3, courtesy of my darling sister with whom I shared many misadventures in love!
Aroma soft, strong
Lifting your lips to meet mine
Drink in the journey
Sake and chocolate
Jinyu "100 Poems"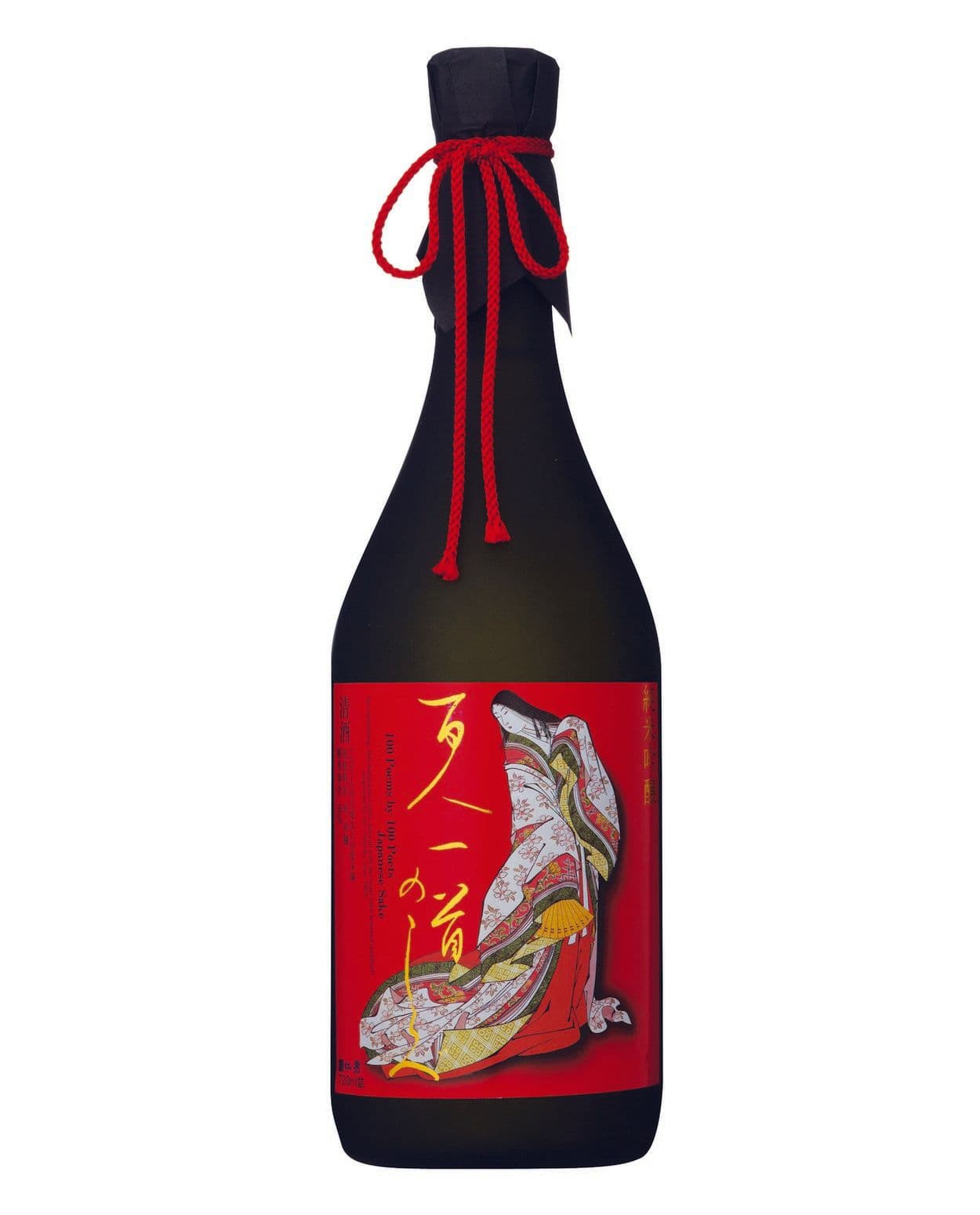 The poetess Ono no Komachi, after whom this sake is named, was known all over the land as an amazing poet and the "standard" for beauty. What a compliment! The bottle is beautifully designed with a matte black finish and a bright red label featuring the poetess wrapped in several layers of kimono, which represented wealth and status in the Heian Period. I'd recommend it as a fitting gift for a host, birthday celebrant or "meet-the-parents" kind of occasion.
This sake gave me an impression of indulgence, so I paired it with lots of dark chocolate dessert and cookies. "100 poems" can be warmed, but I think it's best at room temperature or slightly chilled. I'd love to try this with some melted chocolate, too.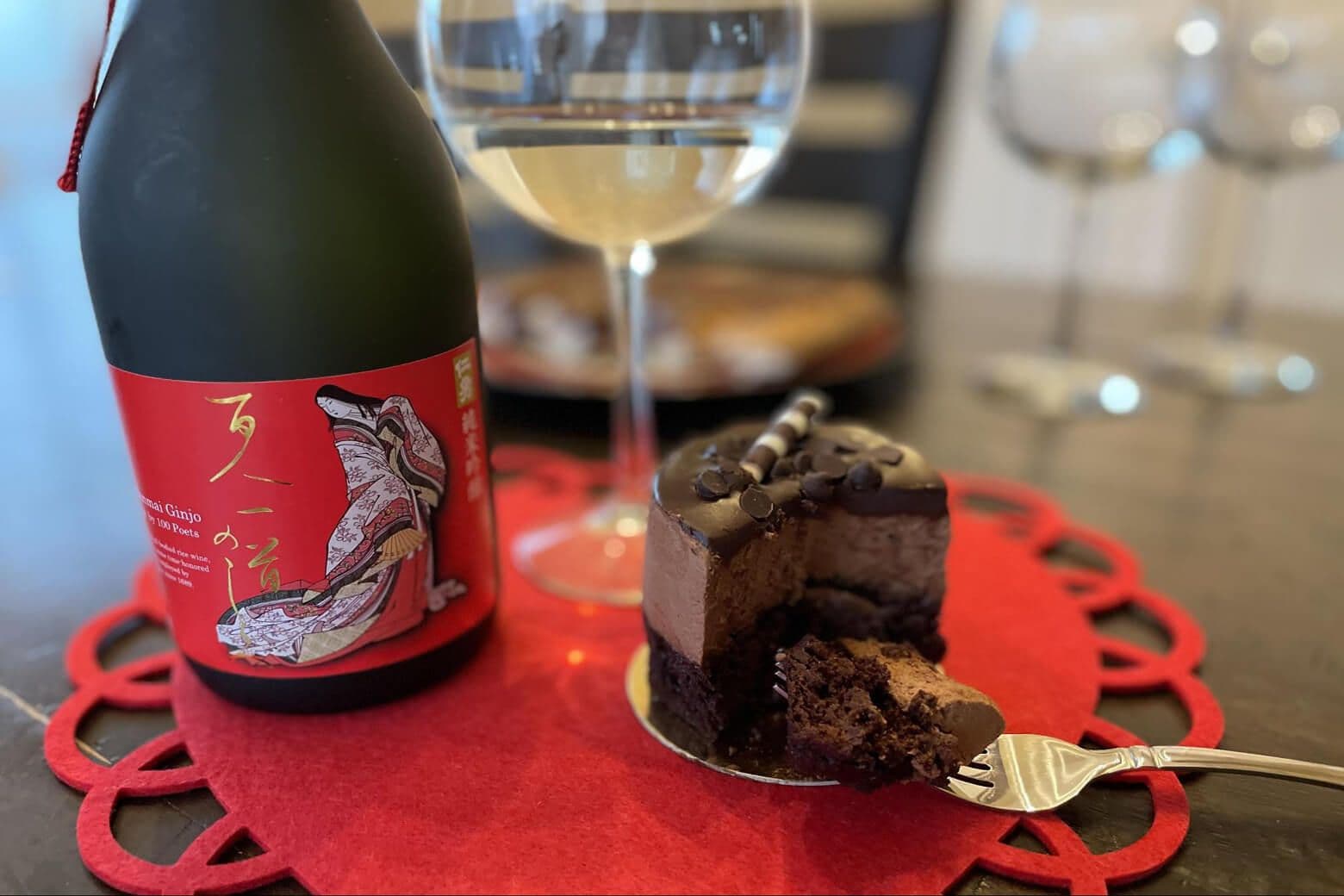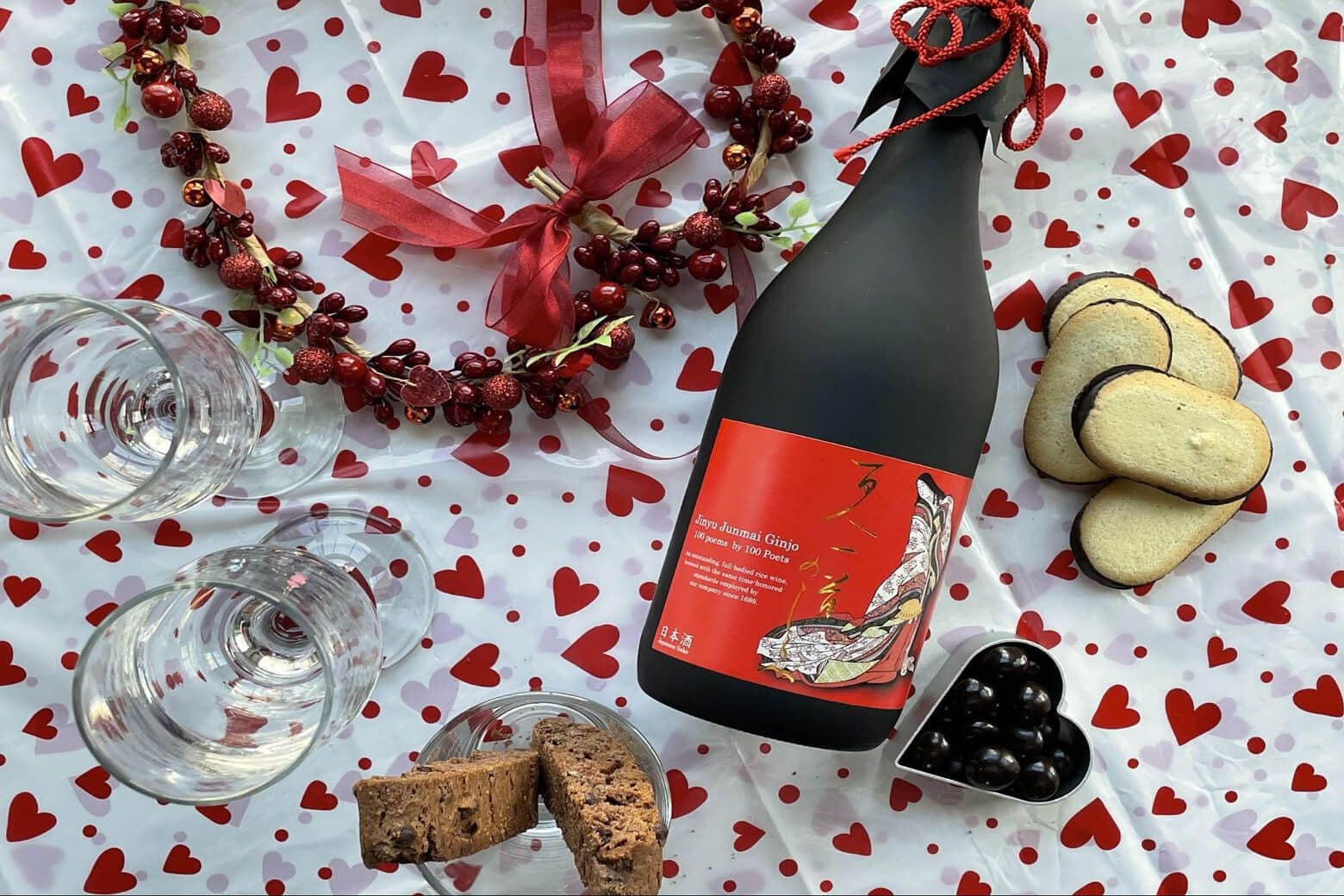 Amabuki "Strawberry"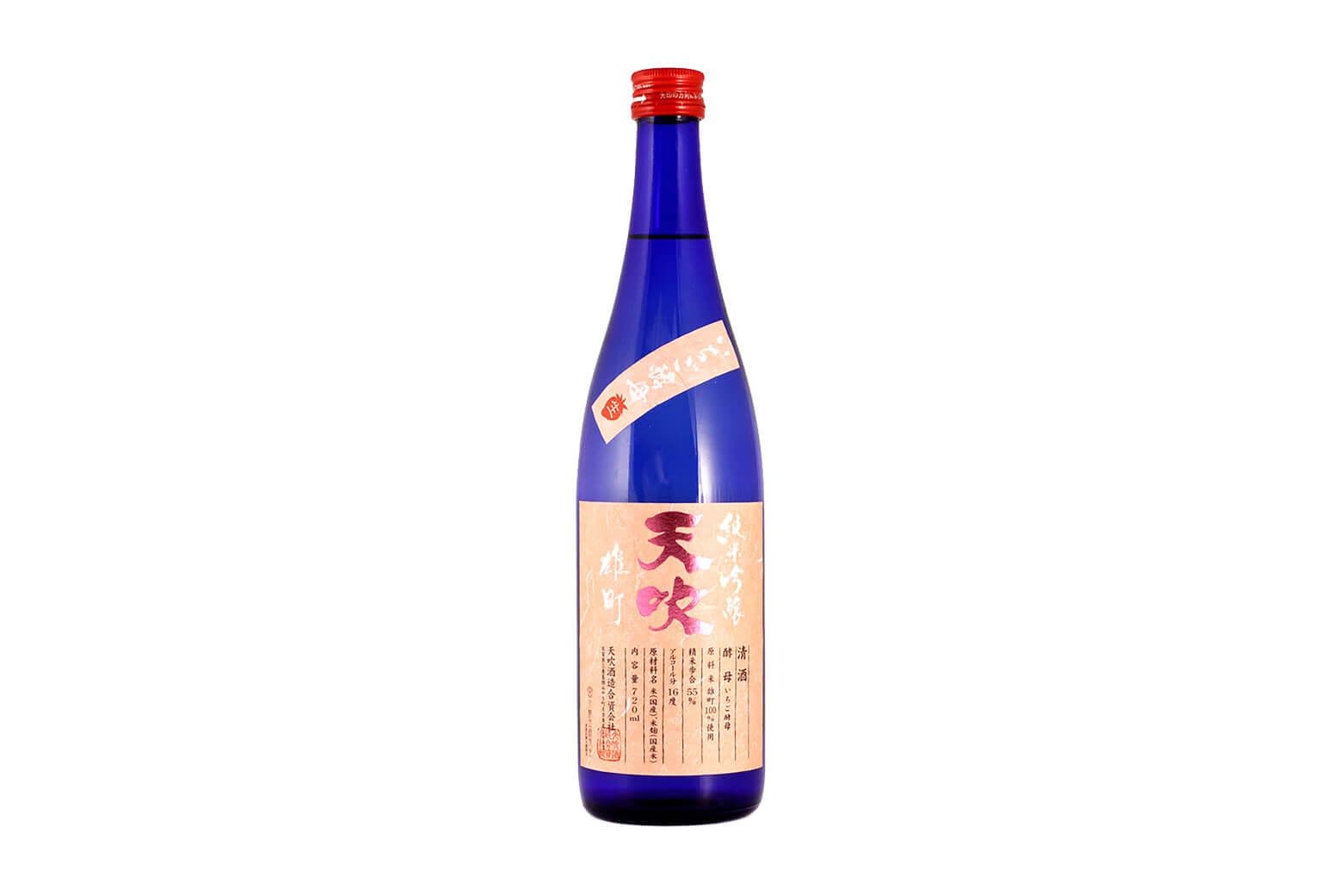 The first time I learned about this sake was from Jessica Joly (Miss Sake USA 2016), certified International Sake Sommelier and Marketing Director for Sake Discoveries. The design of this ginjo sake is fresh and flirty, with a deep blue and bright pink label that whispers, "Let's play hookey!"
Amabuki Brewing Company is one of a few breweries that specializes in using flower yeast for sake brewing. Even at room temperature, this sake which uses a strawberry flower yeast is a delight with a fruity aroma and notes of strawberry without being excessively sweet, and finishes with a bit of acidity that refreshes the palate. I can imagine this would go well between courses of strong-flavored dishes like Pad Thai or Banh Xeo, or a heavy white cream Italian pasta.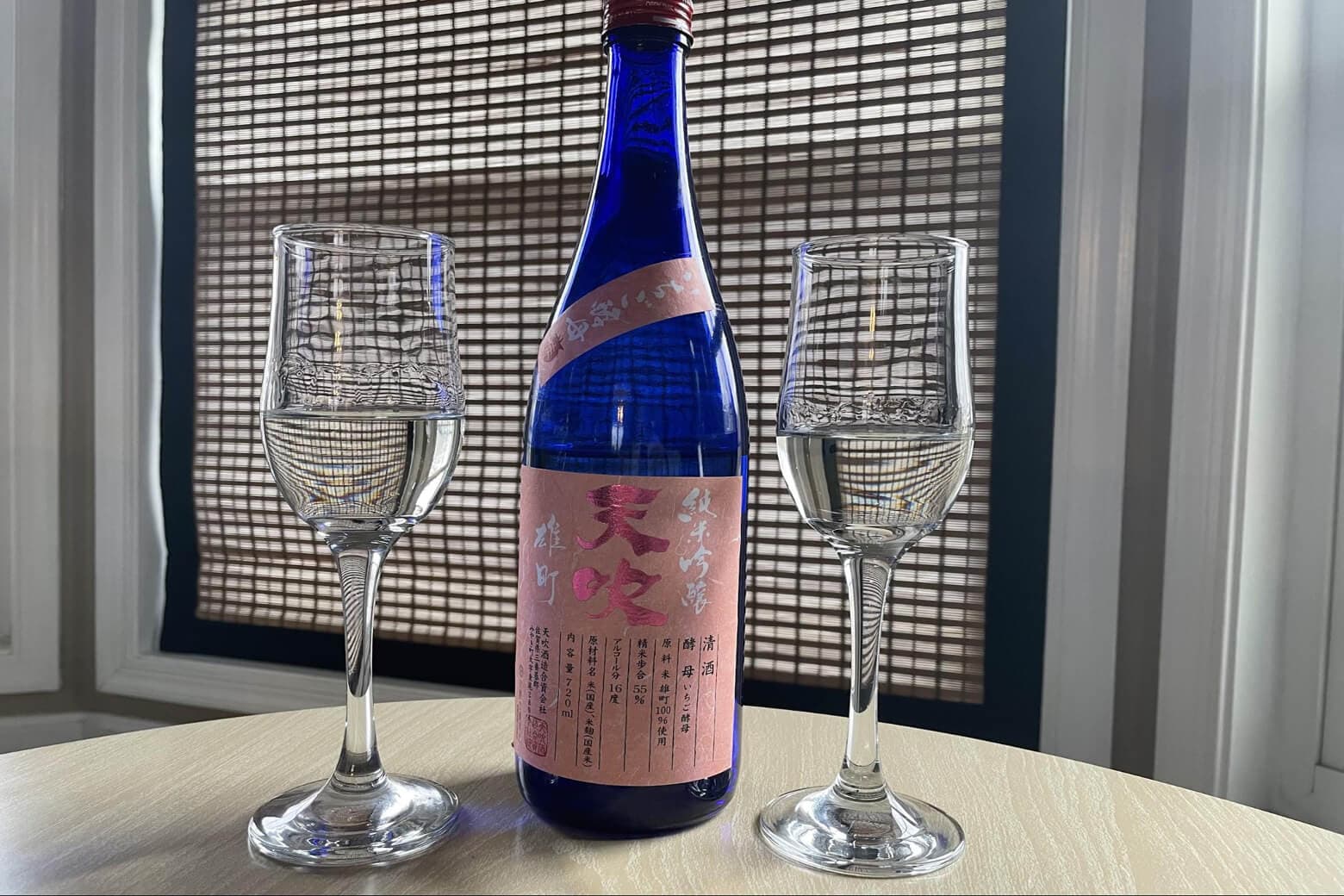 This time, however, I wanted to try a "compliment pairing" as described by Sake and Wine Sommelier Alice Hama as one that "creates a harmonious balance by using shared ingredients with shared flavors." (Read more about matching flavors in our Regional Sake Guide series.) Amabuki "Strawberry" feels light enough to drink midday, too, so I enjoyed it alongside my littles-with chocolate-covered strawberries, which are easy to make at home, and some strawberry Pocky!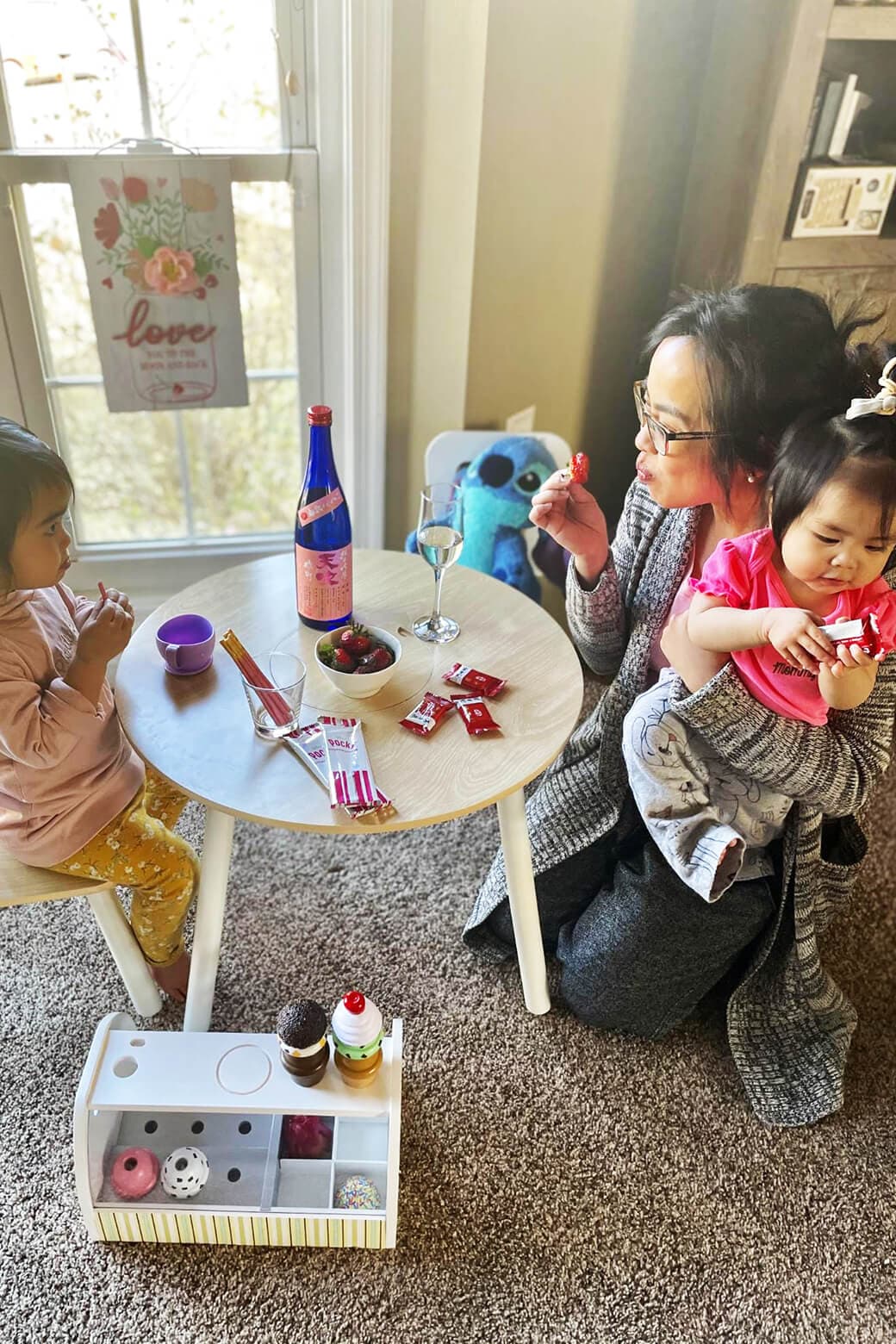 Fukuchitose "Yamahai Junmai"
I always get excited when trying yamahai or kimoto style sake because I know it's never a one-and-done experience. At first try, I was met with a full whiff of pumpkin, like walking into a home goods store during the holiday season! Perhaps, I put my nose in a little too closely? I took a sip and found that it had a medium to long finish—ideal for a date night at home with a movie or for sipping by the fireplace, and it got even better as the minutes passed and it warmed up in my hand.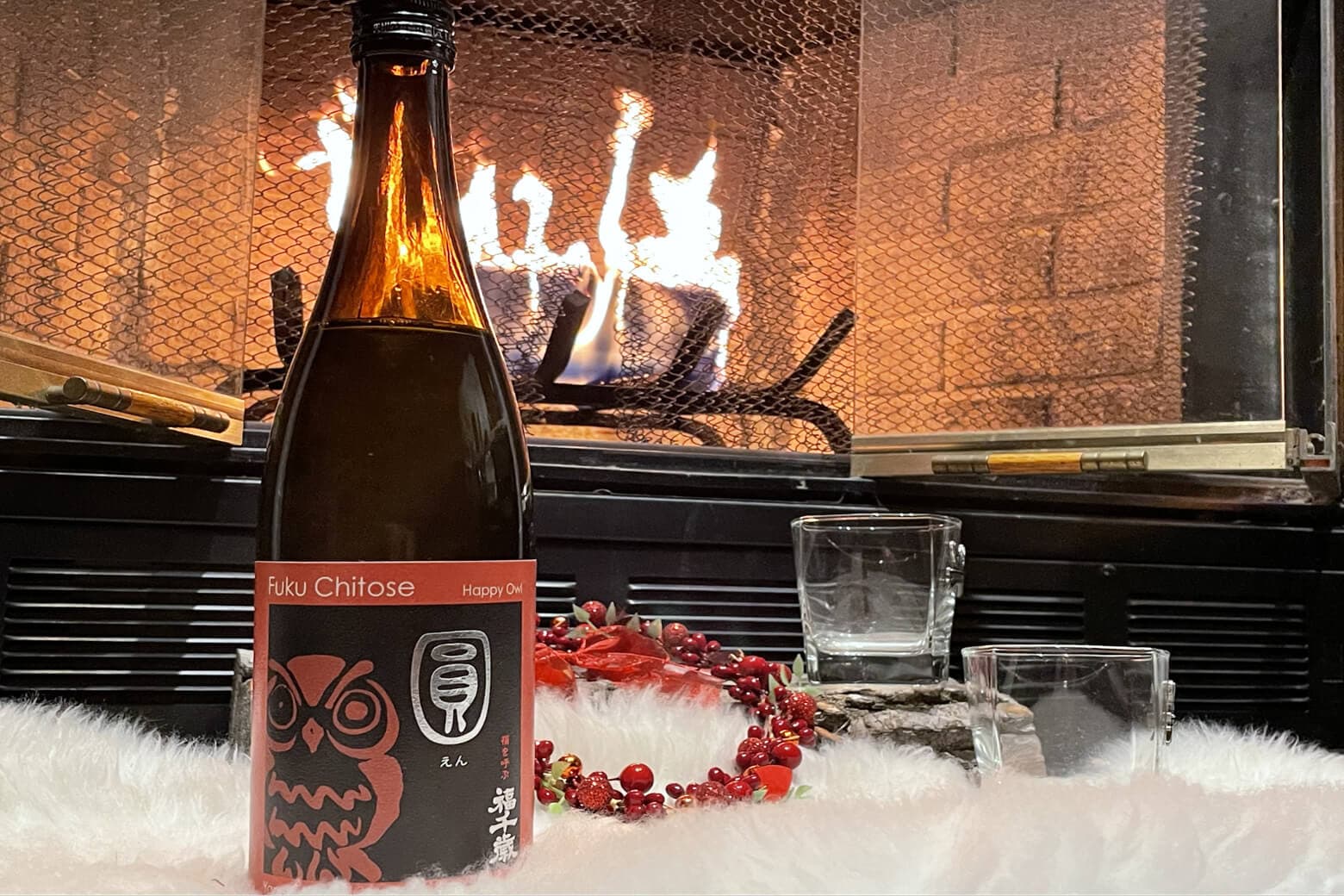 The next day, I intentionally warmed it to nurukan (41 deg Celsius / 105 deg F) and that's when the sake softened to reveal its comforting flavors of nutmeg and banana, which paired very well with the last pieces of white chocolate and sake Kit Kat. The wafer from the Kit Kat offered a texture that reminded me of bread pudding—Yum!
Kanbara "Ancient Treasure"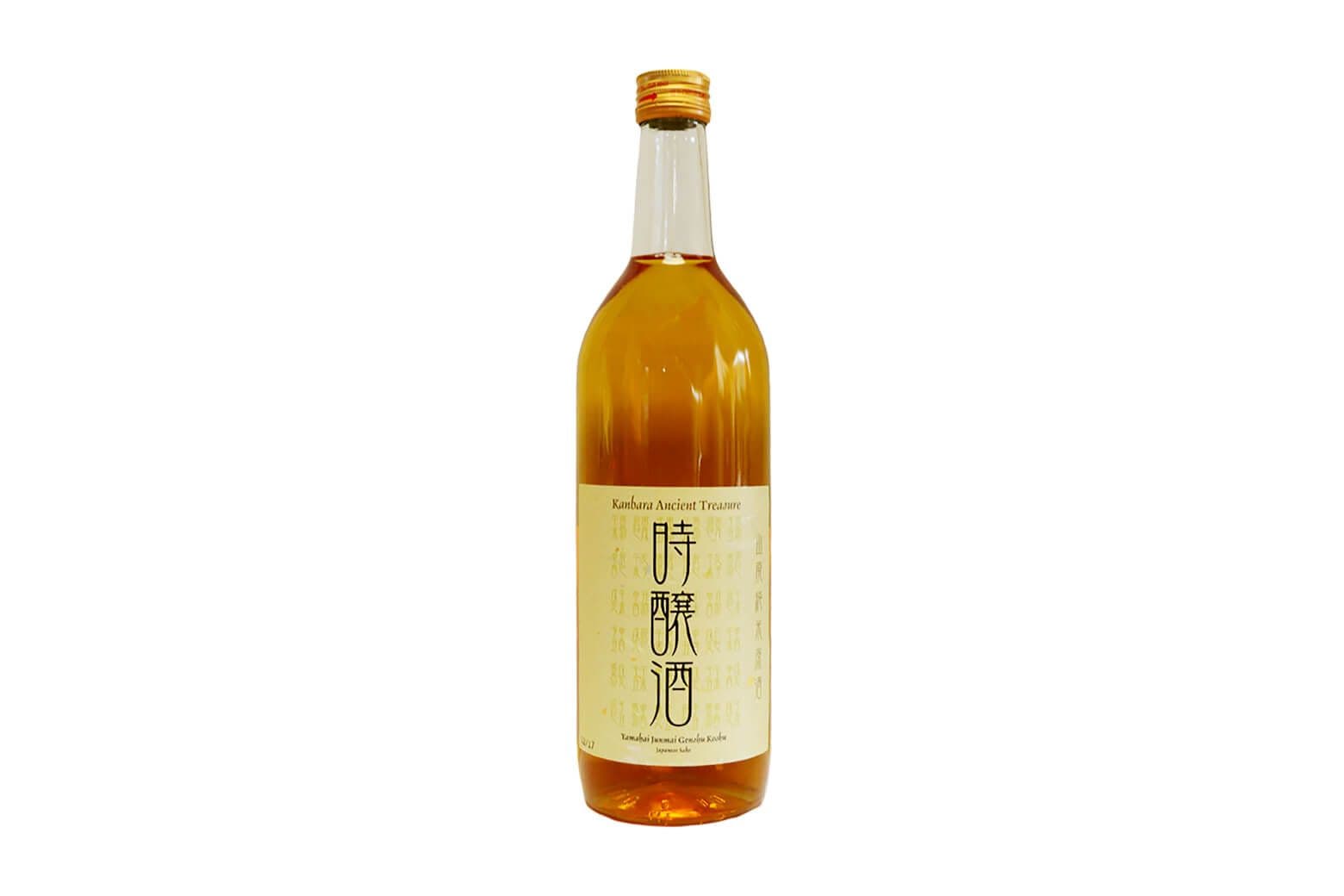 Last, but not least, I invited my husband to try this aged yamahai sake with me. The hieroglyphics design of "Ancient Treasure" looks like it was unearthed from the pyramids (but you know, in Japan). The beguiling amber color comes from 12 years of aging—
almost a third of my lifetime—so I wanted good company to join me in respecting all the craftsmanship and time that went into making this brew.
The intensity of this sake did not go well with my palate, and to my shock, my husband really enjoyed it. Somehow, I've always been wrong about his sake preferences, which has been very amusing because we typically have similar tastes in cuisine and hobbies. "That's why we should keep trying more!" I told him. He suggested we try it with fruity chocolate and nutty chocolate, which were both good pairings.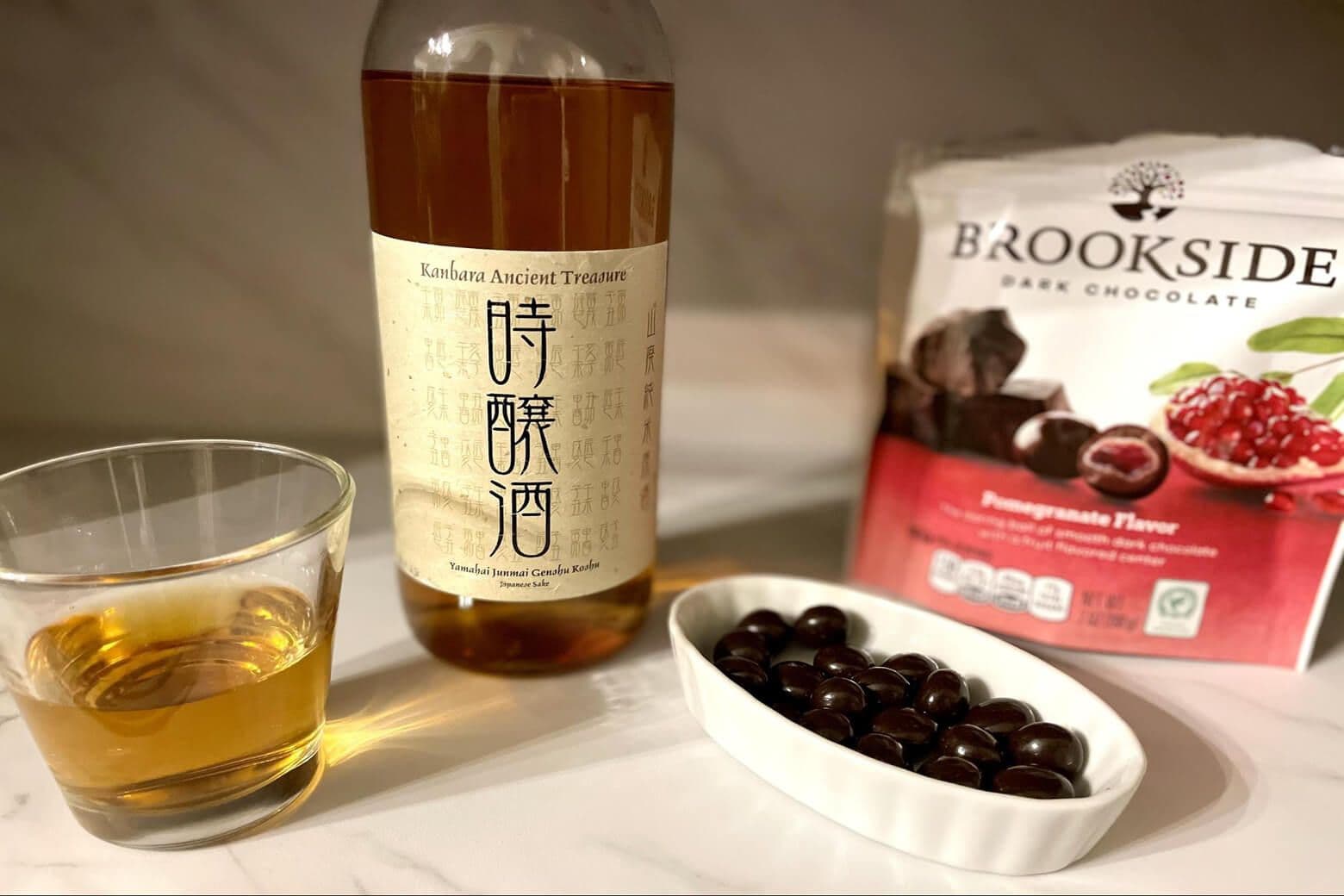 Because of the versatility of sake, I truly believe that each bottle has a perfect temperature and pairing for everyone, and so I didn't give up on finding that match for me. Given the strong taste, I thought it might be a good base for a cocktail but I didn't want more alcohol, just something to work well with it.
I recalled seeing a recipe from @thesocialsipper with a green tea base and decided to try it. It was the perfect nightcap! The green tea complimented the tart notes, and the addition of honey helped to mellow it out to my level. Finally, the fresh orange juice brightened up the sake overall.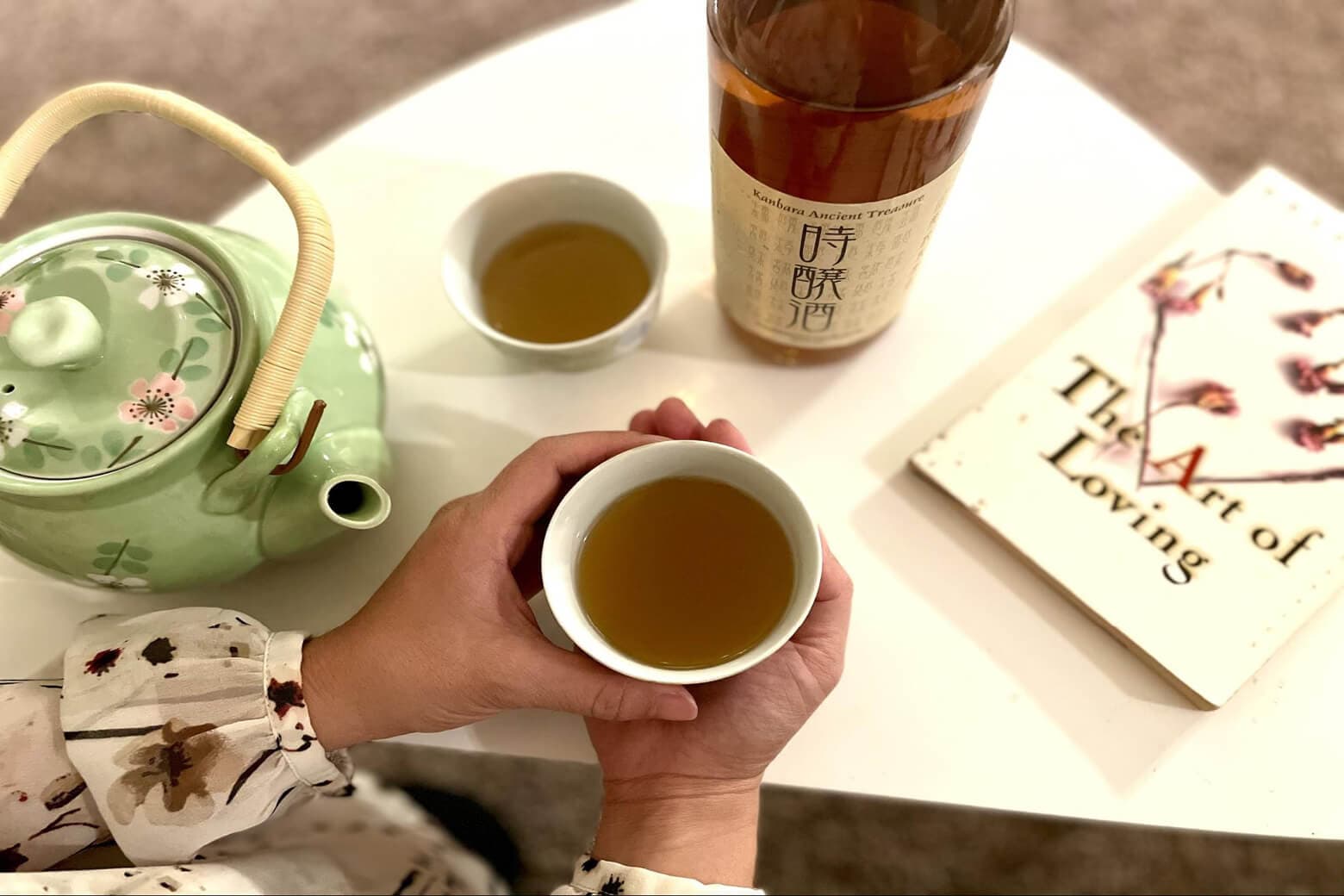 Some believe that sake has healing properties, and I would happily agree. Thoreau said, "There is no remedy for love but to love more," and for all the sake lovers out there, we toast to you! We hope that 2021 brings more kindness and love in all the places that matter. Don't forget to share your day of love with us #tippsysake!