Anyone who follows major sake competitions have most likely heard of Okunomatsu Brewing Company, as some of their sake brands regularly win gold medals in various competitions. The 19th generation brewery president of Okunomatsu, Joji Yusa, shares his mission to provide high quality sake to the world.
High quality sake at an affordable price
Mimi (Tippsy Staff): As a brewery that wins gold prizes regularly at national and global sake competitions, what is something you're committed to in your sake making?
Joji: We're committed to producing high-quality sake at an affordable price. That's our goal. We use both traditional and newly developed techniques to produce and deliver a high-quality product to you.
Mimi: There's such a big range of prices for sake, so customers tend to think that more expensive sake are better. But I think it's wonderful that you make a range of quality sake that are all affordable, and I think our customers really appreciate that.
Sachiko (Tippsy Staff): How do you keep costs low while producing such high-quality sake?
Joji: Well, we automate processes that don't need to be done by humans. Since controlling the machinery can be difficult, we've compiled an operations manual as well. Anything that needs human thought is left to humans, but the heavy lifting is now being done by machinery, so we've cut the cost of manual labor.
Leading international sake market
Mimi: Okunomatsu uses a unique bottle with broad "shoulders," so our customers here can instantly recognize an Okunomatsu product even if they can't read the label. Can you tell us a little about the story behind it?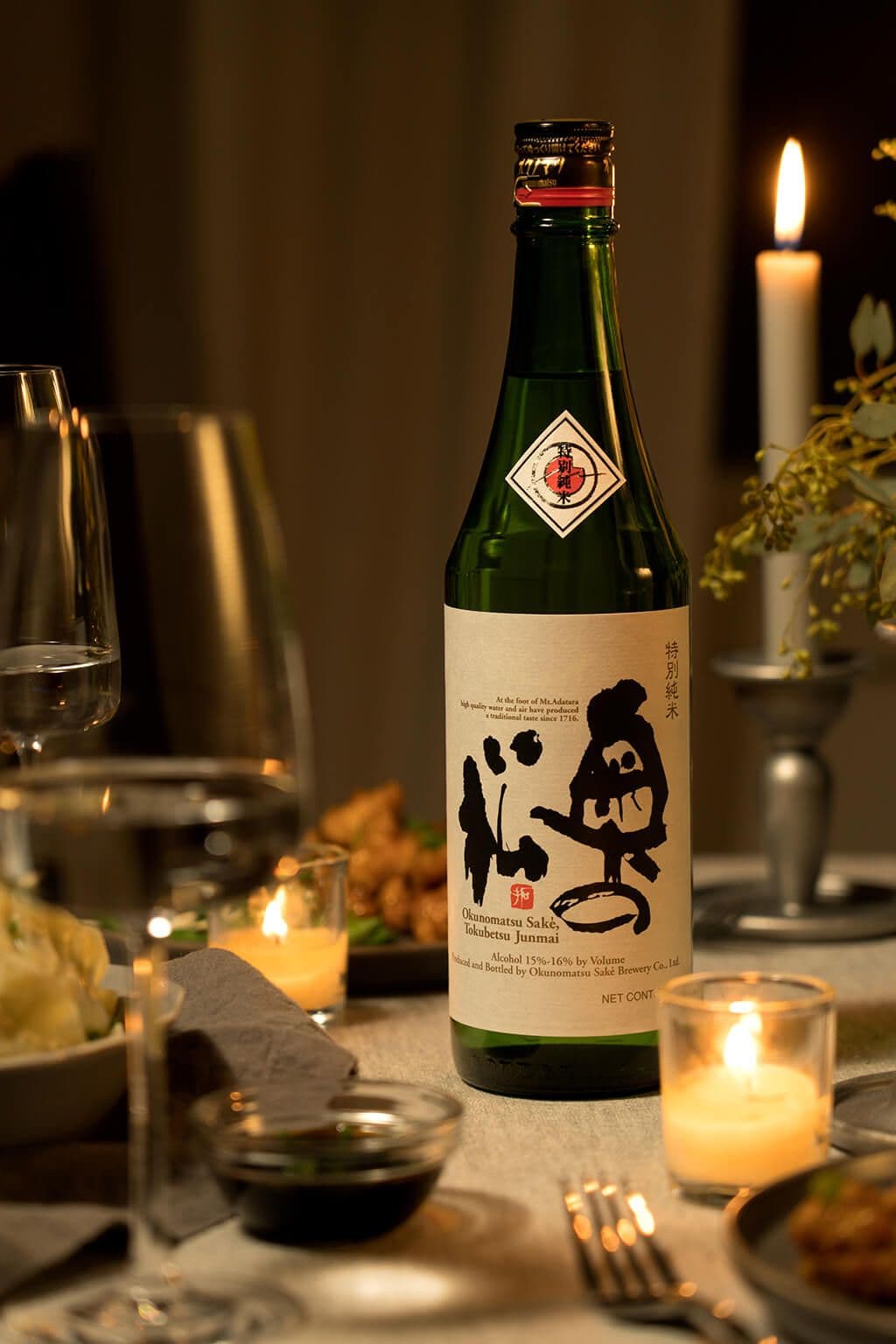 Joji: We chose the current bottle 20 or so years ago. Sake didn't really have a cool image at the time. And unlike wine, sake is pasteurized, so the bottles have to be able to stand up to rapid heating and cooling. This restricts what kind of bottles can be used. A majority of them end up not looking very cool. But we were able to design a bottle that was a bit taller and slimmer than the typical sake bottle. And because it's an original design, we've engraved our logo on the bottom of the bottle as well.
Sachiko: A lot of people can't read Japanese, but many of them are also just getting started on their sake journey and they don't really know what to look for. So they choose sake based on the price and the way it looks. Being able to make a lasting impression really determines whether they'll be repeat buyers, so the design is really important.
Mimi: Okunomatsu has really made an effort to enter the international market. We'd love to hear about anything particular you've done to address global consumers.
Joji: There isn't anything in particular that we do differently for the sake that we sell abroad. We just want our international customers to have access to the same high-quality sake that we sell here in Japan. We want them to know that this is traditional sake.
Mimi: I see. That seems really simple, but I'm sure it's difficult to accomplish, isn't it?
Joji: I think a lot of sake drinkers outside Japan don't know much about this drink, so it's important that they have a traditional sake to serve as a foundation. I don't think it's necessary to change anything about it. Again, after all, the concept behind everything is providing high-quality Japanese products to the rest of the world.
Enjoy Okunomatsu sake in the best way possible
Mimi: We carry six Okunomatsu sake at Tippsy. This year, Momotoro has been extremely popular with our customers. Can you share some ways you recommend drinking it?
Joji: Well, mixing Momotoro with soda or sparkling water is one way I recommend drinking it. Or you could mix it with our sparkling sake at 1:1 ratio and it is very delicious!
Sachiko: Something I saw while browsing your Instagram account that I'd also like to try is warming it slightly and pouring it on jamon or prosciutto, or even cheese!
Joji: Oh yes. If that sounds appealing, try making a hot pot with our sake in the winter!
Mimi & Sachiko: Hot pot?!
Joji: Yes. Try doing it with chicken. Just use sake in place of the water.
Mimi: That sounds so fun! What about Tokubetsu Junmai? Do you have any serving recommendations?
Joji: I think it makes a great table sake that will go with just about any dish. It's really easy to drink sake without any roughness. It really goes with anything, so I recommend trying many different things. I think the bigger challenge would be trying to find something it doesn't pair with.
Being a ray of hope for Fukushima
Sachiko: I think many of the Fukushima breweries are really passionate about research. There seem to be many researchers who work in actual labs and use their findings in their sake making. And then they take home gold prizes with the resulting sake. I've never been to Fukushima but that's the type of feeling I get.
Joji: Honestly, I think we're all just doing what's natural to make an even better sake.
Takeshi (Okunomatsu Staff): To add to that, after the Great East Japan Earthquake, food and drink products from Fukushima became harder to sell because of fear of contamination due to the Fukushima nuclear reactors. But after the strict monitoring, we learned that sake isn't affected by radiation. With the prefectural government's support, and this might be a bit presumptuous, we sake brewers have become a ray of hope for Fukushima. So I think that's another reason why we strive to make a better product and make Fukushima known for its sake.
Mimi: I think you are that ray of hope, and that's definitely something to be proud of. When we talked about the Fukushima Sake campaign last year on our Facebook group, a lot of people associated Fukushima with the disaster, but now people have also learned to associate it with delicious sake! Some of them were so impressed by Fukushima's sake that they started holding zoom tasting parties to share it with their friends. I think that's all due to your hard work.
Takeshi: That makes me really happy to hear.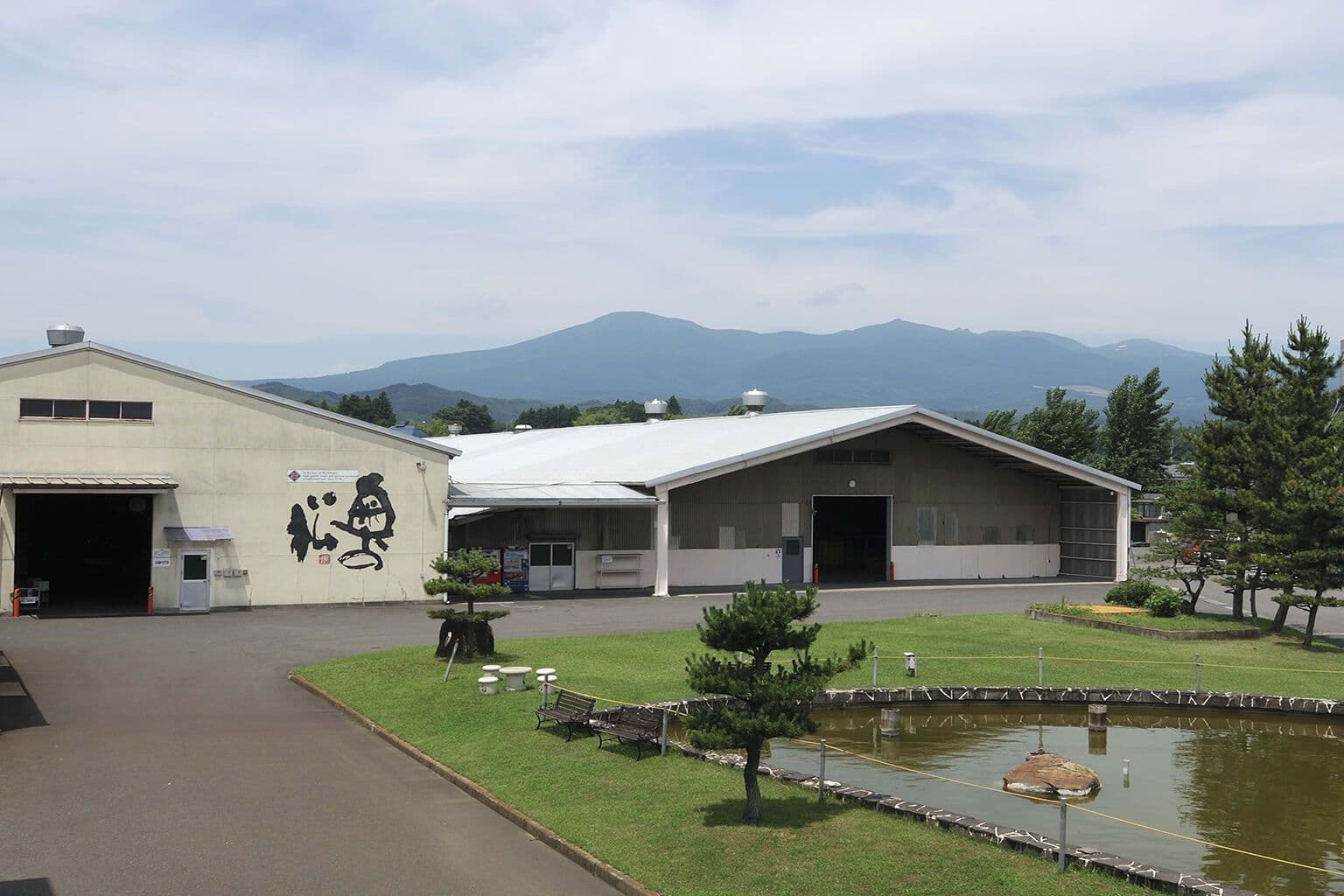 Mimi: What does sake mean to you?
Joji: Well, it's the family business so I didn't really have a choice. [laughs] But I do think there is value in the work that I'm doing. There really isn't anything else in the world like sake. I found the industry to be really interesting and I think there's still a lot of potential for sake and what we can do with it. So all in all, it's something that gets more interesting the more I pour my passion into it.