This past March, Tippsy partnered with Sake Discoveries to host the Saga Sake Saga event which not only featured a set of three delicious sake and a special sake cup, but also a fascinating look at the region, the brewery and the Saga community itself. This Saga Set includes Azumaichi "Junmai," Amabuki "Gin no Kurenai" and Shichida "Junmai." Our guide was none other than Jessica Joly (Inaugural Miss Sake USA 2016 and Marketing Director for Sake Discoveries) and she introduced us to all three current brewery presidents who shared their insights and intentions behind their brew. It was one of the best virtual sake webinars I've attended, and of course, I was glad to sip on some great sake delivered by Tippsy!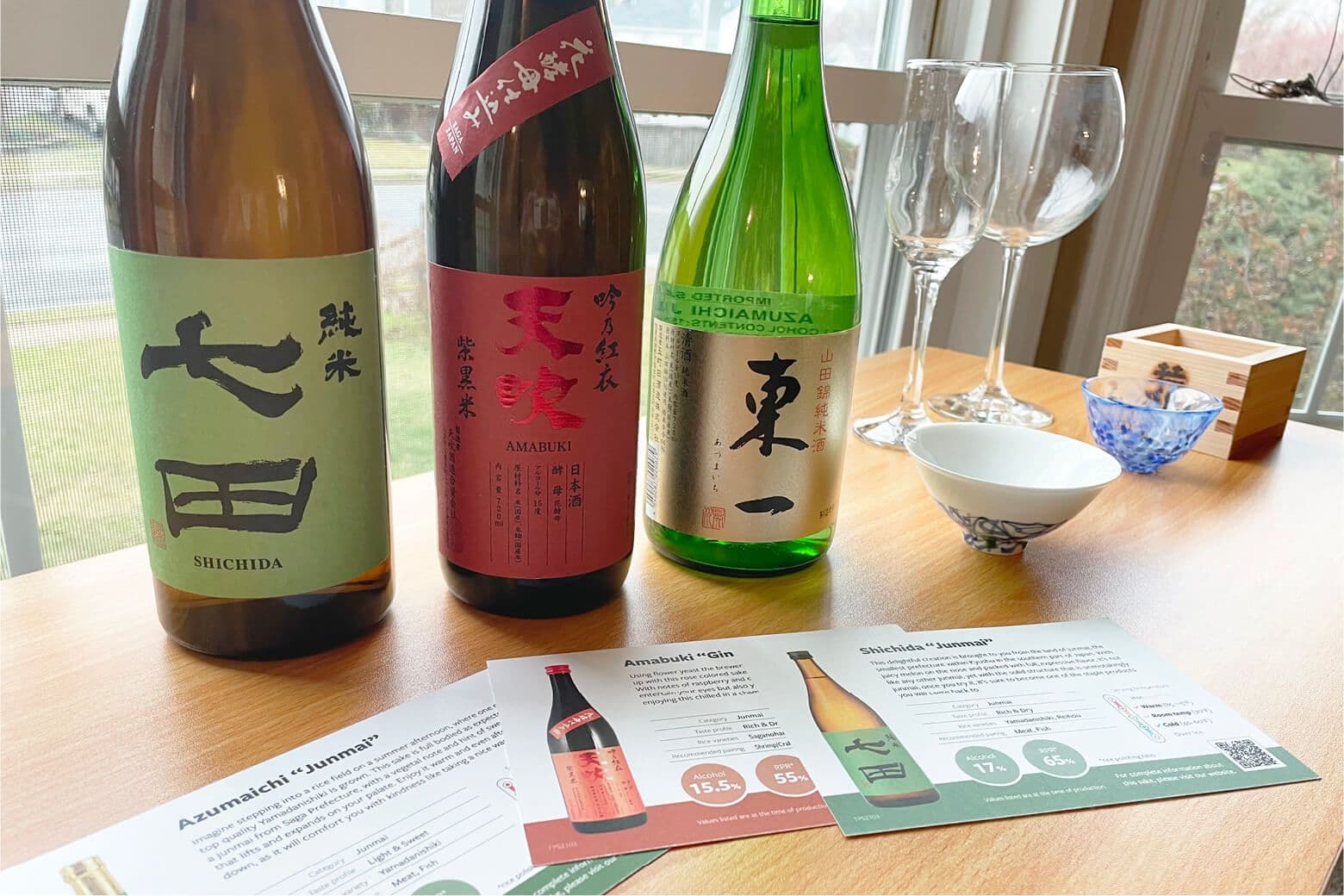 A trip to Saga
When most people think of a trip to Japan, Kyoto and Tokyo are usually first on the list. But for the traveler willing to take a brief two-hour flight from Tokyo, Saga offers wonderful gifts not to be missed: a rich cultural history, a beautiful, varied landscape, excellent local seafood and delicious craft sake.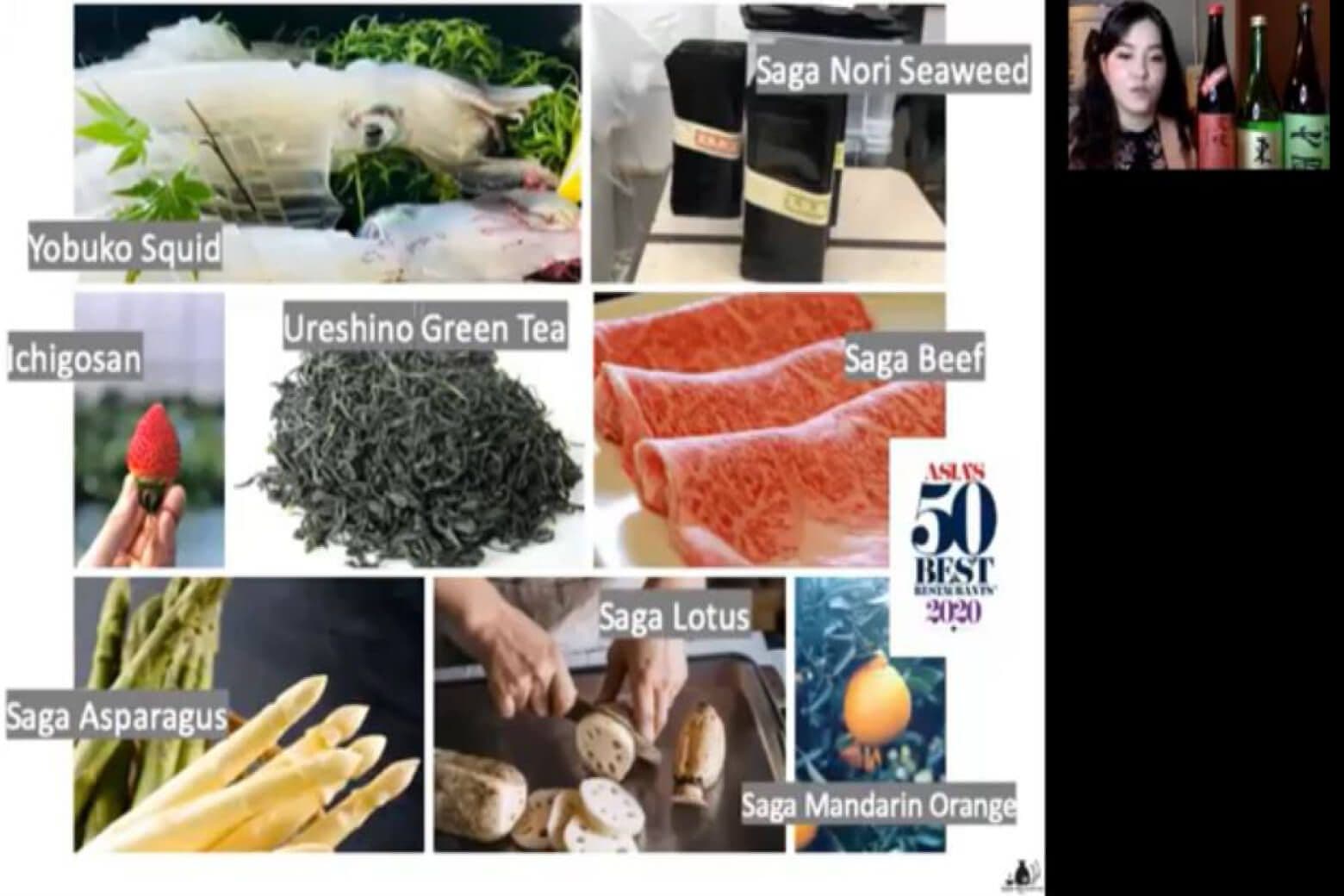 Seeing all these images made me long to travel, but thankfully, the sake set came with an exclusive Arita-yaki for a limited time, so I felt I had a little piece of Saga with me. Famous for its Arita and Imari porcelain, visitors can see the old pottery towns, kilns and distinct styles of pottery tracing back to the 13th century. The Arita-yaki sake cup, made by Riso Porcelain specifically for this event has become one of my favorite sake vessels for its perfect rim and exquisite, hand-painted design. I was so delighted to add this to my small but growing collection of beloved sake vessels.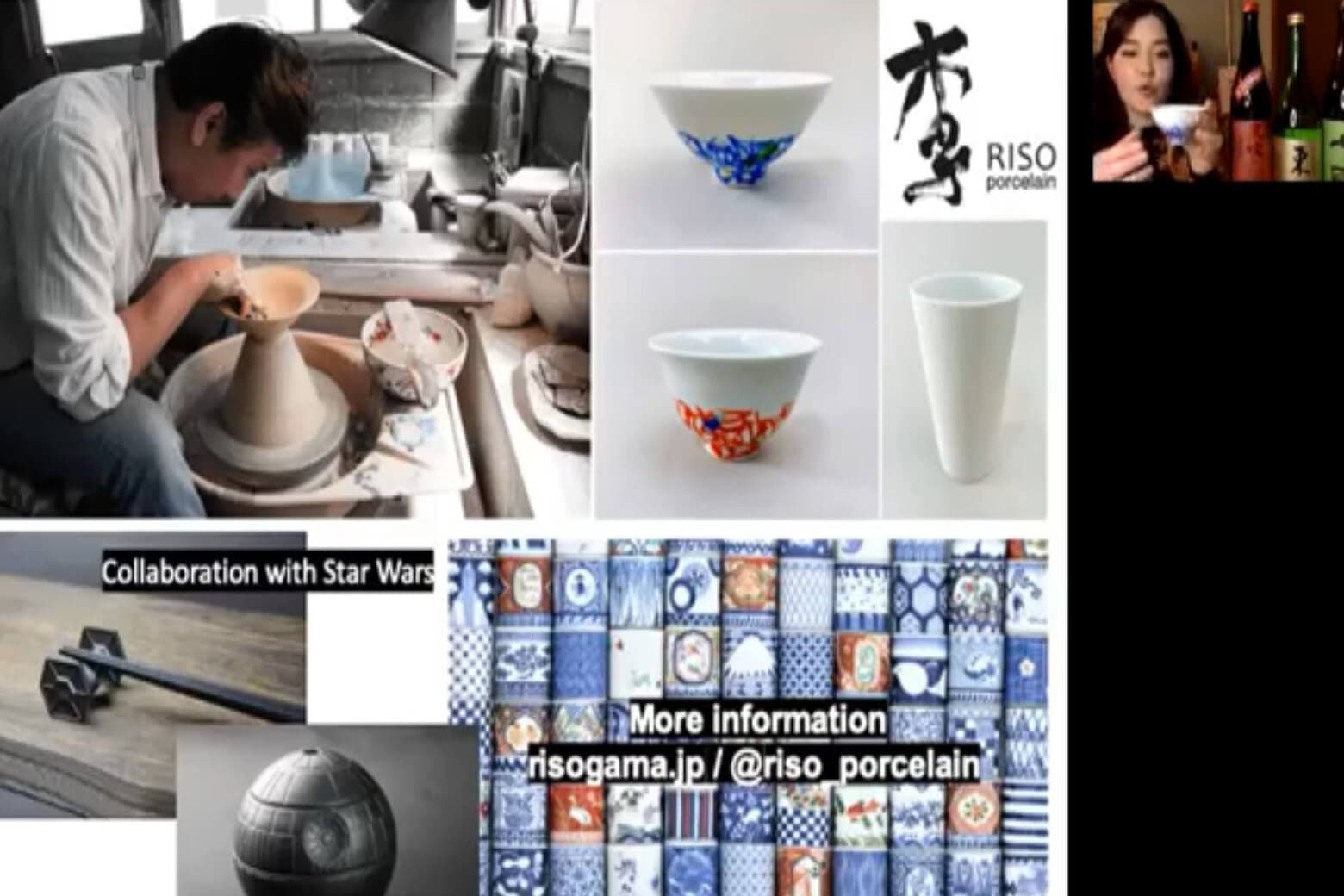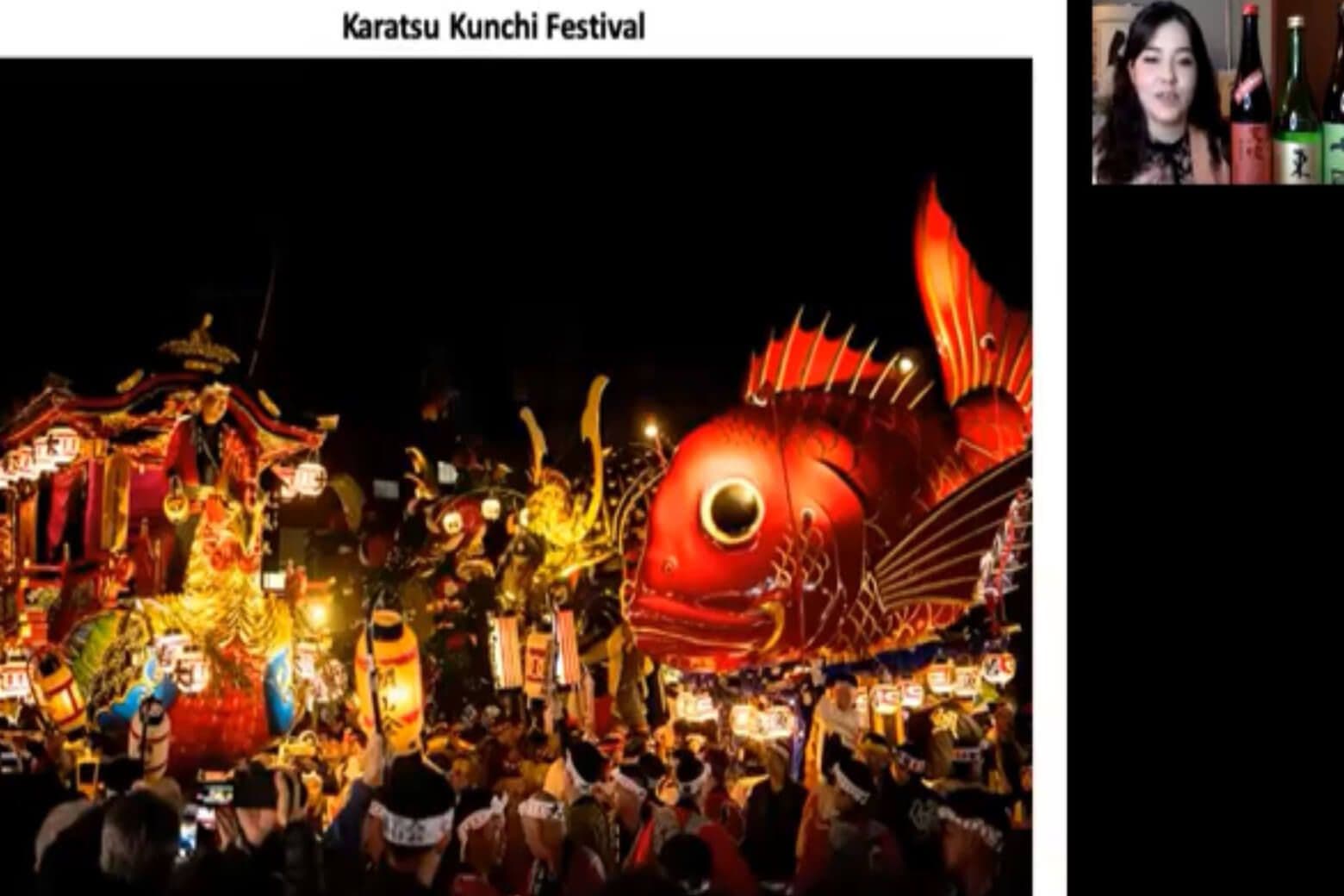 Saga also boasts the 400-year-old Karatsu Kunchi Festival, which was recognized by UNESCO as an intangible cultural heritage in 2016 as part of Yama, Hoko, Yatai, float festivals in Japan. As Jessica noted, "All these things [the cuisine and beverage] go hand-in-hand in representing regionality."
Saga quality sake
What makes Saga-quality sake? Everything about the land, from rice production to the minerals in the water. To be recognized as a true Saga product (Saga ninteishu, or "Saga Certified Sake"), 100% of the raw materials must be from Saga, brewed in Saga and pass a taste test. This is the way that Saga protects its community and maintains quality. We considered it such a treat to enjoy sake from three wonderful breweries.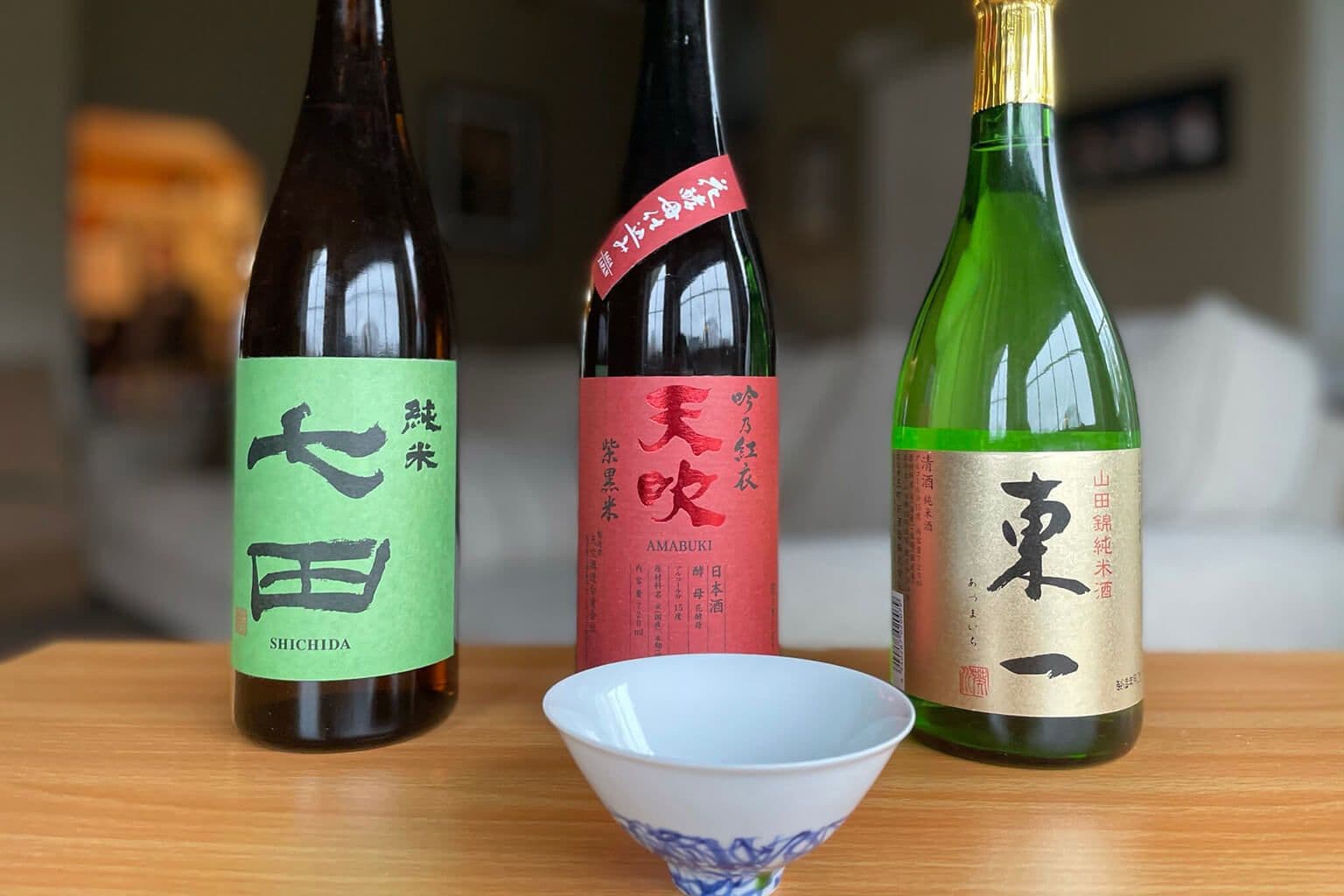 Amabuki "Gin no Kurenai" (aka "Pink Lady") by Amabuki Brewing Company
Amabuki is iconic for using unique strains of flower yeast in their products. Pink Lady has a rosy pink hue which actually comes not from the flower yeast, as one might assume, but from ancient black rice which is added before pressing. Given its noticeable but pleasant acidity, Jessica recommended this served chilled in a tulip glass or wine glass where we could admire its elegant color and floral aroma.
Sake Discoveries is well-known for their experience in sake and food pairings, so we made sure to take notes!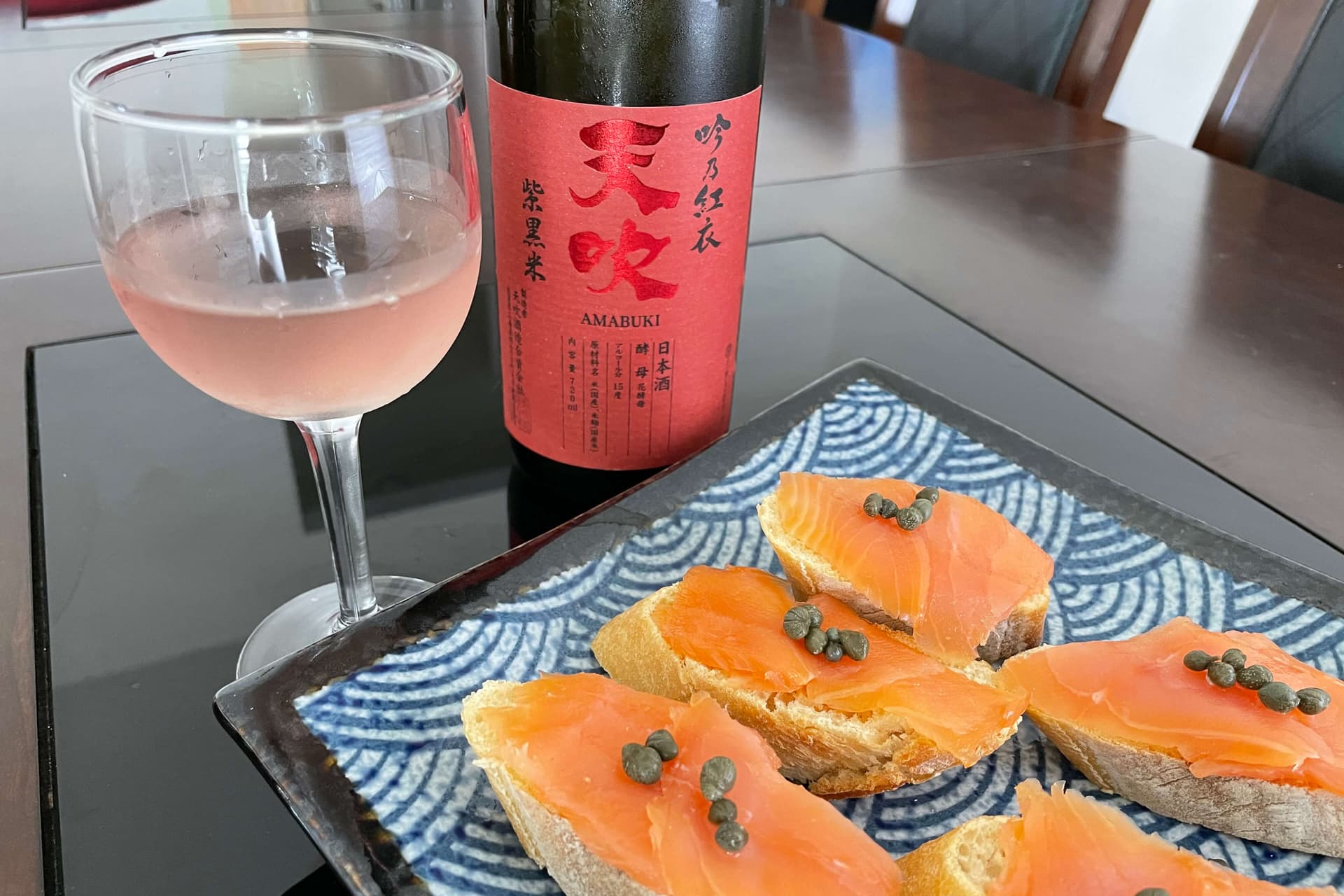 Azumaichi "Junmai" by Gochoda Brewing Company
"It's quite rare to see producers grow their own rice but this is what makes this producer shine," said Jessica. Gochoda Brewing Company was one of the first breweries in Kyushu to grow their own Yamadanishiki rice and amazingly, they mostly abstain from using modern tools, even thermometers, using only their senses to produce locally made, high-quality sake.
Of the three, I found Azumaichi "Junmai" to be the most interesting because of its versatility at different temperatures. Slightly chilled, its aroma was somewhat restrained and upon sipping, I sensed the notes of vanilla and caramel that Jessica mentioned. I like the longer finish on my palate.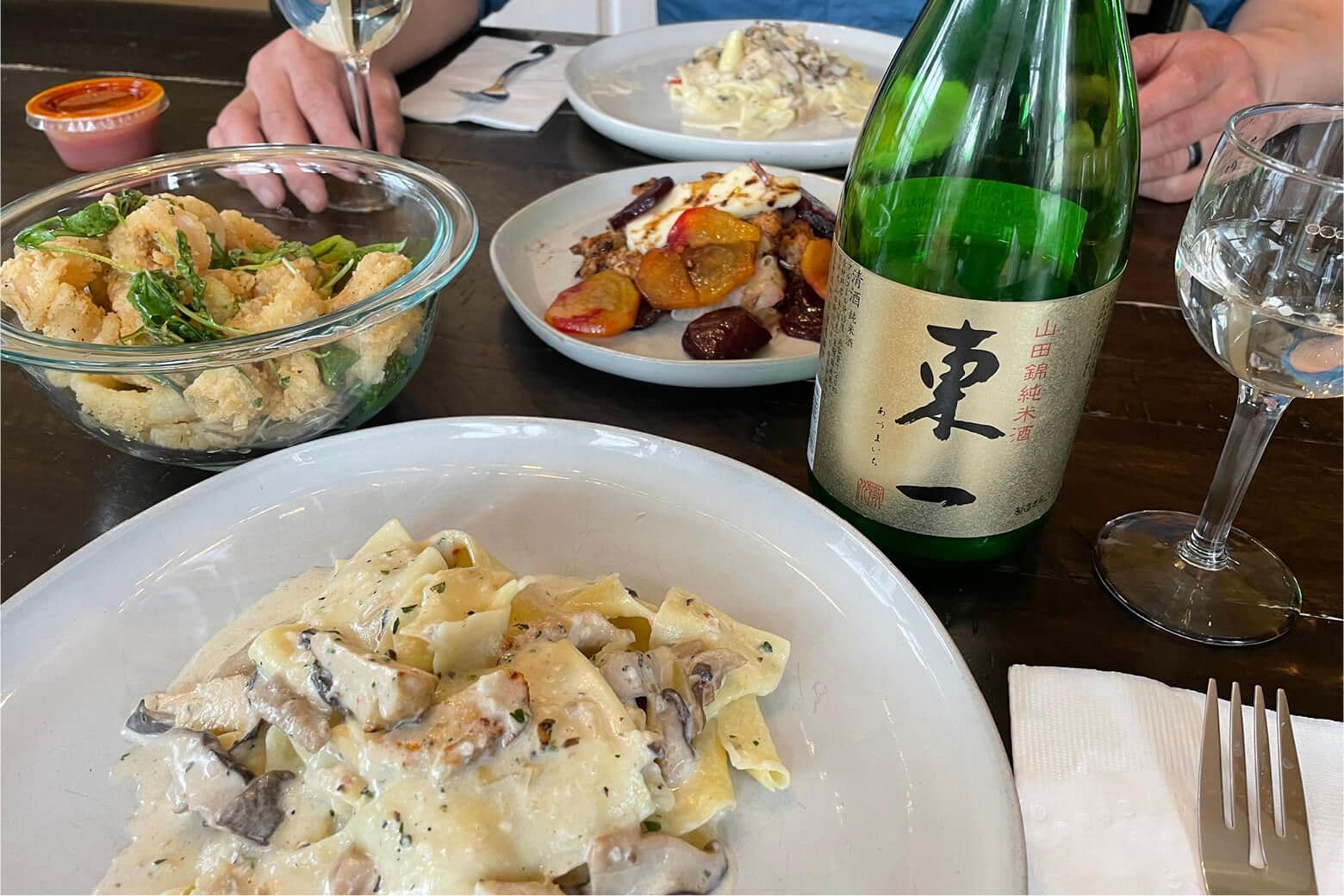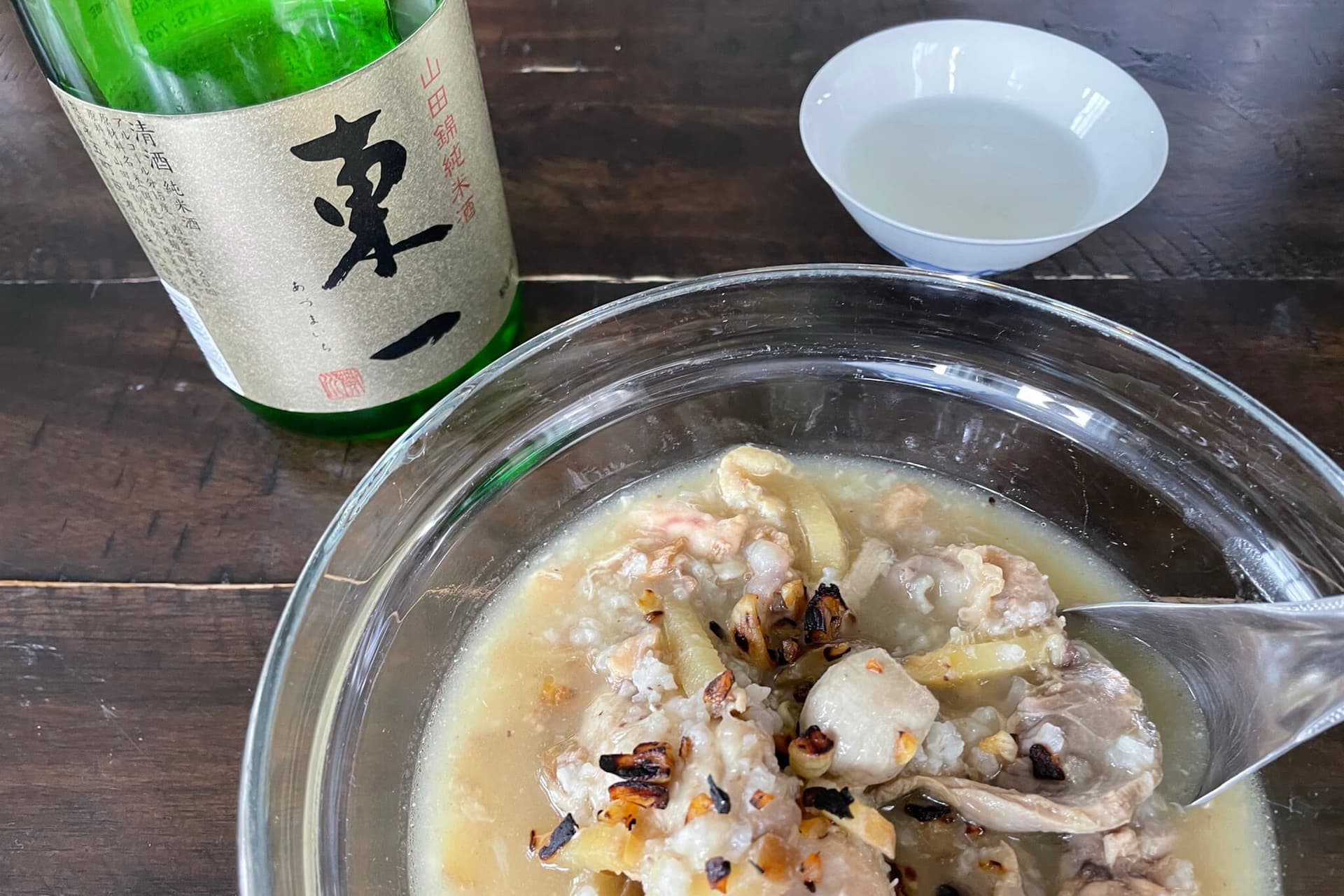 Shichida "Junmai" by Tenzan Brewing Company
Spring water from Mt.Tenzan flows into the Gion River, one of the selected 100 exquisite and well-conserved waters, and passes right in front of the brewery. The brewery still uses the original buildings from the Meiji Era and the Shichida Family is highly regarded domestically and abroad. They even founded the Tenzan Agricultural University focused on sake education and community resources.
Upon tasting this sake, I was so surprised because the bold, green label gave me the impression that it would be rather dry and "masculine." But the fruity aroma of melon and banana caught me off guard, and this is one of the things I really love about sake. What we see, smell and taste could be different from what we might expect, and it teaches me to always keep an open mind.
Because of the deep umami of this sake, Jessica recommends pairing it with bold, smokey, strong flavored dishes. And have you ever tried sake with truffles? Sake Discoveries offers a recipe for hot sake and truffles that you won't want to miss!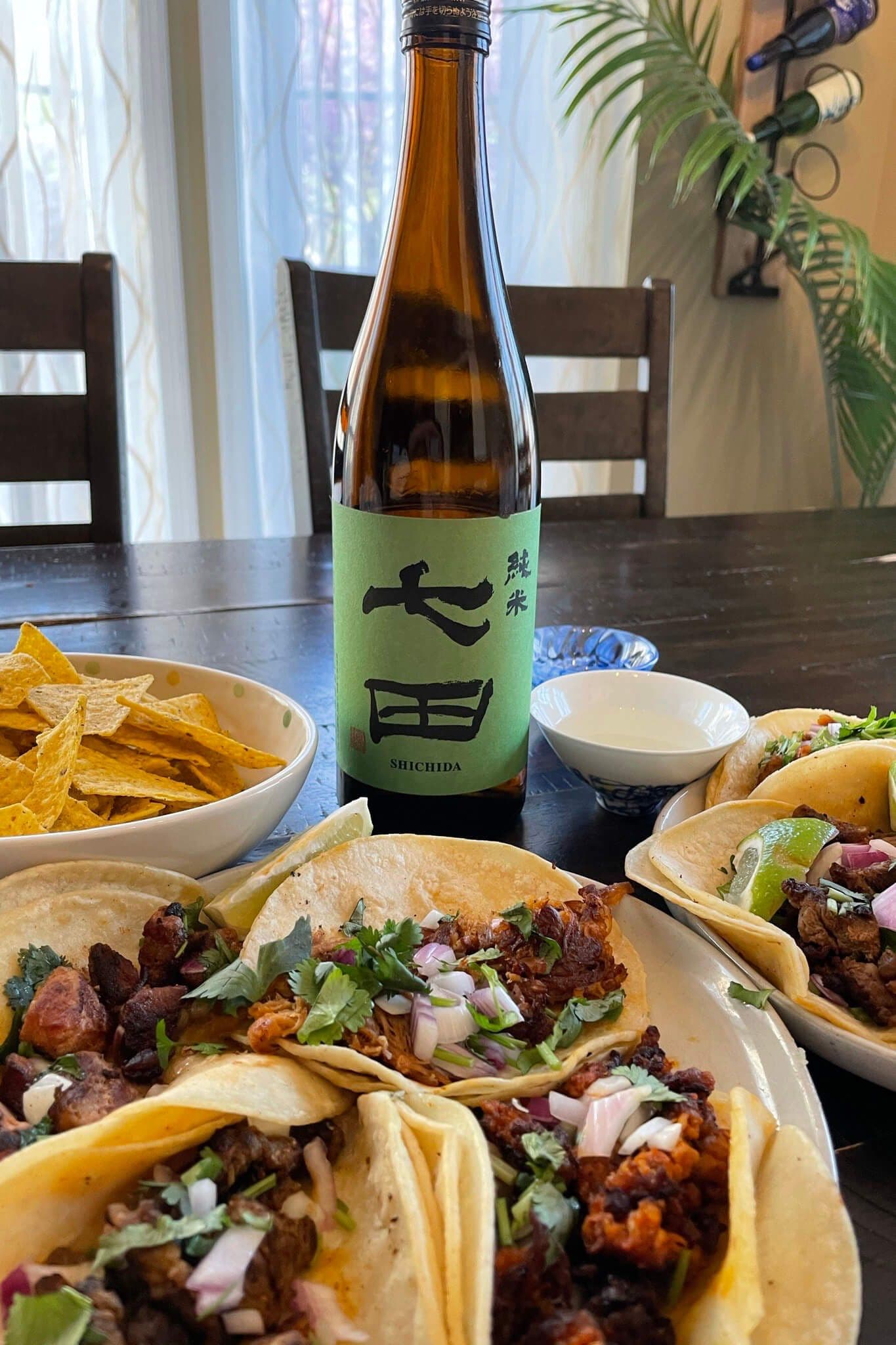 In addition to tasting, we were able to hear from the brewery leaders themselves. For me, the best part was learning about their intentions behind each specific brew, the nuances of each sake within their brewery, and their interest in sake-related trends in the U.S. such as the growth of sake cocktails and pairing Western cuisine. From Amabuki's perspective, "We don't think that sake cocktails distract from the purity of sake… we think that [it] adds a dimension to our creation."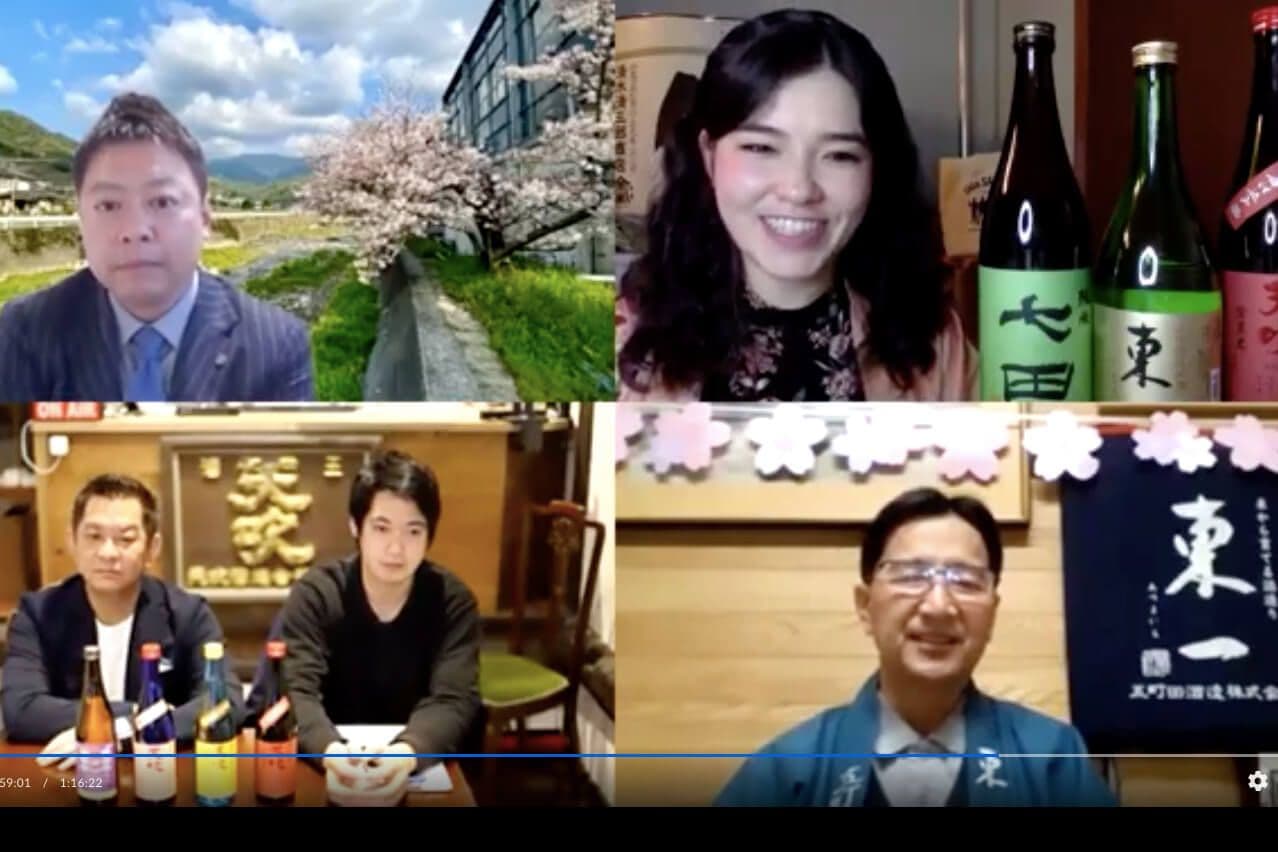 This special set was more than I imagined. We learned so much in that hour that brought to life the sake and all the people behind it. I am looking forward to the next great collaboration and learning more about the regionality of Japanese sake. Which sake-brewing regions are on your list? Let us know at #tippsysake!