When I learned that Tippsy would be offering a set of Hakkaisan sake, I couldn't wait to try it. Hakkaisan was one of the first brands I purposely tried and shared with others, and it was even more memorable to me because we had interviewed Timothy Sullivan, Sake Samurai, Sake Educator and Hakkaisan Global Ambassador, for our first Spotlight interview. Through his research, travels and lots of sake tasting, Timothy has gained an in-depth knowledge of sake and Hakkaisan Brewery which he shares in easy-to-understand, digestible segments.
The compact virtual seminar gives us a preview of life in Niigata Prefecture and the rigorous work performed by the brewers to produce excellent Hakkaisan sake. We learn about the impact of climate and geography on the Niigata region and how these factors influence sake production at Hakkaisan Brewery. What follows is a practical Sake 101 that imparts the essentials needed to appreciate the sake tasting experience: primary ingredients, rice polishing and different styles of sake.
These days, many consumers seek to understand the sources of ingredients, and this is one of sake's greatest strengths. With Hakkaisan (and most sake), we can be assured of the commitment to quality. For example, Timothy explains that 80% of Hakkaisan's sake is composed of water that is melted from the snow of the neighboring mountain peaks, and as it travels and is naturally filtered through the soil, it develops a minerality and richness that can be tasted in the final product. After discussing regionality, we are then introduced to classifications, which brings us to the guided tasting portion.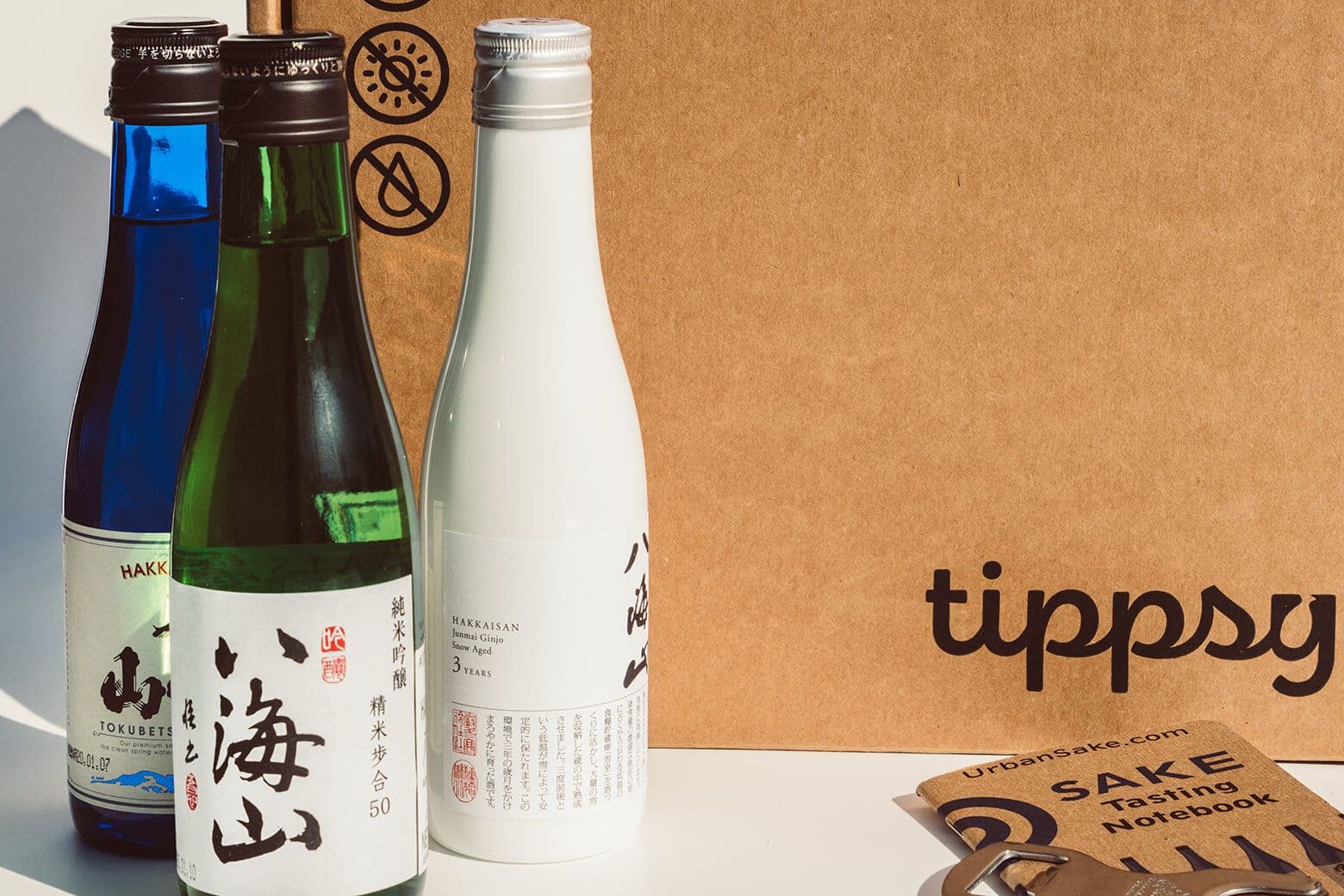 The Hakkaisan Virtual Tasting Set features three mini bottles: Junmai Ginjo, Tokubetsu Junmai and Yukimuro (Ginjo). Also included in the kit is a Sake Tasting Notebook which is very handy for taking personal notes, and a Hakkaisan bottle opener. Apart from the engraved Hakkaisan logo, what makes this unique is its dual purpose: one side is for Hakkaisan's special sake bottle caps which helps keep the sake fresh even after opening, and the other can open beer bottles—a pretty sweet tool to accommodate all your friends and guests!
Tippsy carries several other Hakkaisan products, but this set is an excellent representation of Hakkaisan's range in price, style and taste. Starting with the lightest in body, Timothy skillfully guides us through each of the three bottles. I found it very useful to learn about the "Sake Meter Value" (SMV), which indicates how sweet or dry a sake can present itself. This helps make the process of choosing sake easier for first timers or beginners, or even experienced drinkers trying to deepen their knowledge.
The guided tasting felt like a VIP experience! After all, where else can you try three different styles of sake one-on-one with a famous sake educator, plus the added convenience of playback and no time limits? Timothy invites us to observe the aromatic profiles and talks through flavor comparisons and recommended pairings. Learning about the rice component and how the numbers in the product specifications really play into the taste and textures of sake is very interesting. Hakkaisan is easily a household favorite and a great introduction to sake!
Every Friday at 3PM (Pacific Time) / 6PM (Eastern Time), Team Tippsy celebrates a live Happy Hour on Instagram to share a kampai moment with the Tippsy community. Come join us and connect with other sake enthusiasts!
To maximize my Hakkaisan experience, I asked our sake expert Sachiko for some ideas and here's what I tried:
Chilled broccoli salad with Hakkaisan "Junmai Ginjo." Encouraged by Timothy's lesson, I wanted to explore how each ingredient might taste so I tried a little bit with each sip: broccoli, grapes (fresh!), cheese (definitely!) and bacon (Mmm). What impressed me most was the raisin! The sweetness of the raisin was amplified by the hint of melon without being overpowering and had a crisp finish. I can imagine just snacking on raisins with this junmai ginjo.
Traditional Italian Calzone with Hakkaisan "Tokubetsu Junmai." The mozzarella in the crispy, baked bread paired well with the lactic notes of this sake. I wonder if it would be even more flavorful with richer, creamier cheeses like Gruyere or Fontina.
Seafood alfredo pasta with Hakkaisan "Yukimuro." I love the handsome, pure design of this bottle. Immediately, I could taste the snow in the sake and appreciated that I didn't have to travel too far for it. Yukimuro highlighted the freshness of the shrimp and smoothness of the scallop. Of course, the alfredo was a delight throughout.
Do you remember your first taste of Hakkaisan sake? Check out the virtual tasting set for key lessons that can be applied to all your sake adventures. Try it on your own or with a friend!