Munenori Ozaki is the third-generation kuramoto (brewery president) at Tentaka Brewing Company keeping up with the challenge of making sake delicious and safe. Tentaka is one of the few sake breweries that produce high-quality organic sake in Japan. The brewery received organic certification from Japan, US and Europe. In this spotlight, Ozaki talks about his passion for protecting the environment and how an organic-certified sake brewery can take part in the movement.
Tentaka and the environment
Mimi: What made you decide to acquire organic certifications (in Japan, US and Europe) for your sake? What was your journey like?
Munenori: Our journey started as a small group of sake makers from Tentaka and sake stores in the mid-90s. The group was named the Medaka-Kai and we gathered to study and seek ways to develop our local community through sake. As we are in a small village in Tochigi Prefecture, we decided to promote the beauty of nature surrounding the brewery. We want to make our community not only for adults who enjoy drinking but also for children to experience nature.
Mimi: I see. As organic products have to do with eco-friendly production methods, that's how your journey to create organic sake started. Were you already selling organic sake back then?
Munenori: Well, Tentaka used the word "organic" for our sake in the past. However, the concept was not acknowledged in Japan at the time. There were no clear standards for claiming products as organic and therefore, there were plenty of inferior products which claimed to be organic. We decided to take off "organic" from our label as consumers did not trust in the term. In 2005, a few years after the JAS Act established the regulation of organic sake in Japan, Tentaka was able to receive organic certification.
Mimi: What does it mean to be an organic-certified sake brewery today?
Munenori: To me, an organic product is not just for my own benefit, like making sure what I eat or drink is safe. Choosing organic is also for protecting the environment. Thus, making organic sake is ultimately for the benefit of future generations. We want to leave a healthy environment for our children.
Mimi: Wow, that's very inspiring! How does making organic sake differ from regular sake?
Munenori: At Tentaka, we only use the tools and ingredients that meet the organic standards—something that does not produce chemicals, for instance. As Tentaka's entire brewery is organic-certified, we try our best not to use chemicals and do something that is beneficial to the environment as much as possible. For example, as a part of the sake making process, we steam rice and it produces warm water. Instead of disposing of the water, we use it to heat the facility during the cold season. Also, 30% of the electricity is produced on our own through solar panels on the roof. In terms of ingredients, we recently started "Tentaka Organic Farm" to produce organic rice used to make our sake.
"If it's not dry, it's not sake."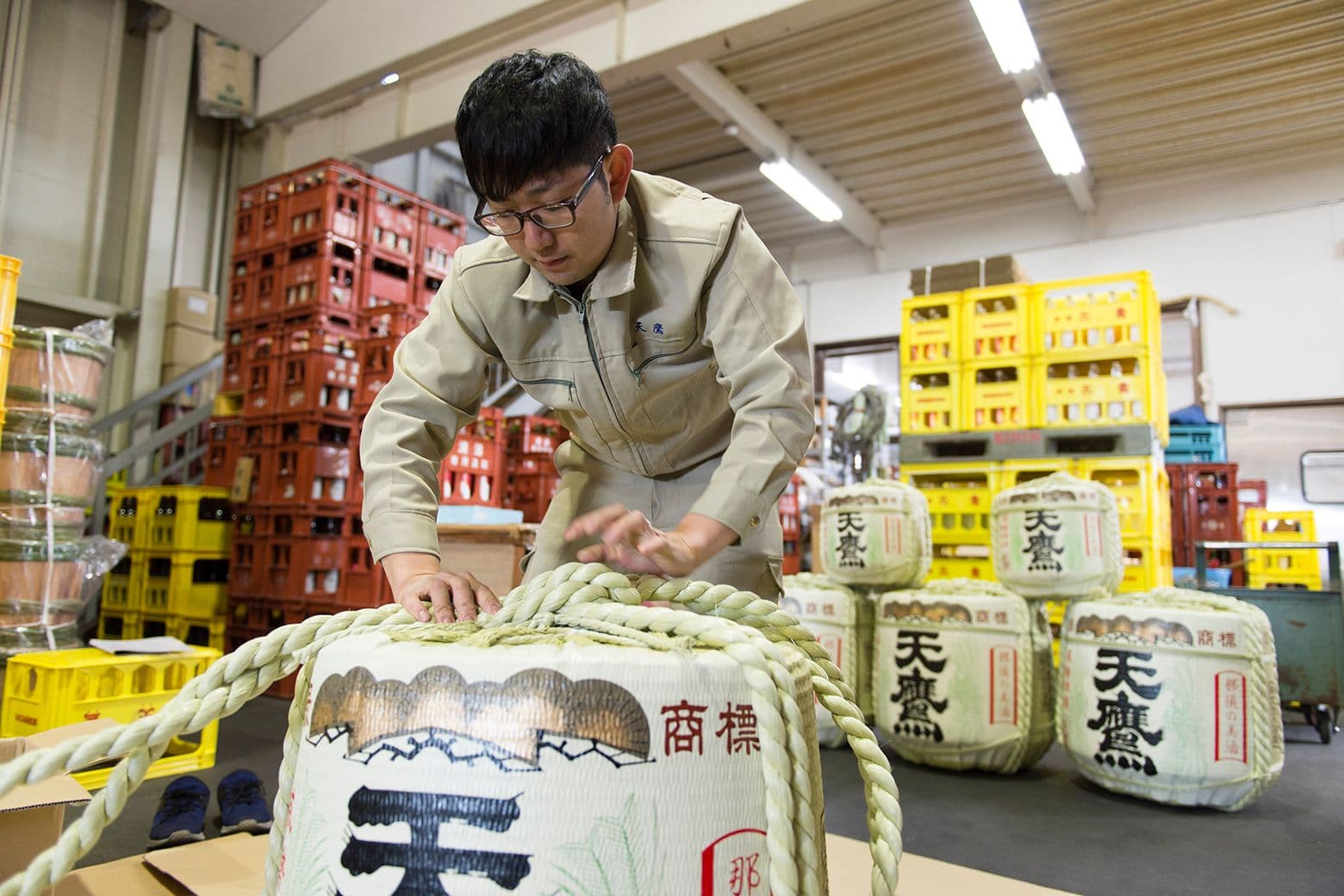 Mimi: On Tentaka's website, I saw the founder's motto, "If it's not dry, it's not sake." Do you also prefer dry sake? How do you define good dry sake?
Munenori: I like dry sake with enjoyable umami flavor. Take the Tentaka "Silent Stream" as an example—it is a sake that doesn't simply have a nice aroma, but a bottle you can enjoy with food. I believe that one of the distinctive natures of Japanese sake is its amino acids. Unlike other alcoholic beverages like wine and beer, the umami of sake doesn't overpower the flavor of food. Rather, its umami creates harmony with the umami of food.
Mimi: At Tippsy, we carry three bottles of the Tentaka brand. What are some of the recommended ways to enjoy your sake?
Munenori: Although many might enjoy Tentaka "Hawk in the Heavens" chilled, I would like you to try drinking it at room temperature. You will find the umami flavor easier to spread on your tongue than when it's chilled. As per food pairing for this bottle, something with a noticeable umami flavor would be fun. Something like cheese or raw oysters, would be examples of food with amino acids. Cream cheese risotto is also a great dish to enjoy this sake with!
Mimi: Risotto sounds like an interesting pairing!
Munenori: A bit more sophisticated way of drinking "Hawk in the Heavens" would be nurukan (warm sake—learn how to serve sake warm). Warm this sake to 108F—at this temperature, the sake will have a great balance of aroma, softness, umami and sweetness. Someone who tried this nurukan once expressed that it was as if she was soaking herself in the nice hot spring!
Mimi: What does sake mean to you?
Munenori: It is a way to express myself. I believe that it's the privilege of being a president to be able to make the sake that I want to have. Like I mentioned earlier, I'm happy to be able to take a part in the movement of protecting the environment through sake making. Sake is just a wonderful way for me to express the way I am.