Early spring in Japan
You might believe the flowering trees to be cherry blossoms but it is actually the plum blossom that graces the landscape beginning in mid-February, giving new hope and life after a long winter. Although they might look alike, the plum blossom is very different from the popular sakura in petal count, colors and fragrance. Also, the trees produces one of their most loved specialty foods—ume (梅)—the key ingredient of umeshu.
Surprisingly, although umeshu is commonly referred to as "plum wine," the fruit itself is more accurately an apricot! In fact, ume has higher acidic content than plums and is more sour than its Western counterparts so it is usually pickled or preserved.
If this is a bit confusing, don't worry, as the terms "plum wine" or "plum sake" are widely accepted and synonymous with each other to describe umeshu. Besides, getting too technical by asking for "Japanese apricot wine" would probably get some blank stares. (And let's not forget that sake is its own distinct category—not wine or even beer for that matter—but there's no need to unpack all those details before dinner!)
In a few weeks, we'll be seeing our friends steep fresh, unripe Japanese plum (or is it apricot?) in liquor in big glass jars that will sit for six months or longer to convert into umeshu; but for those of us who don't have access to ume, we can enjoy premium umeshu by three wonderful sake breweries through the Plum Sake Set.
Plum Sake Set
The set comes with three 720ml bottles of premium Japanese plum sake from Nanbu Bijin (Iwate Prefecture), Choya Umeshu (Osaka Prefecture) and Sawanotsuru (Hyogo Prefecture). Don't forget to watch our expert Sachiko's introductory video to learn more interesting facts about what you're drinking. The two-minute clip with Tippsy's iconic tasting guides do a great job of highlighting the special characteristics of each sake.
Nanbu Bijin "Plum Sake"
All my friends who I've introduced to sake really like Nanbu Bijin's "Tokubetsu Junmai," and so I knew that I wouldn't be disappointed when it came to trying their plum sake. The plums are carefully handpicked and infused into their special concoction that is fittingly called "All Koji," a special junmai sake that uses 100% rice koji, a very delicate process that requires utmost skill and hours of effort to produce small batches.
One can't help but admire this brewery, too, for how they have fought through many challenges: the Second World War, competition with larger breweries and even natural disasters. After the devastating 2011 earthquake and tsunami, when the government instructed the Japanese people to refrain from drinking sake because many people were suffering, the brewery owner Kosuke Kuji sent a different message; through the movie "Kampai: for the love of sake," Kuji asked people to drink sake in order to support the local community and his message went viral.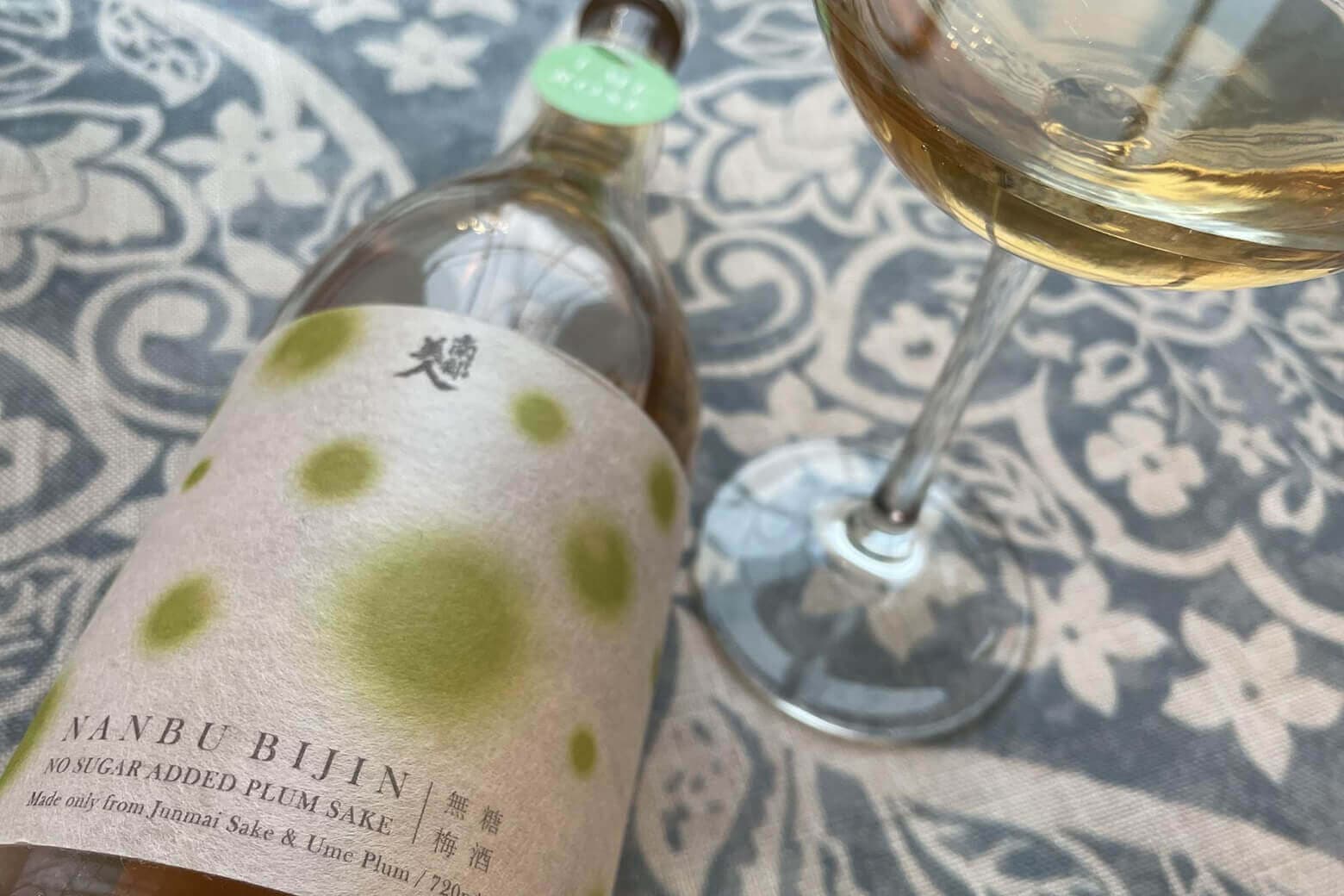 Their plum sake has a very nice rose color. When slightly chilled, the aroma is more restrained and the sake goes down very smoothly. On my second pour, I took more time and allowed it to sit in the wine glass; before taking the very last sip, I experienced something grand—a fruity fragrance immediately followed by a luxurious bouquet aroma! Wow, is this nature's perfume? This must be what Japan smells like when the plum blossoms are in bloom.
This sake was so enjoyable as it was, I didn't feel the need to experiment much with temperatures this time. I enjoyed it on several occasions as an aperitif and for dessert, and for our recent celebration of Lunar New Year, we tried it with a homemade Cantonese-inspired lobster dish which was a phenomenal pairing!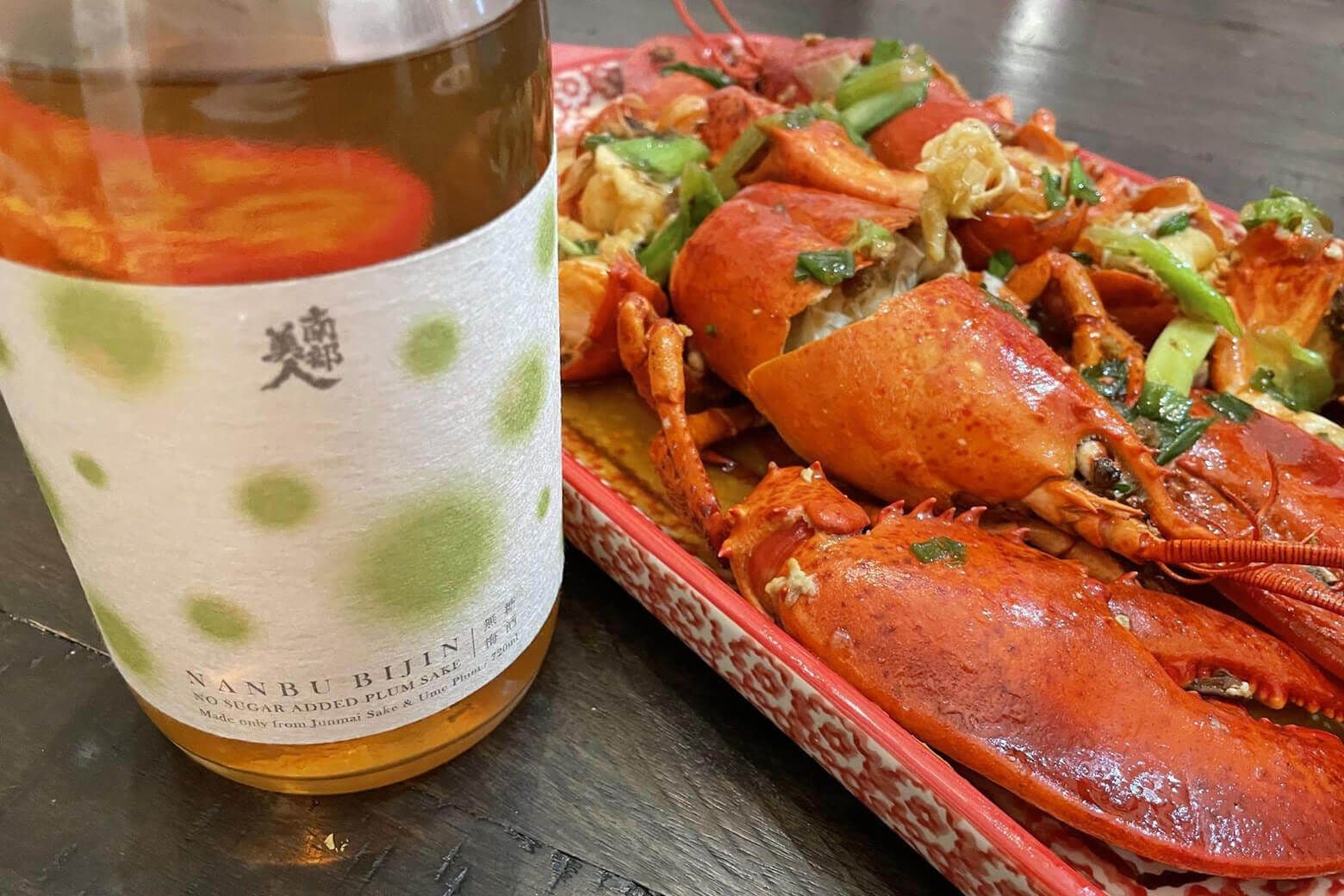 Before sake, I would've immediately reached for white wine and it would've been fine, but this sake was top-notch; more than "food friendly," it truly elevated the dish as the plum tones complemented the sherry/soy sauce umami flavors.
I would love to try this with a French duck confit, and I can see this being lovely with a croissant, cheese and fruit. Ah!
Sawanotsuru "Plum Sake"
One of six principles held closely by Sawanotsuru is "Sake is not something to make but to nurture." Made of 100% Nanko Ume from Wakayama Prefecture (the finest plums in all of Japan) and brewed with Miyamizu (one of the three famous water sources of Japan), you can experience their nurturing style in this plum sake.
After three years of aging, a darker, amber color has emerged with a thicker consistency. As usual, the kimoto method offered a pleasant surprise as I assumed it would have a "heavy" texture but the versatility of this sake made it very easy to pair with everything I brought forward: spicy buffalo wings, a burger, fried chicken! On the rocks (over ice), it was like drinking a special iced tea, which had me chuckling as I had lived in the South for some time and wondered if I could get away with having this everyday.
The sweetness in this sake is more pronounced, which is what inspired me to also try it as a marinade for steamed fish. Mixed with soy sauce and ginger and topped with scallions, this sake was a perfect ingredient (as well as pairing with the dish itself) and removed the need for added sugar.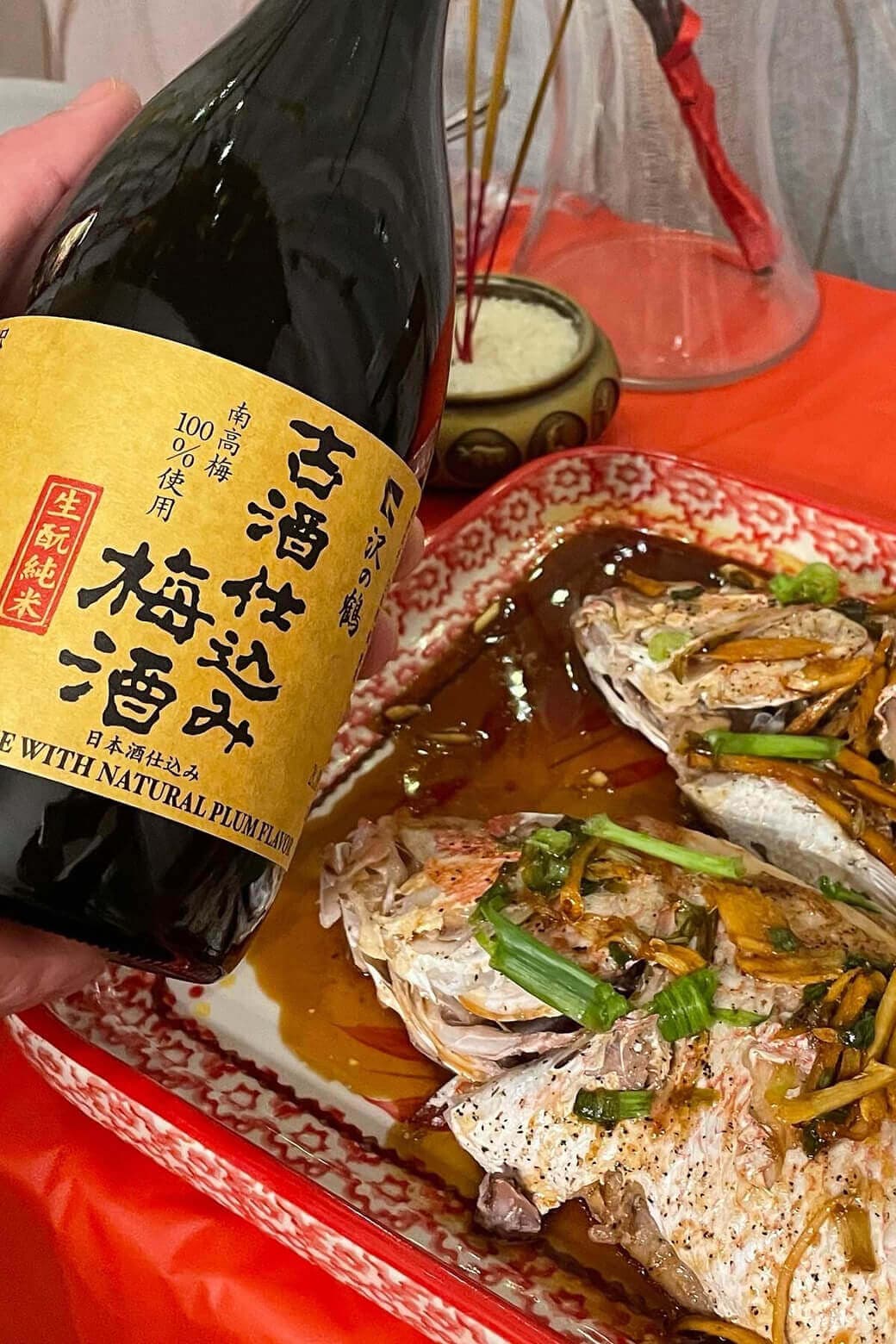 In my imagination, it would pair well with dishes that include pineapple like sweet and sour pork or a chicken-pineapple barbecue. With sake, the only rule is to let your taste buds explore with your imagination—many times, you'll be right on target.
Because of the rich, sweet profile of this kimoto-style sake, I experimented with warming it up. We drizzled it on a few things—on fruit, brunch waffles, even over ice cream!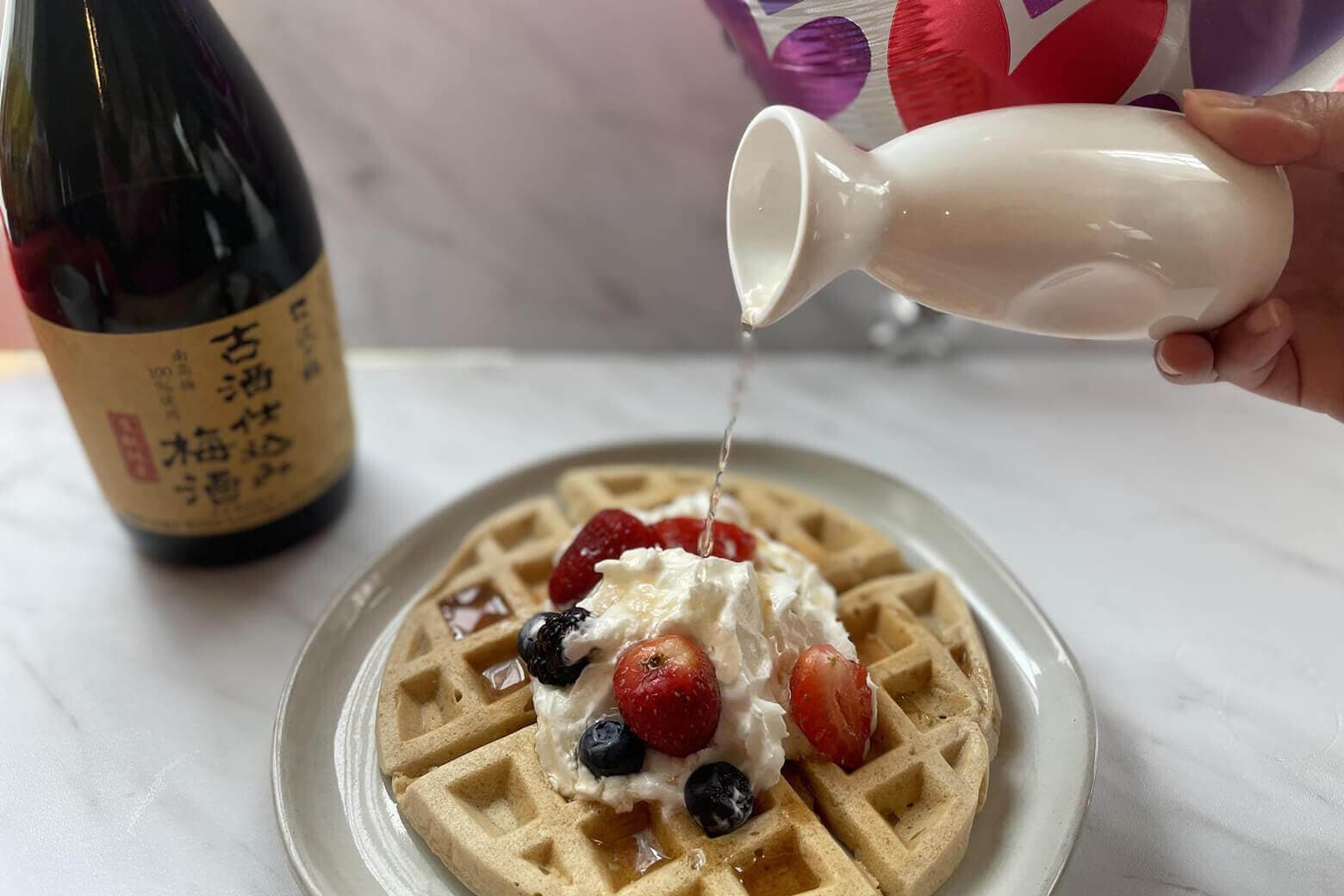 Choya "Plum Wine" (with fruit)
There is a Japanese proverb, "An ume helps one escape the difficulties of the day." Revered for its nutritional value, a traditional breakfast in Japan usually includes an ume on top of a bowl of rice, along with other healthy items like fish and miso soup, or at the least, some version of umeboshi (pickled plum) as a side for a meal. Since the Warring States period, human cultivation of plum blossoms has been encouraged. At the heart of the Choya brand is ume itself, and the brewery is dedicated to the mission of bringing the finest umeshu to the world, not only in production and distribution, but through research partnerships with ume growers, and every step of the way.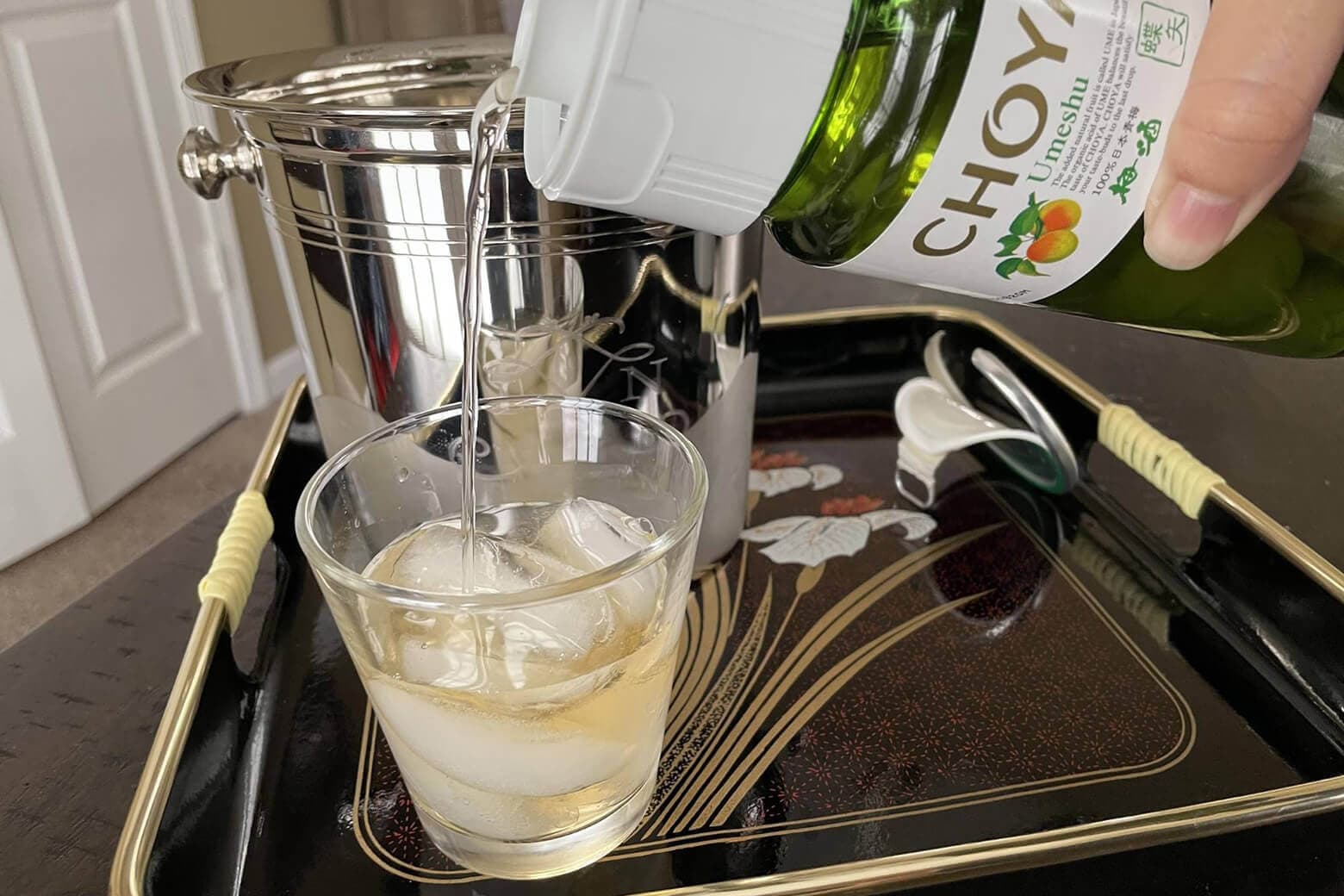 The bottle's hue shows off the whole, green plums inside; and upon observing the texture of the plums, one might be reminded of an unusual, wrinkly olive. But don't be mistaken and don't be foolish to dismiss the luscious plums inside! When you pour, you'll see that the sake also exhibits a light amber shade, and when you taste it, you'll want more! With just the right amount of sweet, sour and tart, this works well as a "bridge" sake for beginners.
This sake is perfect on-the-rocks, but we also loved it with Pellegrino sparkling water for some fizz which made for an easy Saturday brunch drink. Check out Choya's website for other sake cocktail recipes!
Plum sake, another new favorite.
In the past, I had never tried umeshu because I assumed that all plum sake would be too sweet for my liking, but the Plum Sake Set is perfectly curated to delight all kinds of drinkers, styles and meals! If you're curious about the range of sugar content by taste, I would consider Nanbu Bijin for its natural sweetness, Choya in between and Sawanotsuru as the sweetest. For a dinner party, I might offer a Choya cocktail to start, next comes the Nanbu Bijin with any entree with its elegant plum notes and a carefully warmed Sawanotsuru over ice cream or a whipped pastry; or in reverse order, a chilled Sawanotsuru as an aperitif, Choya on-the-rocks with fried foods and the Nanbu Bijin to cleanse the palate gracefully after a feast. With this set, any combination will work like a charm!
What is your favorite umeshu? How do you like your plum sake? Let us know at #tippsysake!