Where: 127 MacDougal St, New York, NY 10012
Hours: 6:30 p.m. and 8:30 p.m. (Mon-Wed); 6:30 p.m., 8:30 p.m. and 10:30 p.m. (Thu-Sat)
I love any place that sends me home with pizza. It's a surefire way to make sure I'll come again. So when I saw the perfectly browned melted cheese on the focaccia bread pizza at Tokyo Record Bar, I swooned and told myself I'd be back soon. Of course, my stomach was already full after the multi-course dinner I'd just been fed, but it would be the perfect late night snack when I returned home.
But wait — pizza? At a sake bar? Yes! The underground establishment, which is accessible through Air's Champagne Parlor on the Village's famous MacDougal Street, offers patrons dishes influenced by various cuisines.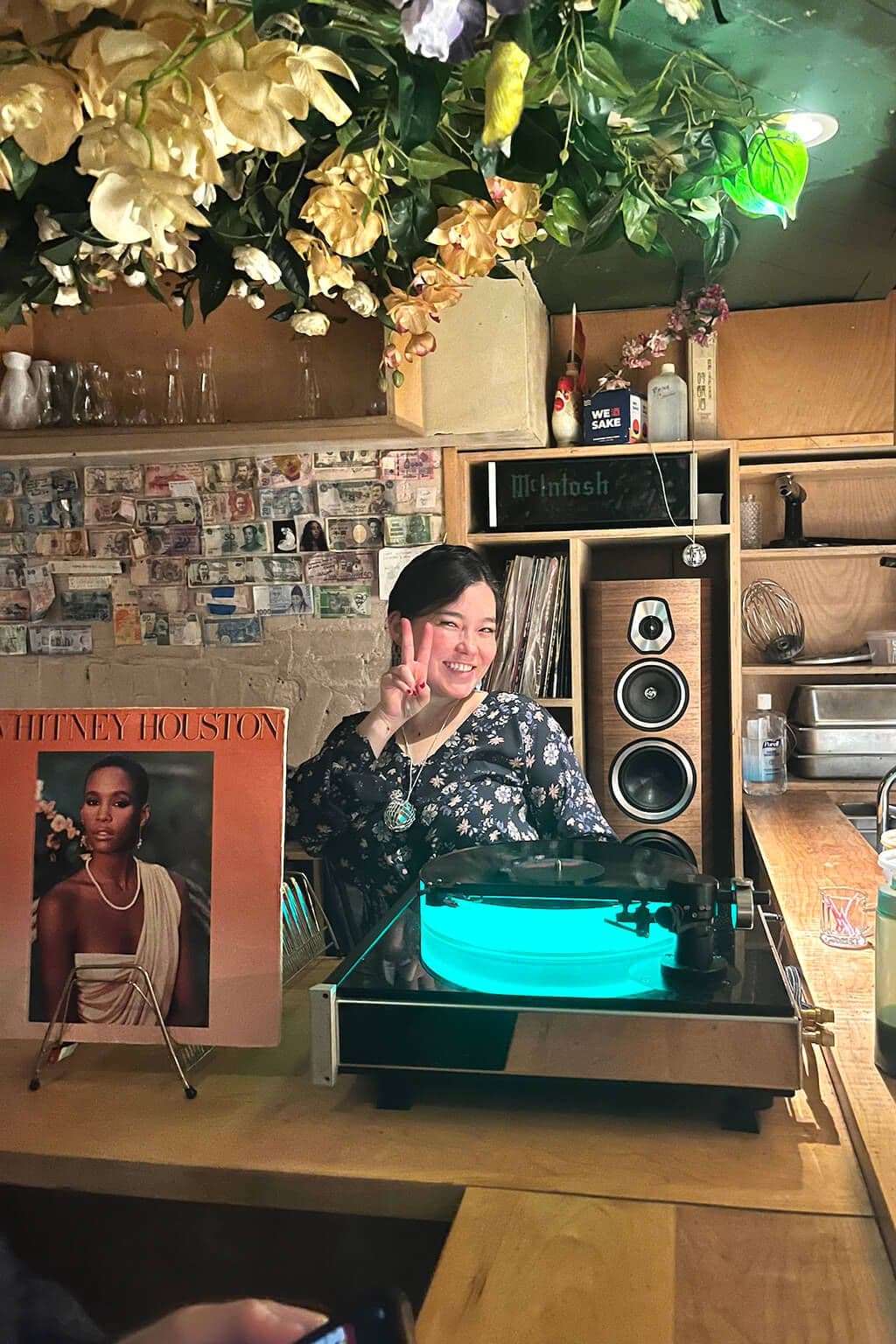 "Sake is extremely versatile in flavor, aroma and texture," says Miss Sake USA and sake sommelier Jessica Joly, "which is what most people don't realize. I want people to normalize sake drinking like they would with wine. It's super food friendly and an excellent pairing for food, and hopefully we can branch outside of the box to pair this amazing beverage with other cuisines like Mexican, Chinese, Italian and French."
Joly is a delight, making us feel right at home. And that's the vibe one gets from Tokyo Record Bar; it's like a house party in someone's living room. Traditional Japanese fixtures abound, with a twist of exuberant modernism. Flowers cover the ceiling, and colorful depictions of "kitsune" (fox creatures from Japanese folklore) and cranes cover an entire wall.
The moment my friend and I sit down at the high top bar, we're faced with casual munchies like shichimi togarashi (Japanese seven spice) popcorn and spicy cucumbers. We pick at these while we determine which songs we'd like to select from the jukebox menu, which is sorted by decade. (I choose "HUMBLE." by Kendrick Lamar and my pal opts for an Amy Winehouse jam.)
"Tokyo Record Bar is a fun place that allows people to feel a connection between food, music and vibes," Joly says. "Our owner, Ariel Arce, was always inspired by the underground vinyl jukebox scene in Japan, and so it only made sense to feature sake and Japanese beverages. Most people that walk through the door at TRB have no clue [about] sake, which is why we do the sake pairing option because it eliminates intimidation and [they] can enjoy the experience by trusting us."

We sip on some Hakkaisan sake and enjoy our front row view of the chefs preparing our food. They have no problem accommodating vegetarians, which is a relief to me as many traditional omakase restaurants cannot. Fresh oysters and octopus dishes come my companion's way, while I happily take down their tofu, mushroom and cauliflower equivalents. Refreshing and light, creamy and savory, fried and spicy, soft and sweet — all these flavors and textures appear over the next several courses. Our sake evolves with the meal, and includes bottles such as Yano "Umami" Aged Kimoto Junmai and Yuki no Tenshi "Snow Angel" Nigori.
The entire experience lasts for about two hours, and we leave feeling like we've been well taken care of. I genuinely look forward to another round of sake, food and fun the next time I visit!