A few months ago, I was at Japan Village in Brooklyn's Industry City, an old warehouse complex turned into a vibrant community of food, arts and crafts, and found myself in front of a budget omakase just 30 minutes before closing. Unsure if the chef would accept me, I peeked in and found two other diners at the other end of the counter and the chef gestured for me to enter. I bowed shyly and approached the counter, relieved and grateful to find nourishment. But as I sat down, I panicked and realized I had never been to a sushi omakase or knew the etiquette for omakase dining! I quickly pulled out my phone for a Google search as I cautioned myself not to commit any dining faux pas. The chef seemed to be able to discern my confusion and he guided me through the meal so I could enjoy all six plates of nigiri, plus a handroll.
After that evening, I decided to explore what makes omakase special so I can better prepare myself for next time.
What is omakase?
Although an omakase dining experience usually presents itself in a formal setting where it can be thought of as a centuries-old tradition, it is a fairly modern concept that arose in the 1990s to meet the curiosity and demands of affluent clients who knew they wanted the best of what was available, but did not necessarily know the types of fish and what was in season. Omakase means "I leave it up to you." One abbreviated translation I've also heard is "chef's choice."
How does it work?
The entire experience can consist of several dishes (typically 15 or more) set in an intimate space with each dish prepared right in front of the customer, usually at counter height seating. Some restaurants have table side service too, where the dishes are delivered by waitstaff from the counter to the guests at the table. The production is like a crescendo, beginning with simpler dishes and progressing into more specialized ingredients — and sometimes more adventurous courses — depending on the chef's selections.
It is not uncommon for a chef to switch things up mid-meal to ensure that every dish is to the guest's liking. The documentary "Jiro Dreams of Sushi" shows how the sushi master Jiro Ono even considers the size of each course, shaping it at the perfect size to be consumed in one comfortable and heavenly bite!
Although guest satisfaction is the number one goal, it is important to keep in mind that most cannot cater to dietary restrictions (aside from allergies or sensitivities to certain foods). Ultimately, if you're uncomfortable with raw, uncooked fish and meats, or generally unsure about how you'd fare with unfamiliar cuisine, it would be better to save face and avoid embarrassment. Omakase is meant for true fans of sashimi.
Why is omakase so expensive?
Typically at an omakase, there is no detailed, itemized menu. Most omakase in the U.S. list a base price on their website, and sometimes there will be nothing but a sheet of paper with the day's special add-ons. In Japan, it is not uncommon to receive a non-itemized bill, just a final amount.
The cost of an omakase goes beyond the quantity of dishes. Chefs consider what's fresh and in season, and select quality pieces. Follow an omakase's Instagram account and you'll notice how much pride is taken in procuring the best quality fish and vegetables; everything is as fresh as can be, with many chefs even flying the fish all the way from Japan to deliver the best possible seafood.
And from this catch, the chefs apply their personal philosophy and special skills to complement and extract the beauty of each dish in a natural way, with minimal manipulation and lots of care and respect for the ingredient itself. A delicate piece of scallop, for example, would never be overloaded with yum-yum sauce, but elevated with an intentional accent of fresh yuzu shavings and Okinawan sea salt.
An evening at Sushi Nakazawa
After my first omakase experience I could not wait to try a full sit-down omakase dinner, so I booked a reservation with Sushi Nakazawa at their Washington, DC location. This was no budget omakase. At $180 per person, it was definitely a splurge, but this time, I felt more prepared to fully enjoy the art of the meal, and eager to try premium Japanese sake with some of the best sashimi I could eat here on the East Coast. (Sushi Nakazawa also has a New York location, for those who don't want to make the trip.)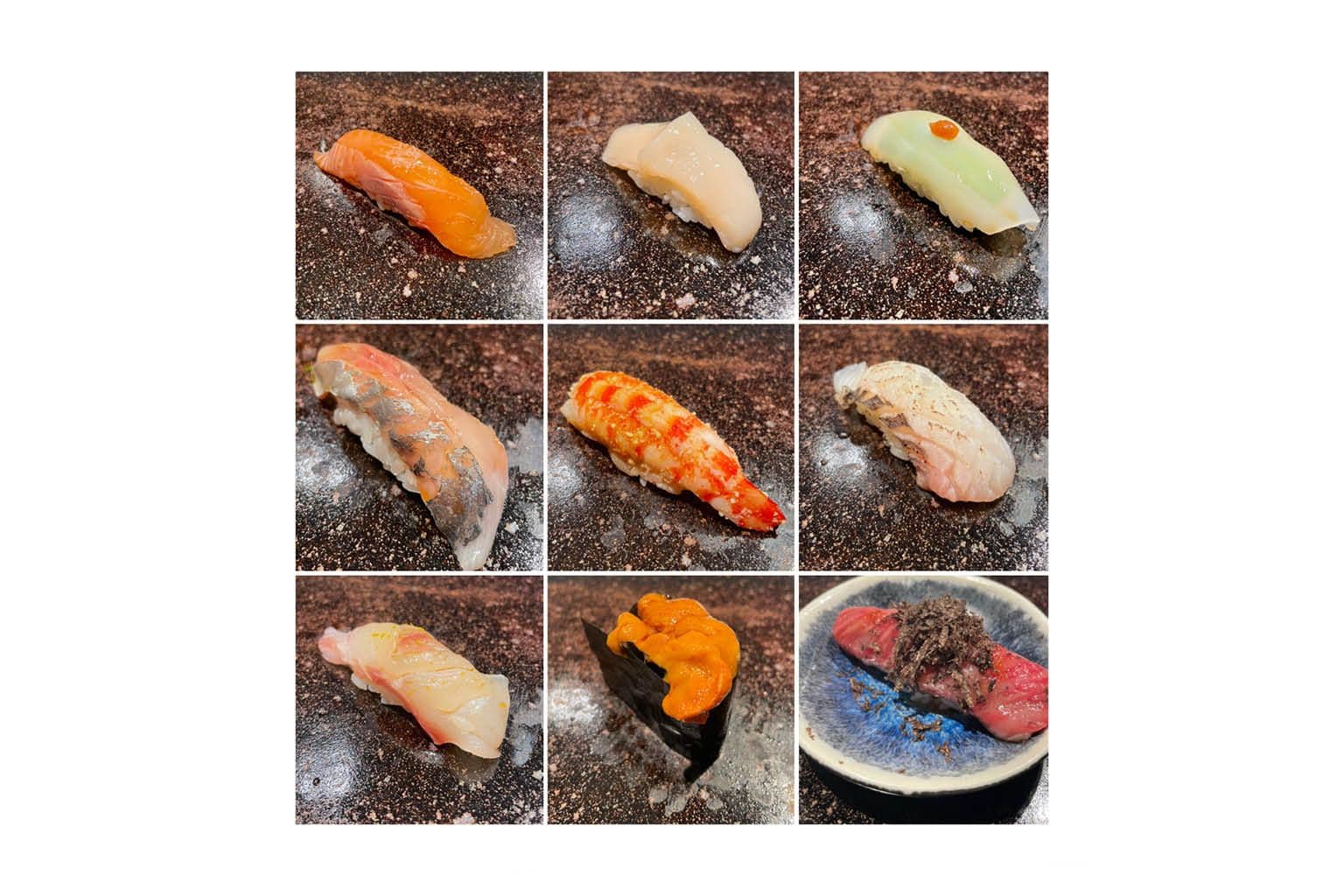 They seated us as promptly as they could, gave us our "oshibori" (hot towel) for our hands, and poured us a complimentary glass of Champagne for our anniversary.
The optional add-ons were listed on a small piece of paper and in the spirit of adventure, we decided to try the tuna caviar and wagyu with black truffles. I've heard stories about how the final bill can get big very quickly, and so I caution everyone to keep this in mind! But both add-ons were absolutely delicious and we were eager to fully embrace the experience.
Nakazawa has one of the most extensive sake menus I've ever seen. There are a handful of sake by the glass and over two pages of premium sake by the bottle.
Two years ago, we would've been overwhelmed by a sake menu. But by exploring Tippsy's extensive collection and Assorted Sets, we've been able to taste over a hundred different sake! And now we have a pretty clear idea of the kind of sake that we like. My husband enjoys fruity sake with a medium body, so he ordered a glass of Rihaku "Dreamy Clouds," and I opted for a savory sake from Shizuoka. (With its clear, pure waters, Shizuoka prefecture is a growing sake powerhouse, also famous for tea agriculture and wasabi farms. Hananomai Brewing Company and Doi Brewing Company offer amazing savory and sweet sake from Shizuoka.)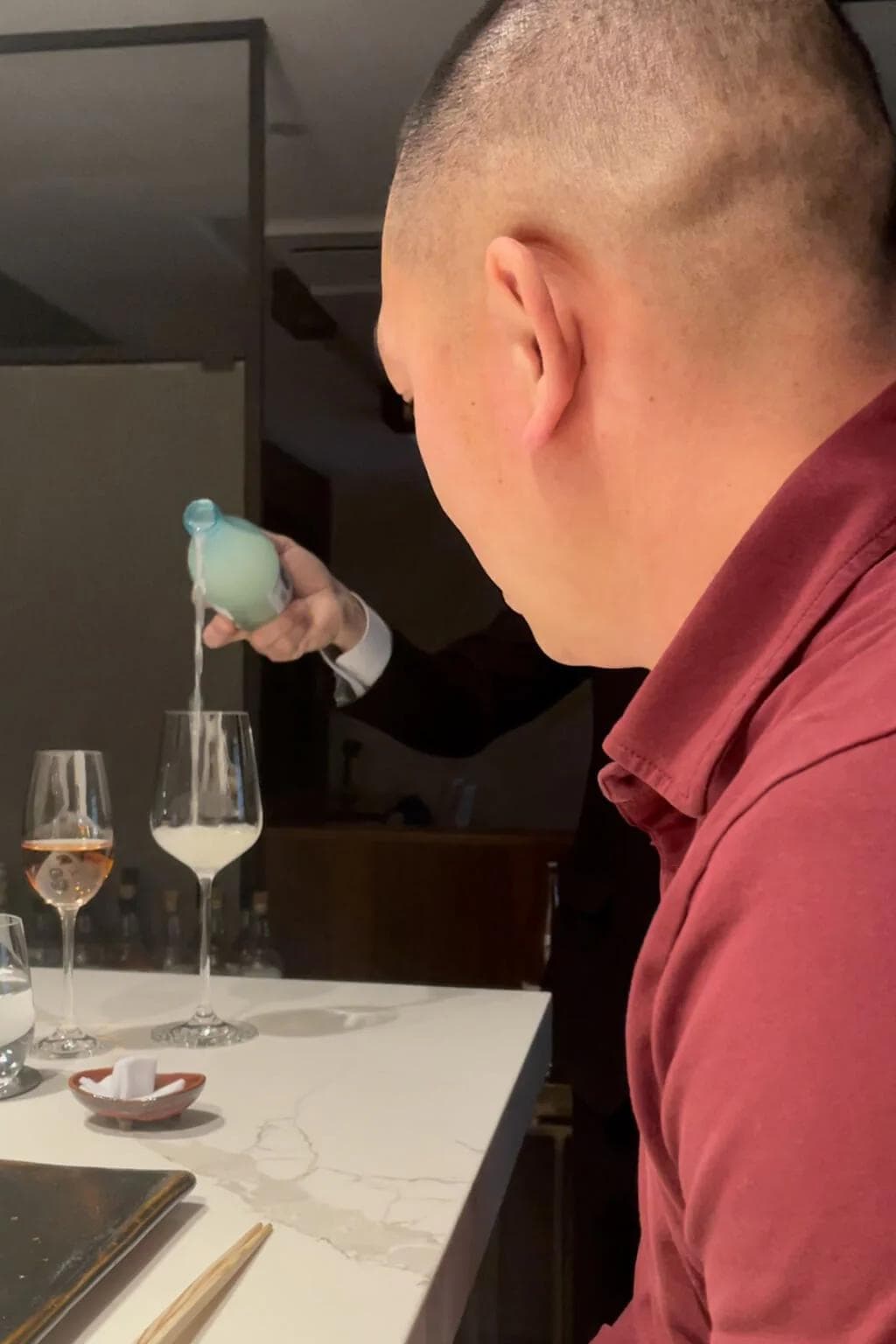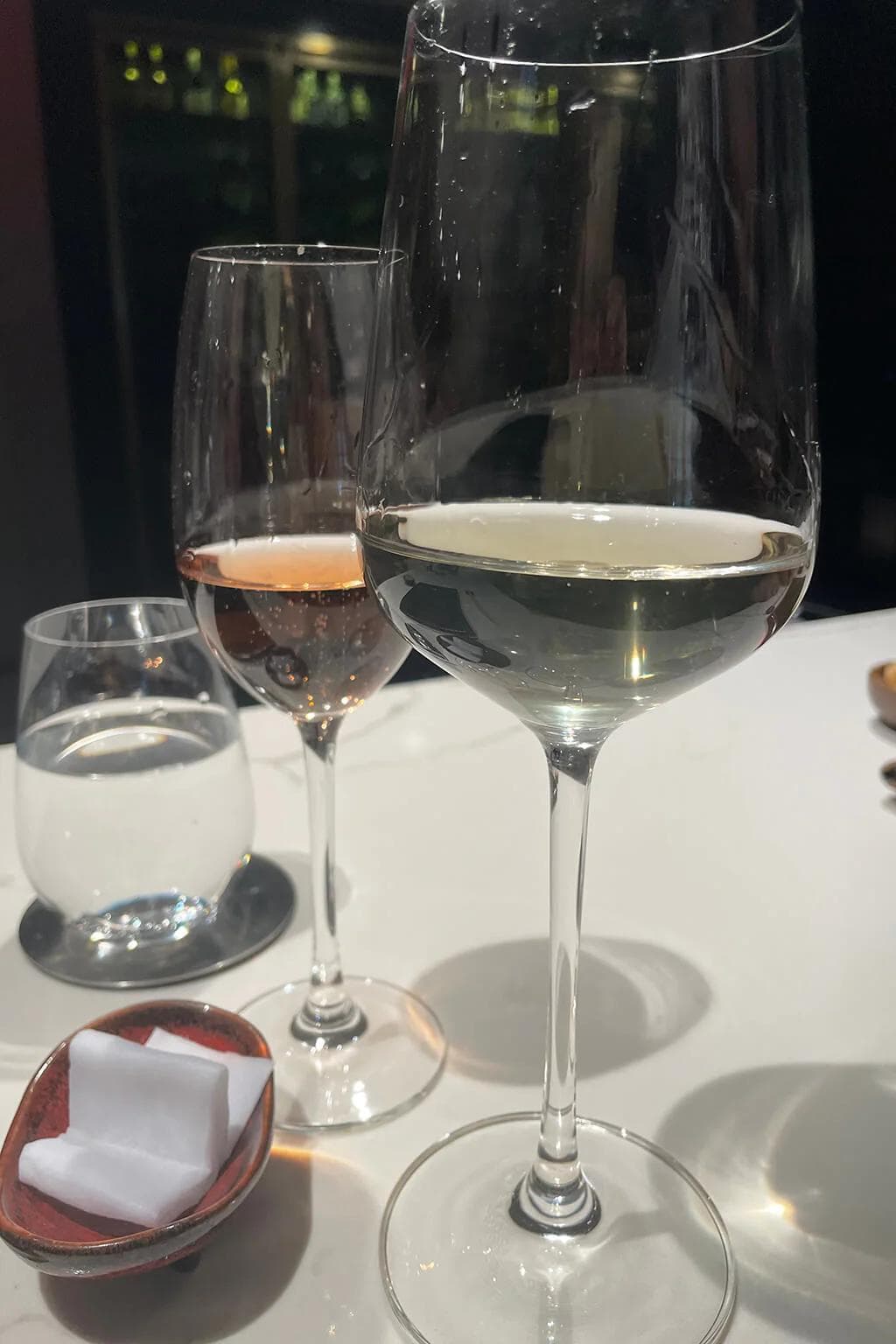 The sake was poured perfectly for us at just the right temperature and in proper wine glasses, so we could drink it in the way the brewers intended. This was the dining experience we never knew we needed. The fish was the best we'd had in a very long time, and the chef's expertise with all the ingredients was evident in his demonstration, preparation and plating. All we could do was close our eyes to try to make it last. After we stepped out, we relished the amazing meal and dreamed about our next omakase.
Omakase etiquette
The omakase experience is much more enjoyable and relaxing when you have a little more know-how in your pocket. Here are a few quick tips from start to finish.
Be on time
Most omakase experiences in the U.S. are timed. There are usually two seatings, and as the chef and staff have prepared to present a world-class experience, you don't want to throw off the presentation by being late.
Cleanse your hands
Use the oshibori provided and place it back in the appropriate dish. Oshibori is customary in many restaurants in Japan.
Ask before you take pictures, and don't take too long
It is a polite thing to do in this intimate space. Taking pictures of food is normally acceptable, but avoid taking pictures of other diners without their permission.
Don't let your food sit
Each dish is carefully prepared, and plating is timed to be consumed at optimal temperature. You might even be advised a few times to enjoy the course immediately so the warmth and sweetness of a shrimp, for example, won't diminish or be cooled down by the rice.
Don't add anything more
It might be tempting to dunk your sushi in soy sauce or add more wasabi. But really, there's no need! The chef brushes just the right amount of both to each course. Appreciate the flavor. Take a small bite of ginger, if you like, to refresh your palate between courses.
Take it in one bite
Chefs are very intentional about their portions. It is perfectly sized just for you.
Use chopsticks for sashimi
Chopsticks are customary for sashimi, although using your hands is acceptable for sushi. Don't forget to wipe your hands on the moist towel provided.
New trends in omakase
Although traditional omakase experiences are sashimi-centric, in recent years, this style of dining has extended to other cuisines. These days we can find cheese omakase and steak omakase. While it could be argued that these are closer to chef's tasting menus, it's amusing and eye-catching to see how far restaurateurs can push the omakase envelope. Even the presentation is more playful in some establishments, like at New York City's Rabbit House Omakase & Sake Bar.
It's reminiscent of the trends in sake, too, as brewers navigate between traditional sake making and incorporating new methods and styles for the future. It's hard to say if one is better than the other. The traditional sake styles of Fuji Brewing Company (Izumo) or Kenbishi Brewing Company are as attractive and delicious as the modern sake of Heiwa Brewing Company.
Wherever you stand on the spectrum of tradition, I'd have to say that a sushi/sashimi omakase is hands-down the best food pairing for sake!
References:
"What 'Omakase' Really Means (And How Japanese Use It From Sushi to Fashion, Even Hairstyles)!" Live Japan, 2021.
https://livejapan.com/en/in-tokyo/in-pref-tokyo/in-asakusa/article-a0002713/
Kulkarni, P. "The Difference Between Sushi And Omakase Explained." Augustman, 2022.
https://www.augustman.com/sg/food-drink/dining/sushi-and-omakase-origin-difference/