Looking for the ultimate sake tasting experience? Scheduling a brewery tour or visiting a tasting room near you may be easier than you think.
A growing number of U.S. sake breweries are popping up and making sake that rivals famous brands from Japan. This post will explore some of the elite, small "kura" that offer tours. You'll also discover a bunch more that offer casual dining and drinking experiences.
Let's start by exploring what sake pros already know: sake brewery tours are so much fun!
Visiting a sake brewery
Sake breweries are where the magic happens. Visiting one should be near the top of any sake enthusiast's to do list. Tours are both educational and entertaining. Once you've experienced a kura from the inside, you're likely to want to visit more. They're all different, and you'll always learn something new. (Although, it wouldn't hurt to brief yourself on the basics of sake before you go.)
Historically, this hasn't been hard to do. Many breweries big and small offer tours to both professionals and enthusiasts. But now, unfortunately, sake brewery tours are another victim of the pandemic. Visiting Japan has become challenging at best, with in-person tours and events often cancelled.
Luckily, there are still options. For one, you no longer have to travel to Japan to visit a quality sake brewery. The number of craft sake breweries in the U.S. are increasing rapidly. And they're popping up all over the country, with some of these tiny kura offering tours.
Many of the safety issues plaguing the brewery industry in Japan are relevant in the U.S. But I'm optimistic that things will eventually get better. With that said, there are a few COVID considerations to be mindful of when visiting a sake brewery.
Safety, flexibility and brewery tours
Most of the craft sake breweries in the U.S. are tiny, and they will often have few, if any, staff. So it can be difficult or impossible for some companies to offer tours.
The ebb and flow nature of the pandemic has made it hard for breweries to schedule tours and events. Even breweries that normally offer tours may temporarily discontinue them during periods of heightened safety risk. So be patient and considerate of these facts when planning a visit.
You'll also want to bring masks and maintain a safe distance when possible. Some states or establishments may also require proof of vaccination.
With all that in mind, let's look at some of the top U.S. breweries offering tours.
Best sake breweries with tours
There are a number of excellent craft brewers that don't offer public tours (like Arizona Sake and Den Sake Brewery), and that's OK. There are also quite a few promising new kura that have more experimental styles. I don't include these mostly because I haven't tried them yet, so the criteria I chose are generally small kura that focus mostly on traditional brewing.
So let's start with the most famous American craft sake brewery.
Brooklyn Kura
Brooklyn Kura is easily the best known craft sake brewery in the States. Brian Polen and Brandon Doughan started it in 2018 in Industry City of Sunset Park.
Certainly, their location was smart. Over 20 million people live in the New York City metro area and three times that many tourists visit annually.
But their success comes down to quality. Brooklyn Kura produces delicious, traditional styles of sake. The sake I've tasted from there holds its own against similar styles from Japan.
If you want to tour Brooklyn Kura, you'll have to first be a Kura Kin member, and then contact them to make an appointment. But you don't have to be a member to enjoy their sake! Simply swing by for a tasting at their sleek taproom. They're typically open Friday through Sunday. Check out their website for hours of operation.
Finally, Tippsy carries Brooklyn Kura sake, as well. So you don't have to travel to New York to try one of America's best sake brands.
North American Sake Brewery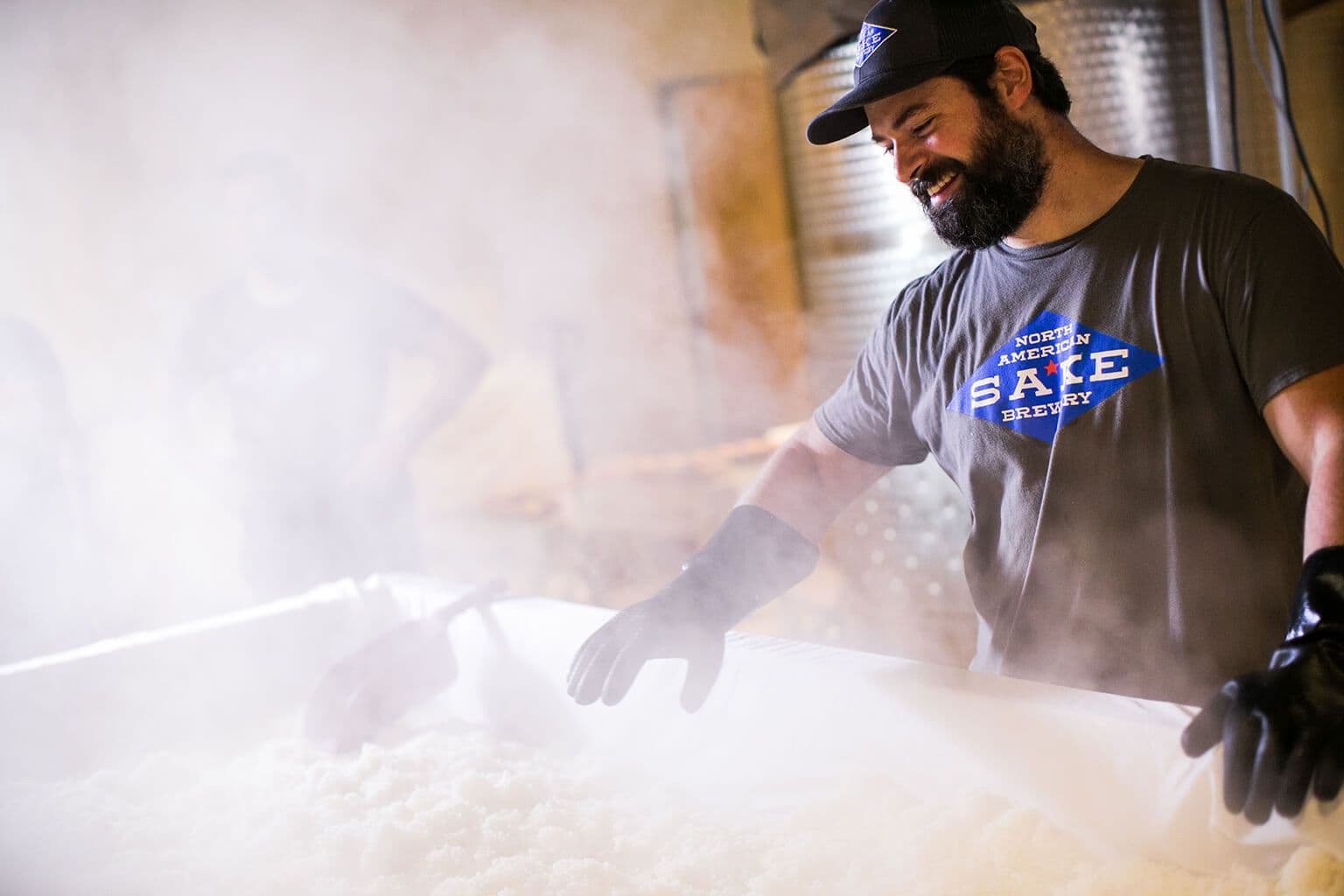 North American Sake Brewery, or NAS, is another East Coast craft kura worth checking out. Located in Charlottesville, Virginia, they're a short road trip away from Washington D.C., Baltimore, Richmond, and Norfolk. NAS was founded in 2016 by Jeremy Goldstein and Andrew Centofante.
Like Brooklyn Kura, North American Sake Brewery brews a number of traditional sake grades and styles. They also regularly produce limited-edition sake that are seasonal and playful.
Private brewery tours can be scheduled by emailing info@pourmeone.com. And after your tour is finished, you'll want to check out their tasting room, which has an impressive food menu, all of the brewery's fresh sake and a solid beer list. Their patio is also dog-friendly!
Tahoma Fuji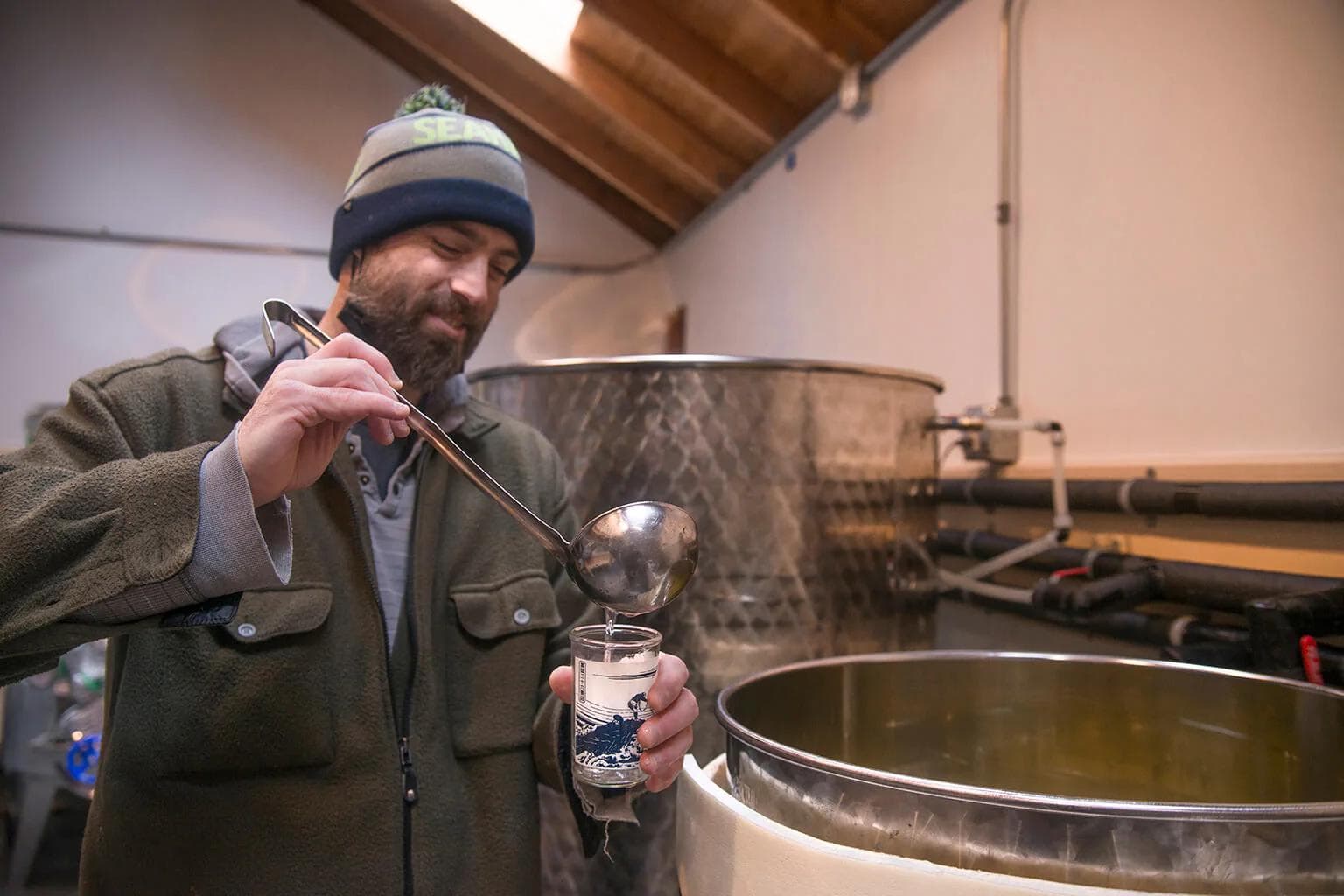 On the West Coast, there is a relatively high density of sake breweries. Among them, Seattle's Tahoma Fuji Sake Brewing Company is my favorite. The name is a combination of Mount Fuji and Tahoma which is an original name for Mount Rainier.
Andy Neyens, the brewery's "toji" and founder, built his microbrewery in his backyard in the Ballard neighborhood. He honed his sake brewing skills at the Fumigiku Brewing Company and Masuda Brewing Company in Toyama, Japan. It's probably no surprise, then, that the sake from Tahoma Fuji tastes like it came from Japan—super fresh!
While many large and mid-sized sake breweries are essentially factories, Tahoma Fuji feels like a church. It's small and unassuming from the outside but beautiful and airy inside. It has vaulted ceilings, lots of cedar, and shafts of light shining onto the stainless steel equipment. The passion for sake brewing is obvious the moment you step into this space. Andy does almost every brewery task himself, including tours. So try to plan well in advance. Check out Tahoma Fuji's website to schedule a visit or reach out to Andy on Instagram or Facebook.
There is no tasting room or food at the brewery, but Ballard is loaded with excellent restaurants.
Sequoia Sake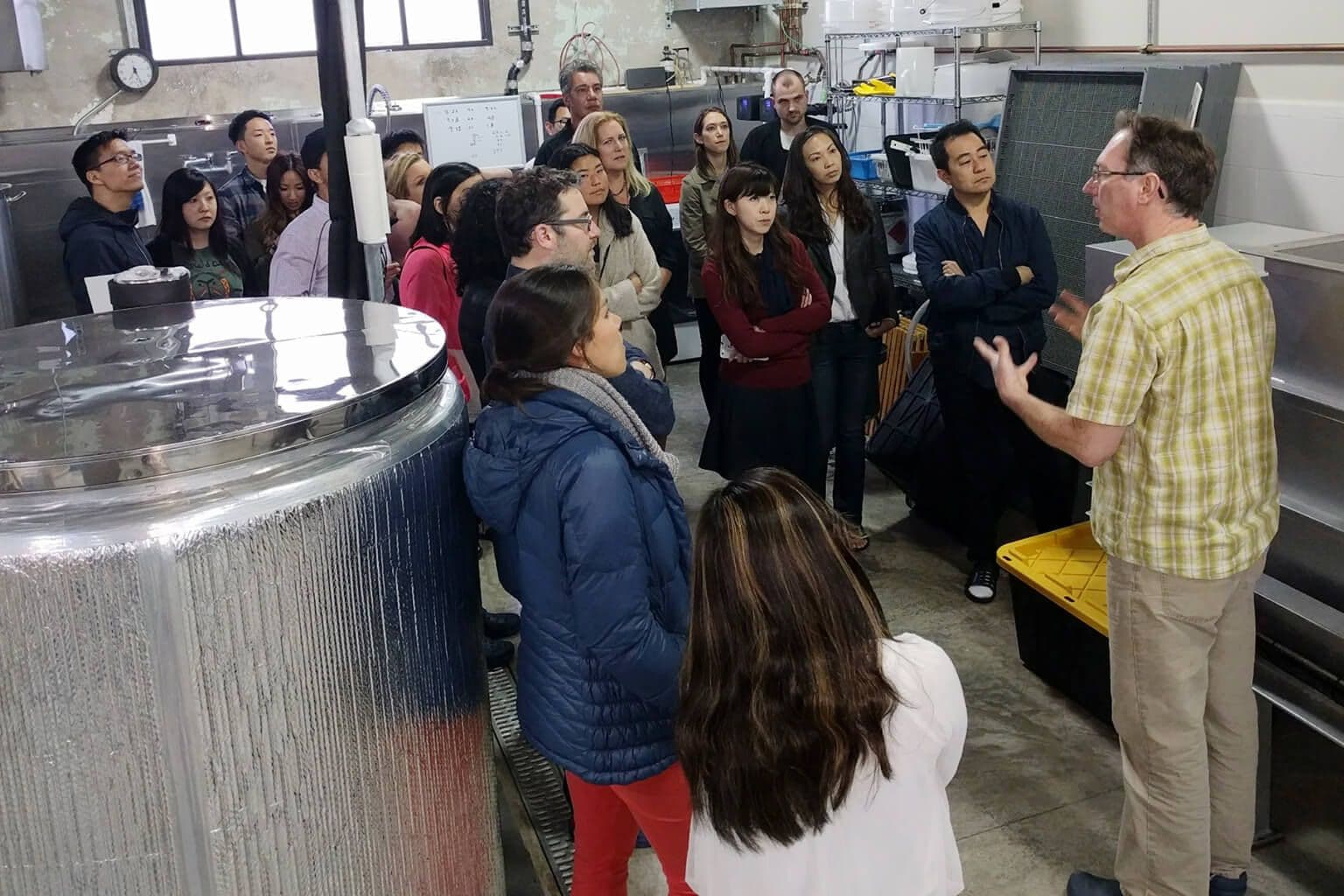 Moving south, California is the heart of America's sake brewing industry. There are a handful of breweries, big and small, high quality water and lots of rice production. Sequoia Sake of San Francisco is easily one of the most exciting craft kura in the Golden State.
Sequoia Sake was founded by Jake Myrick, Noriko Kamei and Warren Pfahl in 2015. But the brewery had a more humble origin. Jack and Noriko were unable to find their favorite style of sake, "nama genshu". At the time, this unpasteurized and bold type of sake was rarely exported. So they set out to make their own.
Fast forward to today, and Sequoia is establishing itself as one of America's premier craft kura. The brewery and couple were even featured on The Migrant Kitchen.
There are several ways to visit the Sequoia Sake Brewery. First, every Saturday there is a public tasting. Club members can schedule a free tour during this tasting as part of the club package. Another way to tour the brewery is through a paid private tour. These can be scheduled any day other than during the Saturday public tasting. Finally, Sequoia also offers virtual tastings and tours.
Other breweries with tasting rooms
Just want to hang out next to a brewery and taste their sake? There are a lot of American sake breweries that offer tasting rooms—and many of these have food!
If you're in the Portland, Oregon, area, check out the tasting room at SakéOne in Forest Grove. You can try the sake they brew on-site and the brands they import from Japan.
Back in California, the famous Gekkeikan brewery of Fushimi, Kyoto, set up shop in Folsom. Their tasting room and reception area is beautiful and worth the trip if you're in Sacramento. Currently they're not offering tours due to COVID restrictions, but keep an eye on their homepage for updates.
Takara Sake USA Inc., maker of Shochikubai, is another large Japanese brewery that opened a second location in California. Their Berkeley brewery's tasting room is also closed due to COVID. However, they offer one of the most competitive virtual tastings available. Tippsy also carries Takara Sake's Shirakabegura lineup, including the famous sparkling sake Mio.
Islander Sake of Honolulu, Hawaii, is an exciting, small kura founded in 2018. They offer "kaiseki" cuisine and sake tastings.
Up north, Moto-i of Minneapolis, Minnesota, was the first sake brew pub outside of Japan. This is a great place to try a huge variety of Japanese cuisine and freshly-brewed sake.
Down south, Texas Sake of Austin is an innovative brewery with a taproom where you can sample their unique brews. A food truck outside has your food needs covered.
Finally, Ben's American Sake of Asheville, North Carolina, is a great place to sample a variety of traditional and infused sake. Their beer and sake garden also offers tons of craft beer options and Asian fusion cuisine.