Holiday gatherings are a little tricky this year. We want to keep safe but as the holidays roll in, it becomes more difficult to keep to ourselves. After all, the holidays—Thanksgiving and Christmas in particular—are meant for human connection! Yet even with all the upcoming video chats lined up with family and friends, I was still searching through virtual party ideas hoping for something exciting that would enliven the typical scene.
I've come to realize that it's not just connection that we seek, we're yearning for the chance to discover together! The nature of spontaneity makes it so that it's not something we usually experience within the predictable pattern of a call. So when the proposal to host a virtual sake party came up, I was thrilled and knew just the people to call!
Once upon a time, when I was young(er) and hip, I lived in the greatest city in the world, living my dreams with strangers who became really good friends. Our reality was even better than the drama of TV shows. We would frequent museums, speaking events, live music shows, jazz bars, happy hour and Saturday brunches that lasted until 4pm. We pursued our biggest dreams and were very much in love with life: our budding careers, different hustles, and all the wonderful experiences yet ahead.
It was the time of my life when I felt fearless. We supported each other and we were eager to discover. So I believed they would say yes to this proposal for a virtual sake party, and in true fashion, they didn't let me down!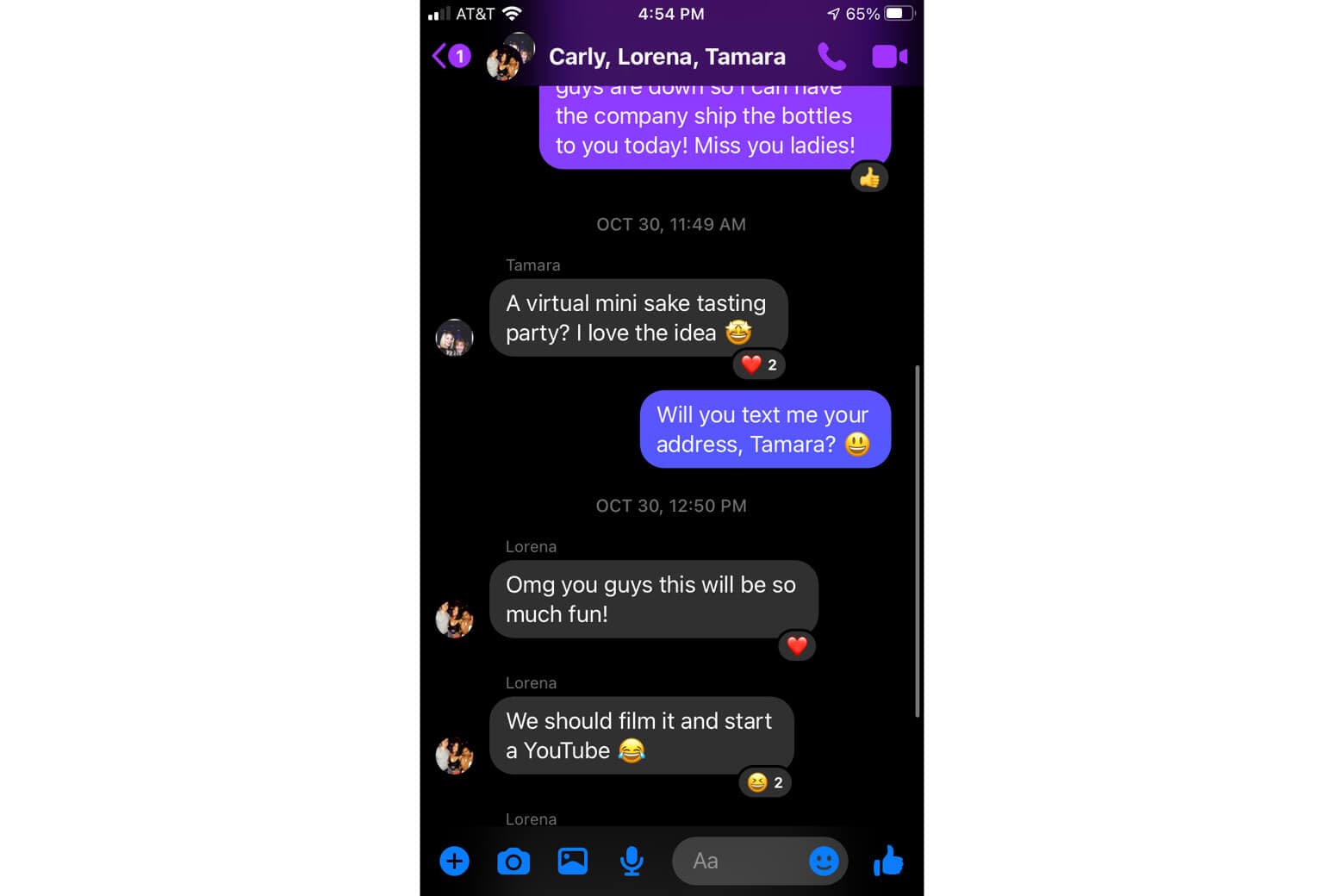 It wasn't the first time the three of us had done something like this. A few years ago when we lived in our apartment in Astoria, we did a tasting of Kit-Kats from Japan and made spiked hot cocoa together. Now, we were coming together from different cities on the East Coast to catch up on each other's lives as we dined and tasted six different types of premium Japanese sake! Tamara had prepared a scrumptious steak dinner with beautiful sides and called in from New York City, and Lorena hosted an intimate group of friends in Florida with a charcuterie plate and chips. Being able to see my friends on screen, with the anticipation of trying something new together, was so refreshing!
Tamara kept us on pace and Lorena played host by reading each description before tasting. I loved that they had reviewed the tasting cards and prepared the bottles in advance to enjoy the sake at different temperatures. Now, I've had my fair share of sake but this was absolutely my favorite experience so far. Even in the virtual setting, drinking sake with friends is so much fun and tasting all six bottles in one sitting really gave us a better sense of the grand variety of sake.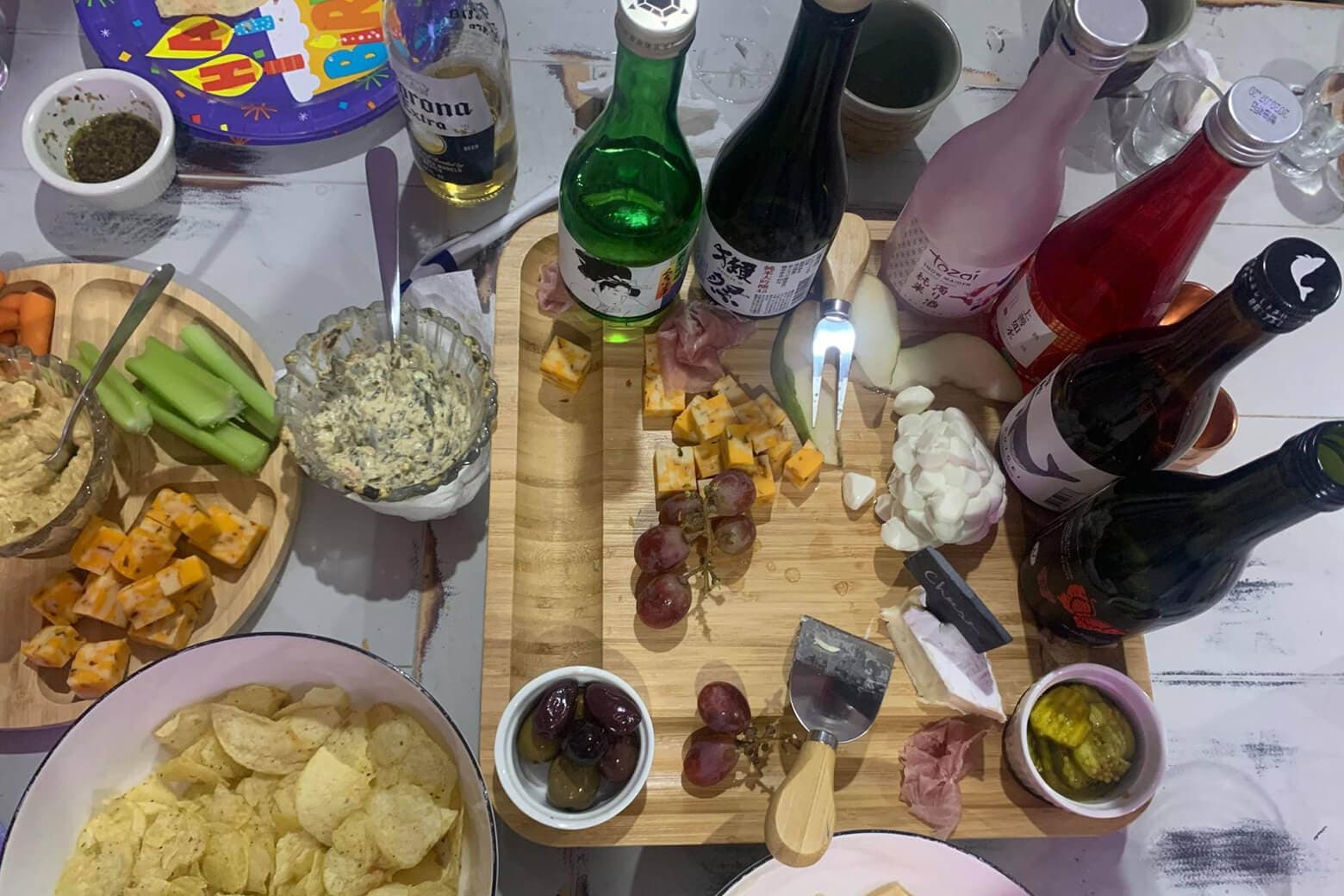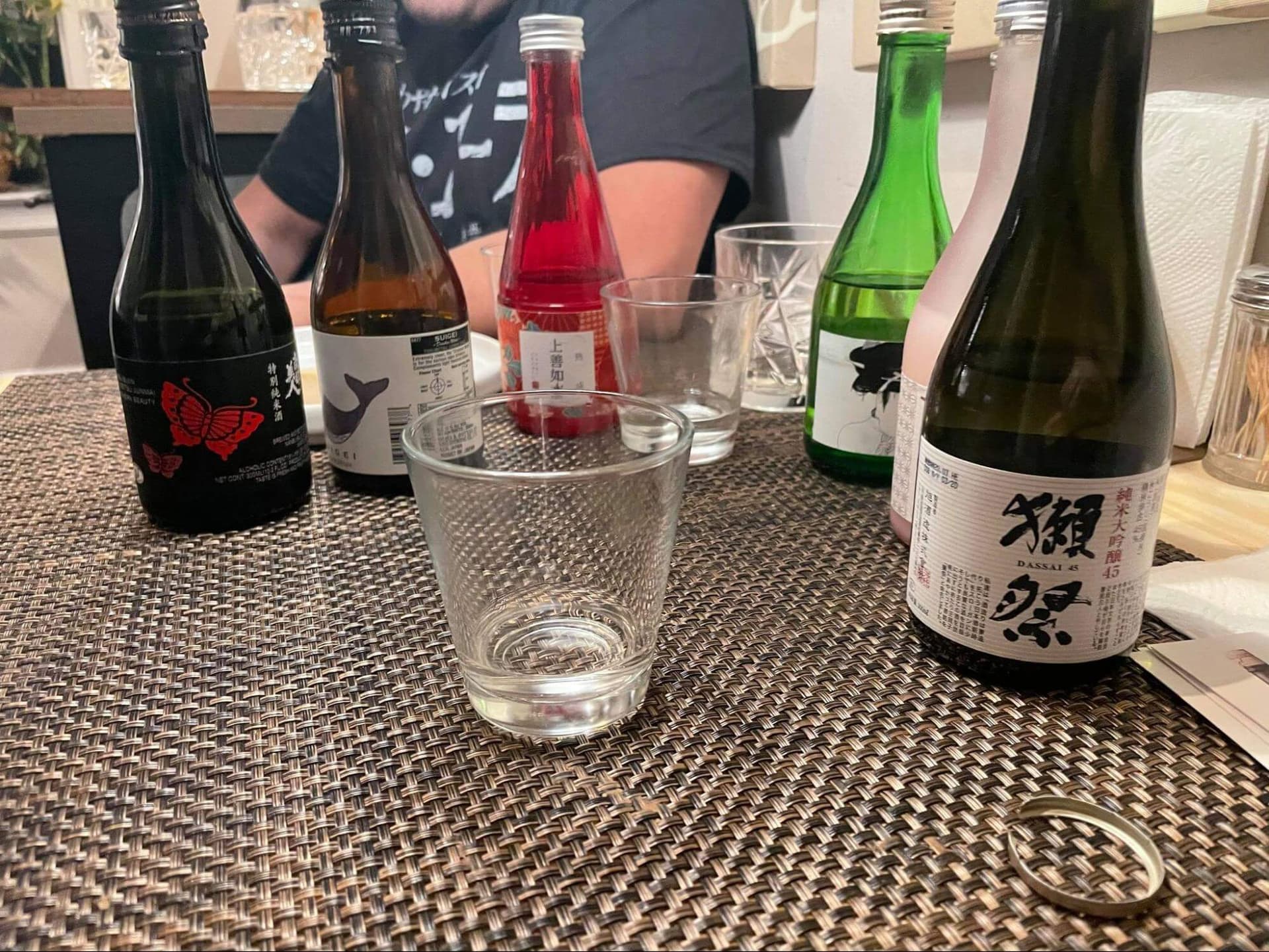 For each Sake Box, Tippsy's sake experts guide enthusiasts through a virtual tasting experience, which we played in the background as we tried the sake. What's most interesting is each individual's experience of sake. We all started with Suigei "Tokubetsu Junmai" (Drunken Whale) which was a true crowd-pleaser and set the mood for the evening. This sake and Tozai "Snow Maiden" (a nigori) were Lorena's favorites, "I could have those with any meal!" Some of us found Kudoki Jozu "Junmai Ginjo" to be a little too sweet, and I was surprised by the mixed reviews of Nanbu Bijin "Tokubetsu Junmai" as this was one of my all-time favorites.
The sake that everyone loved was Dassai "45" and I heard a lot of "Oohs" and "Aahs" through the screen. I couldn't have agreed more: Dassai "45" is like being on a first date that makes a big impression! Our friend Johnny commented that he wouldn't have even known it was sake as it tasted like a cocktail. Why has it taken me all this time to get to Dassai? I see now why it is one of the most popular sake in the world.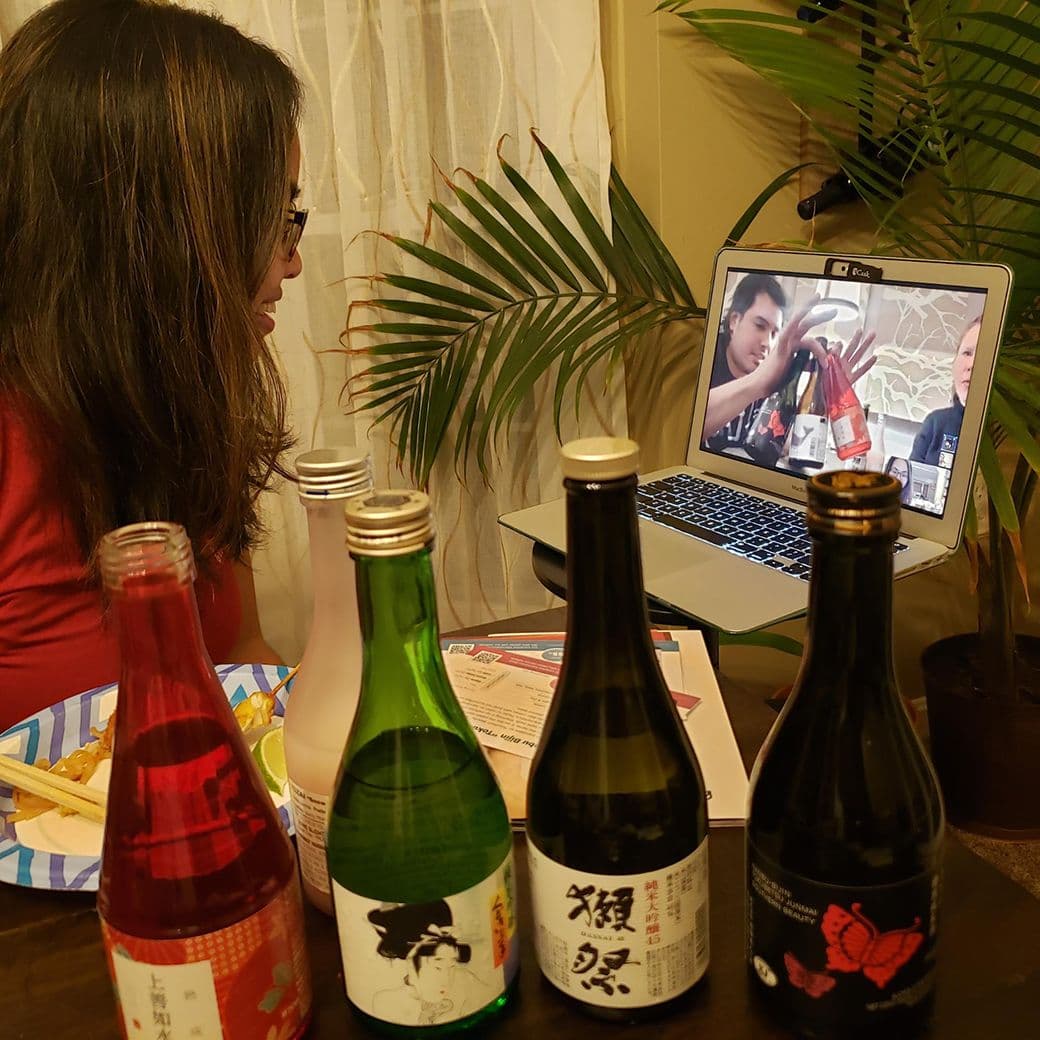 After we tried all the bottles, we shared our ratings from favorite to least favorite. Dassai was frequently in the top two, and it was interesting to hear everyone's preferences. For many of our extended guests, it was the first time they had done an online tasting, and they loved the design of the bottles and were curious as to where they could find premium Japanese sake like these. I loved that I could bring something special to our friends reunion and make new memories even in these pandemic times.
I still had some sake left so over the next few days, I tried a few more food pairings. Because of the wonderful versatility of sake, I know I can go back even to bottles I didn't like initially and experiment with different temperatures and food pairings to find a match that I enjoy. Here are my favorites from the First Box: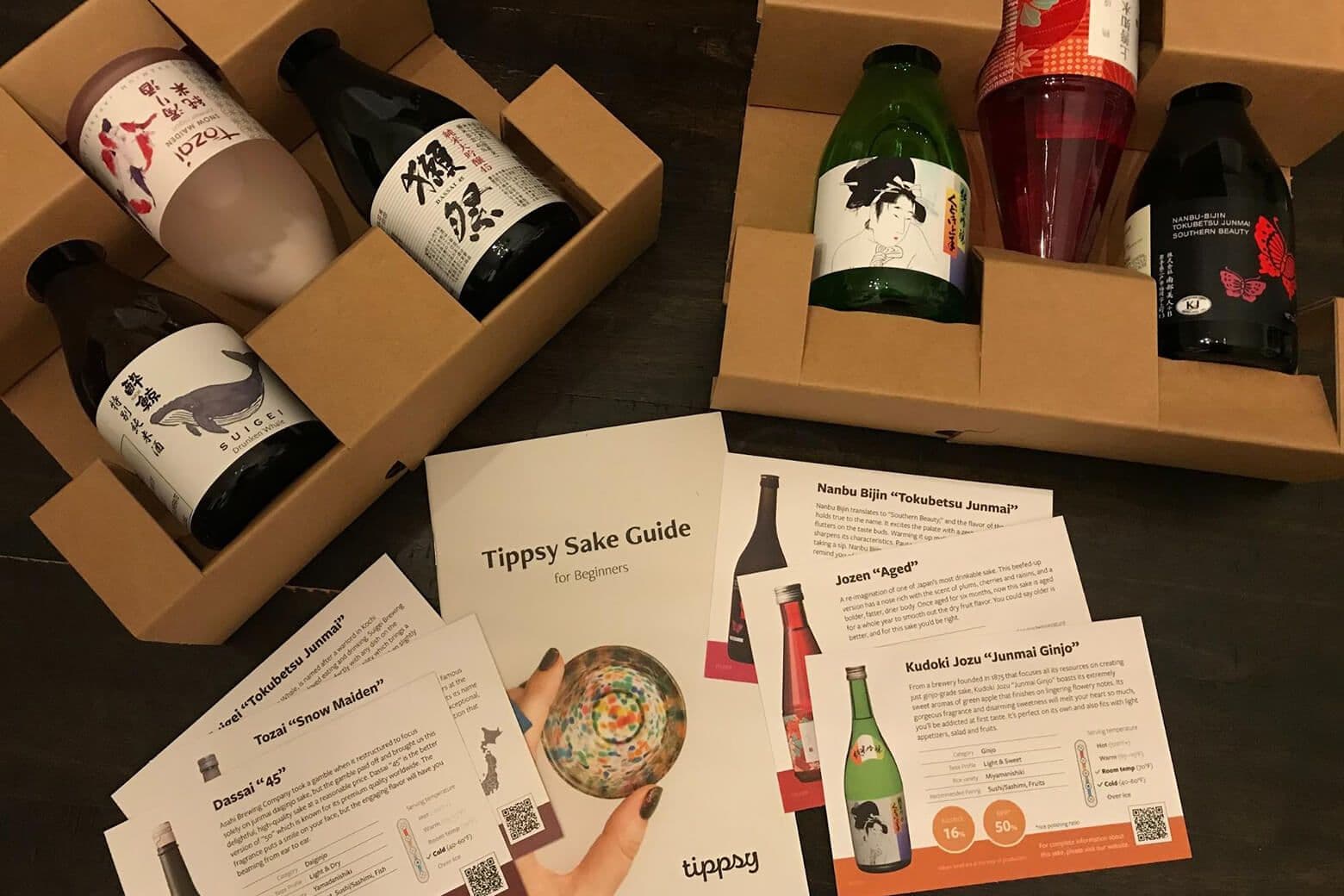 Suigei "Tokubetsu Junmai" and Dassai "45"
It bothers me a little that I could probably take after the "Drunken Whale" and drink Suigei everyday. It's incredibly smooth and balanced, and could be consumed without food. The caramelization of turmeric on roasted cauliflower paired very well with Suigei, and Dassai "45" with grilled steak is smooth as butter or chocolate!
I'm pleased that the Sake Box offered both mini bottles and I plan to stock 720ml bottles on my sake shelf. If you had to choose, I'd say Suigei is an excellent budget choice and Dassai is still very affordable—so get both to impress!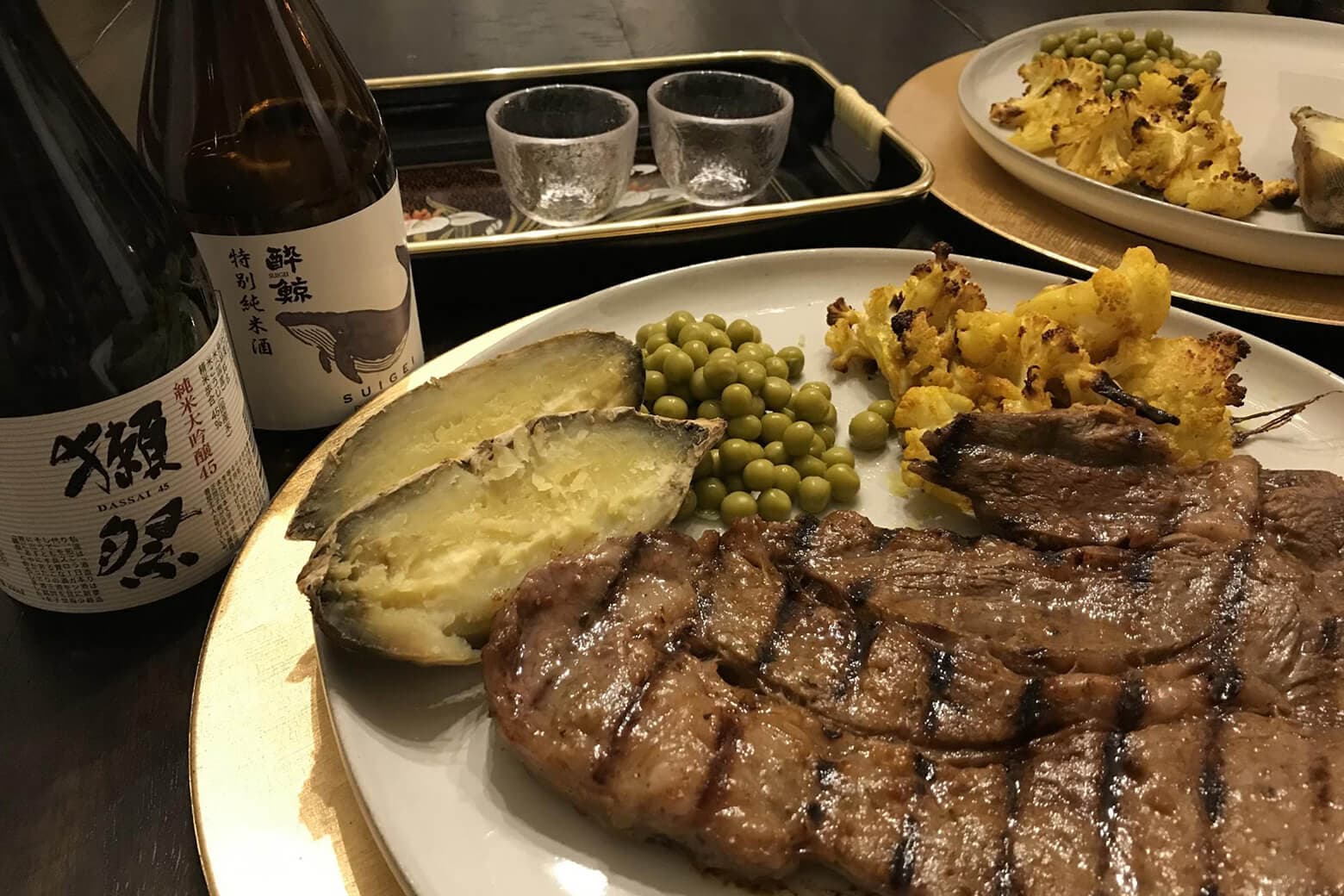 Jozen "Aged"
The vibrant red design of this bottle gave me the impression that it might be too strong, but despite the apparent dry profile, this sake was clearly made of fine water (a well-known characteristic of Niigata Region). We tried this sake with Thai food and loved it with Thai papaya salad. The aged quality did not overpower, but its deep cherry flavor pleasantly cut through the fish sauce taste of the salad, which was very refreshing!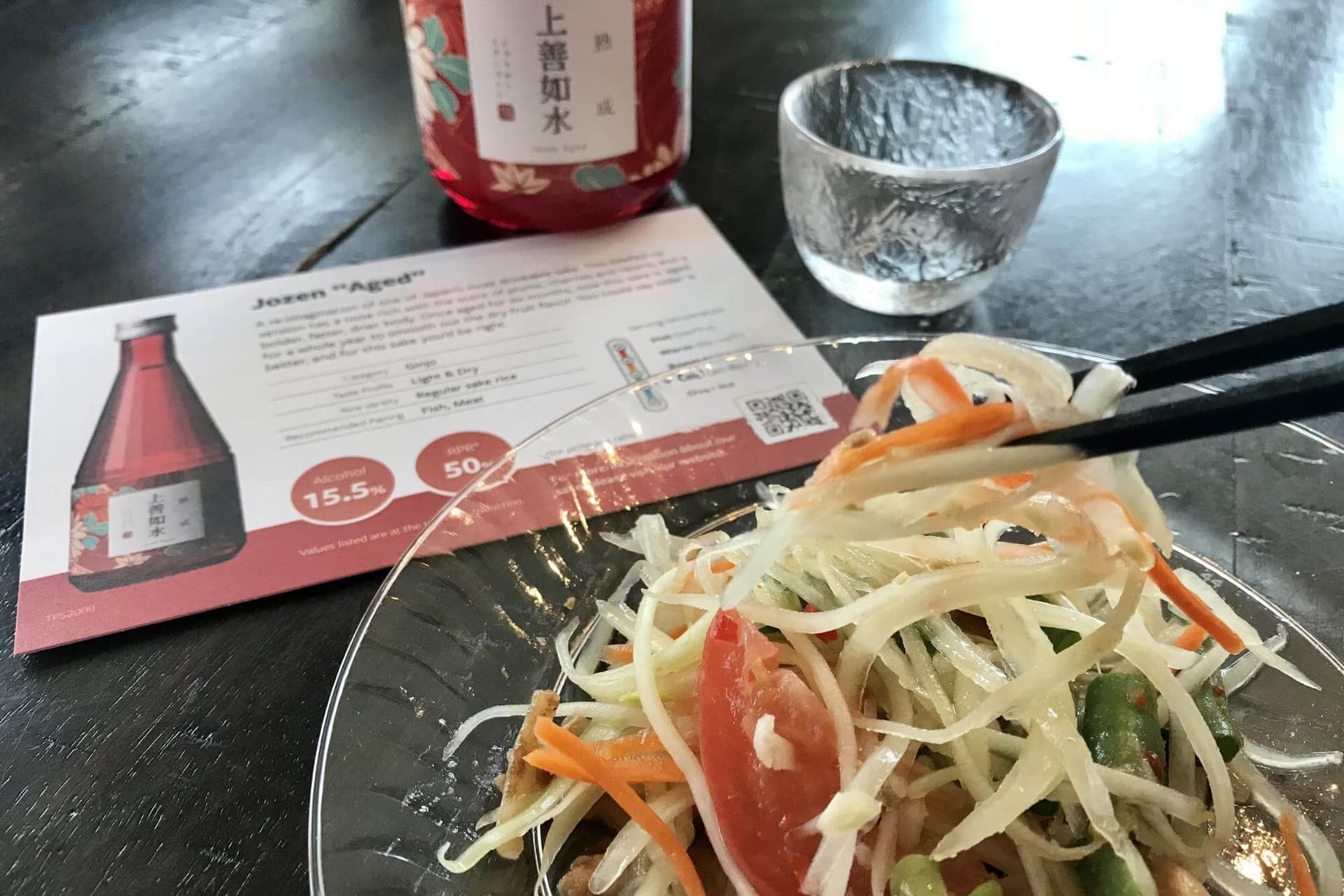 Kudoki Jozu "Junmai Ginjo"
Although I don't favor very sweet sake, after chilling it slightly, I did enjoy Kudoki Jozu "Junmai Ginjo" over an afternoon snack of cheese and fruit. The crackers tamed some of the sweetness for me, too. Fans of riesling or moscato would likely favor this sake.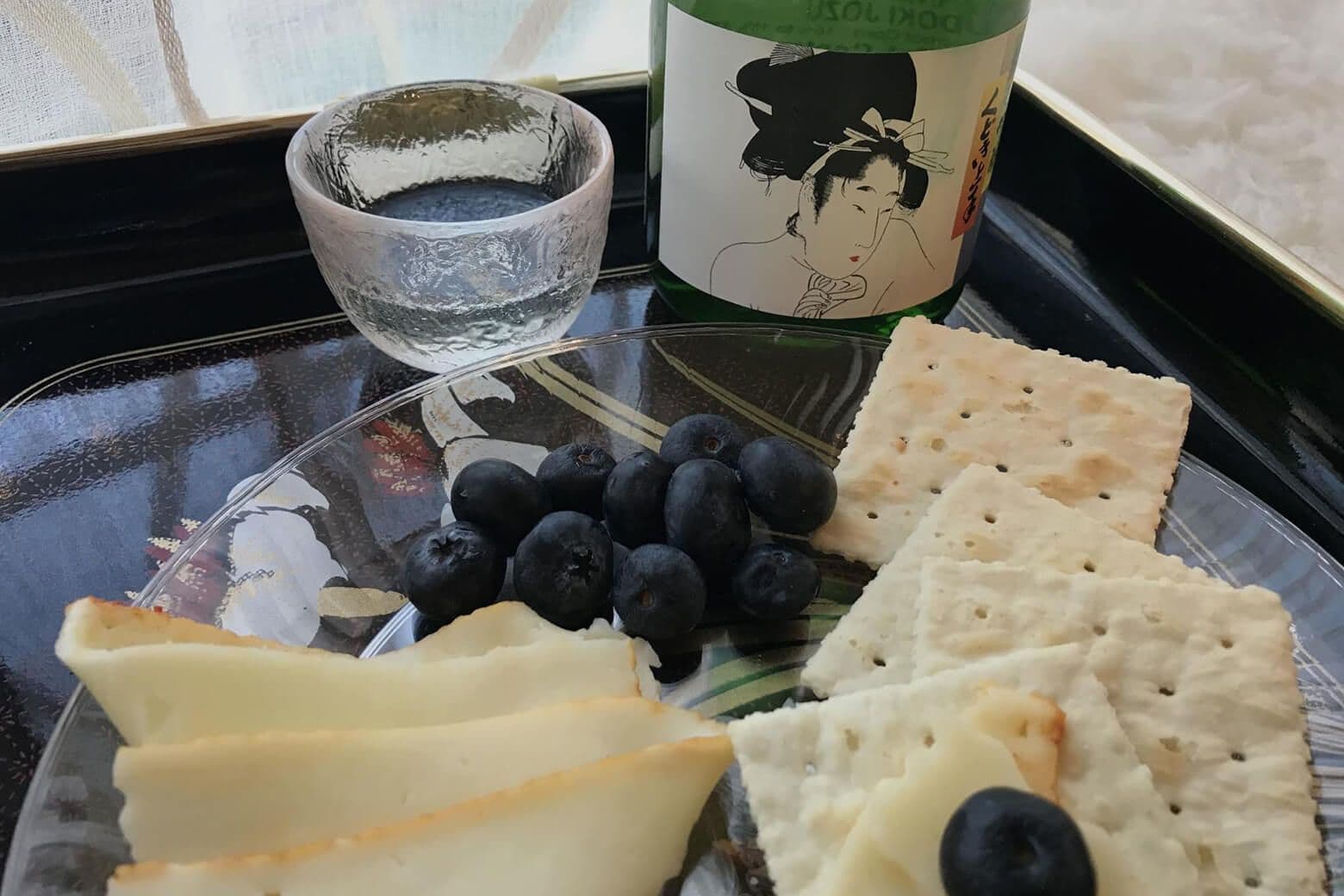 Nanbu Bijin "Tokubetsu Junmai"
Some people believe that sake has healing properties. There is something about Nanbu Bijin's iconic butterfly sake that makes me think so, too. A versatile sake that can be enjoyed at room temperature and warmed, the slight citrus notes and warmth of this sake compelled me to try it with homemade ginger chicken soup with rainbow swiss chard. It tasted pretty healthy to me!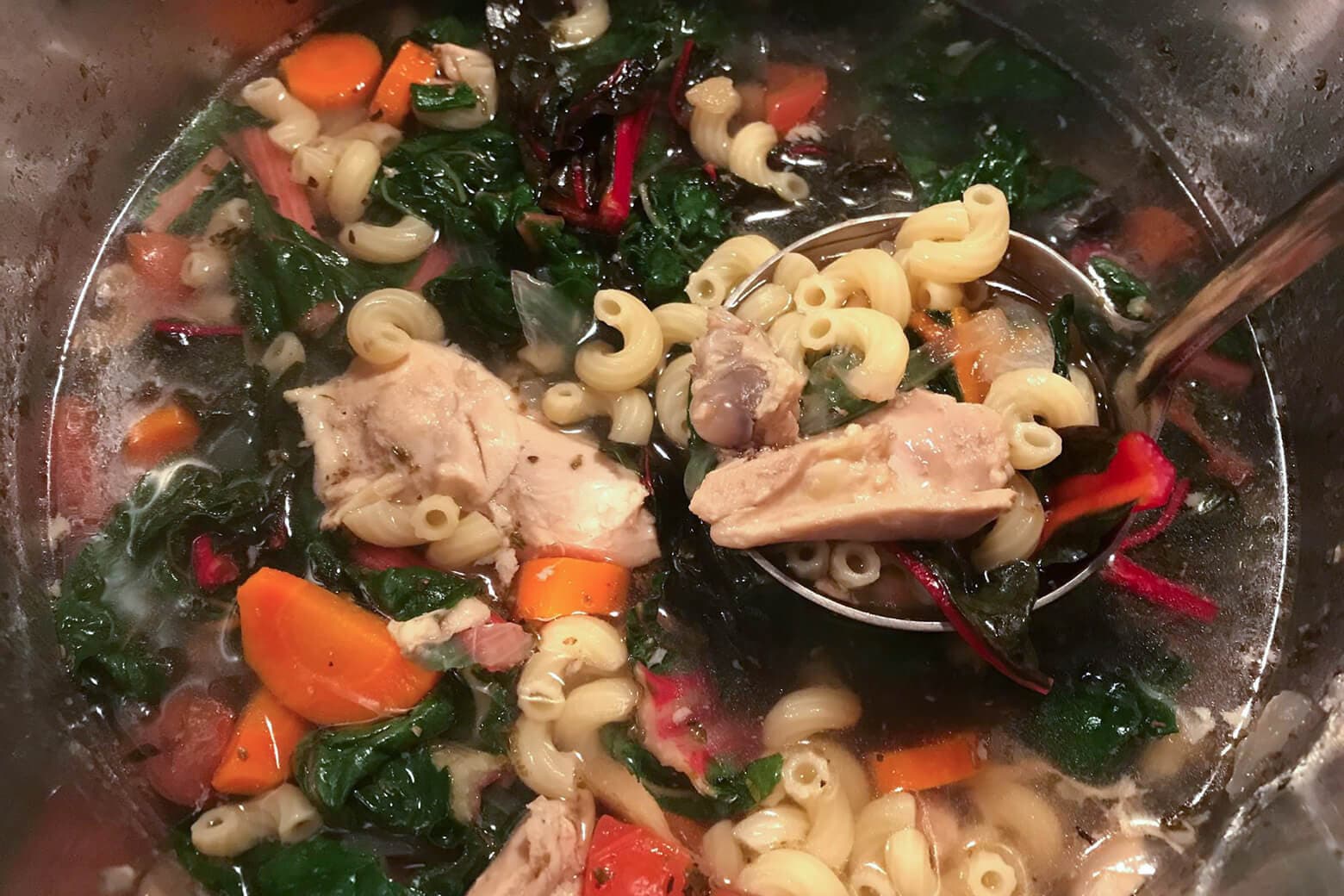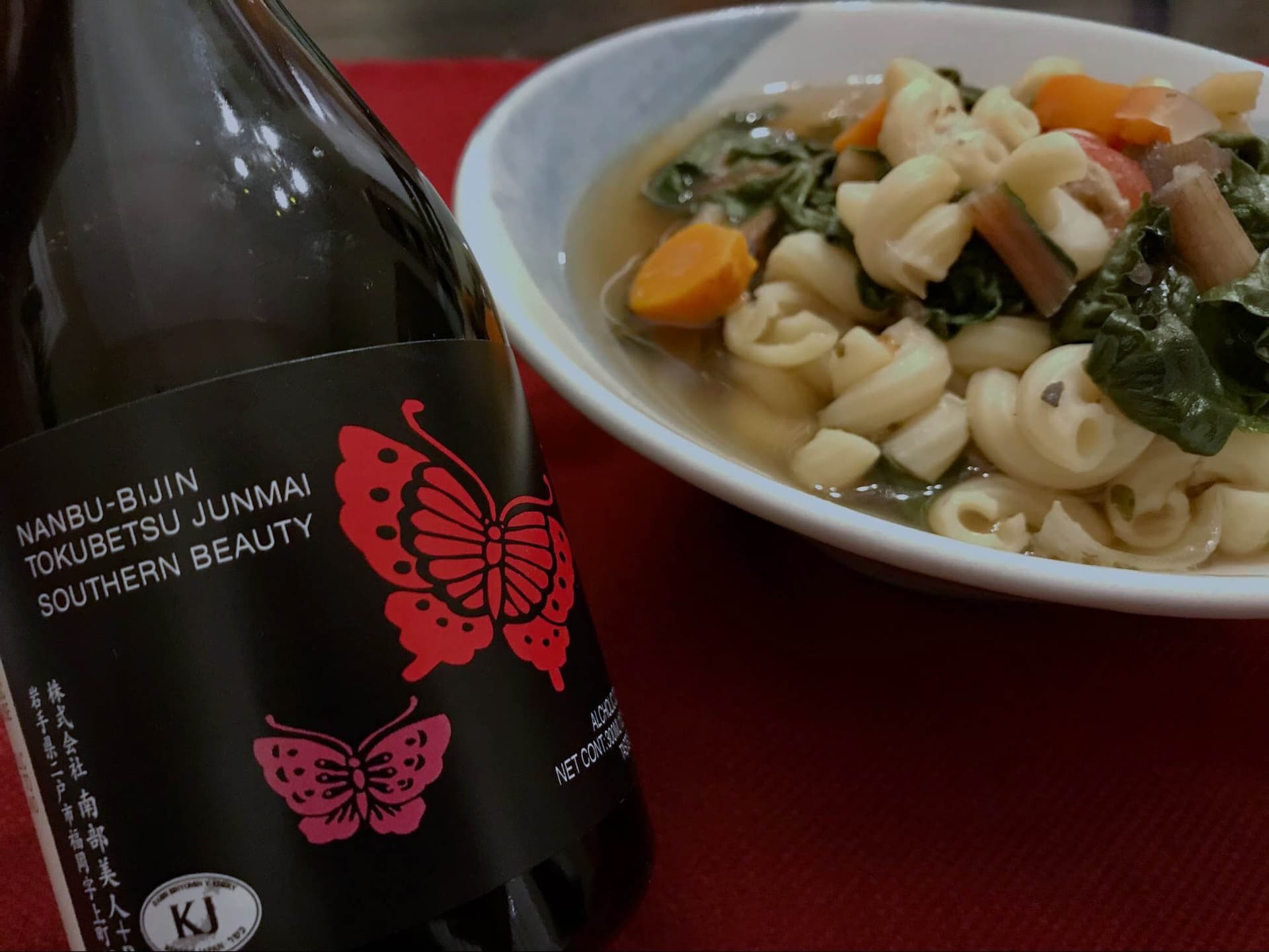 We also tried Tozai "Snow Maiden" with oven-baked crab cakes, and it was delicious! The creaminess of the nigori really helped to mediate the heaviness of the dish. I probably wouldn't have tried nigori-style sake on my own but the Sake Box has been a great way of trying unique sake and keeping things exciting!
Ready for your own virtual party? We'd love to hear about your get-togethers! Share your good times with us #tippsysake!