May rolls along and we find ourselves continuing to do our part to stay safe and healthy by remaining at home. It seemed right to pair this month's sake again with takeout cuisine, which I'm sure we're all enjoying our fair share of. Let's keep supporting our favorite local spots, enjoying it from the comfort and safety of our own homes, and most importantly, let's keep pouring plenty of Japan's finest sake.
Tippsy has brought forth a fantastic and eclectic box this month. In the spirit of improvisation and adaptability inspired by our circumstances, the May selection is paired with all-American fare. The Bagel Factory is a humble shop in my neighborhood that has been continuously open for nearly 50 years. Remarkably, they continue to weather the storm and make a delicious kosher onion bagel with lox, tomato, capers and cream cheese (the King of Breakfasts, in my opinion). Gus's World Famous Fried Chicken has several locations across the country, specializing in Memphis-style spicy fried chicken. Through the pandemic, they have also been providing free meals to children who depend on the daily meal plans of their now-closed schools. It's fun to get a little experimental and creative with sake. Try it with the meals you've always loved and see how it can change and enhance the experience. I hope you enjoy the results as much as I did. Kanpai!
Akagisan "Sparkling"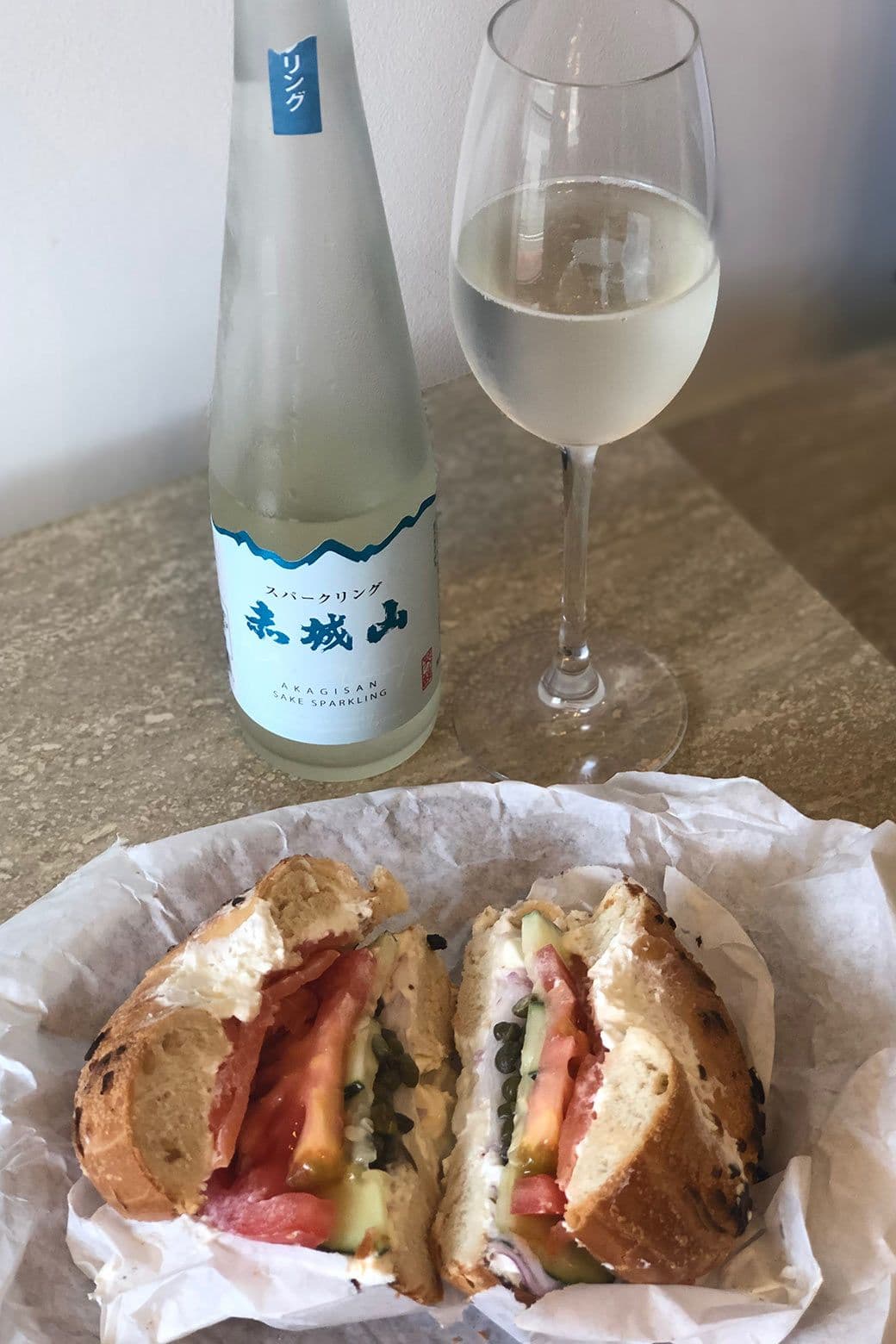 The Akagisan brand comes from Kondo Shuzo, founded 1875 in Gunma. Gunma is one of only eight landlocked prefectures in Japan, and was historically a center for horse breeding and trading; the translation of "Gunma" being something similar to "herd of horses." Kondo Shuzo lies at the foot of Mt. Akagi, the namesake of their brand and the source of the excellent water used for brewing their sake.
The Akagisan "Sparkling" has mellow scents of pear, white flowers and muscat grape. Nothing says "brunch" like bubbles, and Akagisan paired so well with my lox and bagel on a late Sunday morning (or early afternoon, who's counting?). The sake had a salinity that, combined with its effervescence, created a salt-air quality that matched well with the smoked salmon and briny capers and also helped to make an otherwise heavy dish seem lighter. There is a subtle lactic nuance to the mouthfeel that combined with the cream cheese to create a rich roundness. As an alternative to Prosecco of sparkling Moscato, Akagisan would be great for your next brunch party.
Urakasumi "Junmai"
Urakasumi, "Misty Bay," gets its name from a 13th century poem celebrating the beauty of Shiogama Bay in Miyagi prefecture, near where the brewery resides. In the poem, mists rolling into the bay serve as harbingers for the coming of spring, much to the poet's delight. Saura company started Urakasumi in 1724 to provide sake used for ritual purposes at Shiogama shrine, which has existed for over a thousand years. Thirteen generations later, the brewery continues to be a leader in innovation with a renowned commitment to brewing standards and quality, as well as the promotion of sake drinking worldwide.
This junmai is a personal favorite of mine. It transforms remarkably well depending on the temperature it is served at, making it enjoyable in any season. The body is soft and round with a smooth umami finish. There is well-balanced acidity, restraint and elegance. Since I was pairing it with Memphis spicy fried chicken, I drank it cold. There were aromas of ripe mango, oro blanco and tea leaves. A brisk citric sweetness helped balance out the heat. Along with it, I had the classic Southern accompaniments of coleslaw and macaroni and cheese, making this a hearty meal, to which the Urakasumi was a happy companion.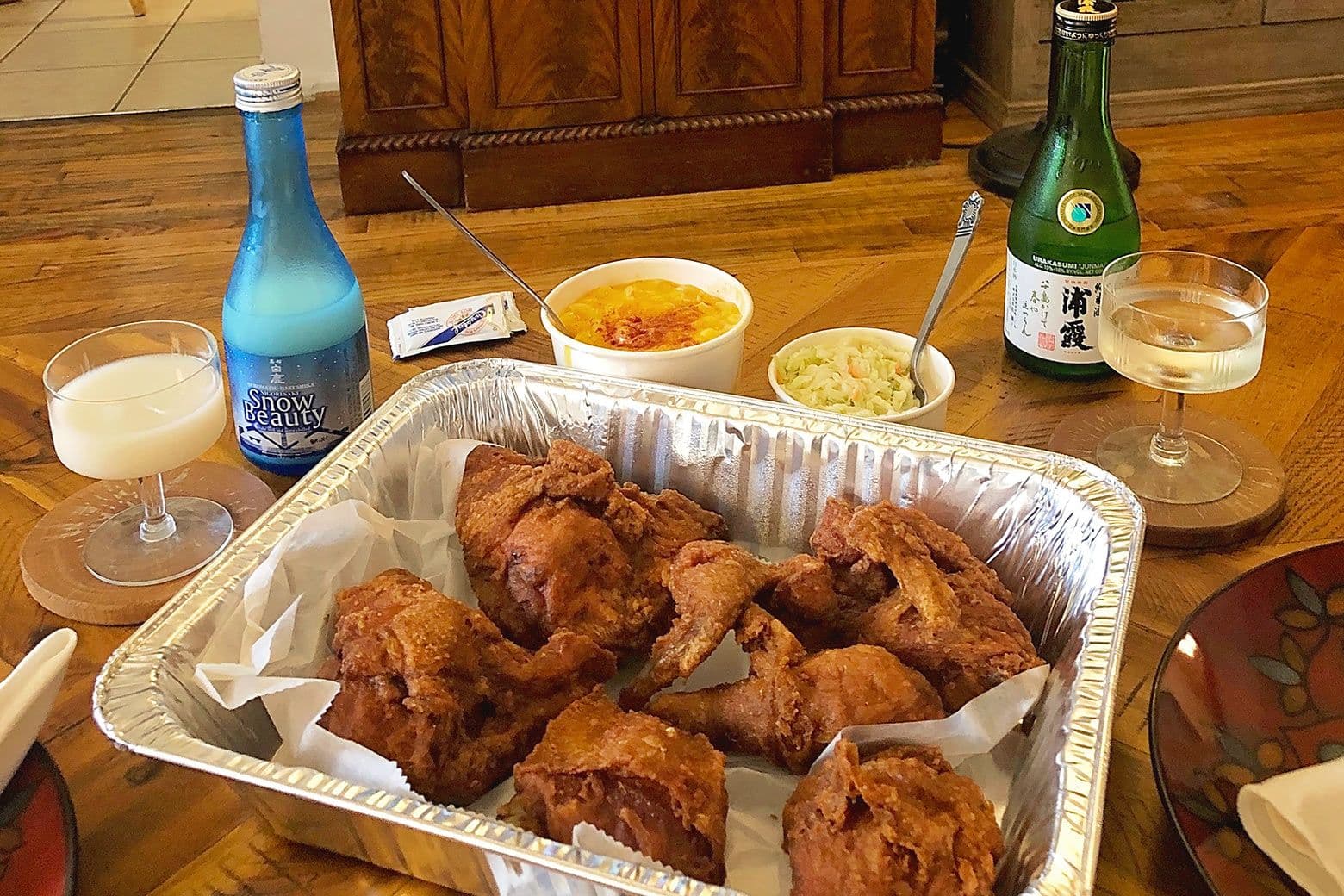 Hakushika "Snow Beauty"
Kichizaemon Tatsuuma founded the Tatsuuma-Honke brewery in 1662, in the Nada region of Hyogo prefecture. Hyogo is the cradle of craft sake brewing in Japan, due to its famous water source, its rice, and its proximity to a major port, allowing its product to be delivered throughout the country. Tatsuuma was a master businessman, and saw potential at this time during a cultural awakening for sake to be a drink not only for nobility and the samurai class, but for everyone. Generations later, after the brewery had grown exponentially, the "Hakushika" brand was born. The name means, "white deer," and refers to a Chinese proverb describing one of the creatures that was 1,000 years old, and came to be a symbol of a long and healthy life.
The Hakushika "Snow Beauty" is coarsely filtered nigori sake. Rich, smooth and relatively dry for a nigori, it was perfect with the spicy chicken from Gus's. By allowing some of the sake lees to remain in the brew, there is a thickness in texture that serves to protect the palate with spicy food. With sake like this, I would say when pairing with food, the spicier the better. It has the fullness of body and a cooling property to serve as a great counterbalance. Although the aromas of coconut, vanilla and tapioca would lead one to think the sake will be sweet, it is so pleasantly dry in taste to match savory dishes. I especially enjoyed it with the sides.