Where: 98 Avenue C, New York, NY 10009
Hours: 5 p.m. to 11 p.m. (Sun-Wed), 5 p.m. to 12 a.m. (Thurs-Sat)
People often seek an authentic Japanese experience when they search for a sake bar, but New York City's Accidental Bar takes the opposite approach. The sake is authentic, and sake sommelier and owner Austin Power (yes, really) takes sake education seriously, but the vibe is decidedly local and anything but serious.
"The motto of Accidental Bar is 'I want more people to drink more sake more irresponsibly,'" Power says. "And the joke there is, if we think about how most beverages are consumed that are popular and dominant in the U.S., there's not a lot of thought that goes into it. It's just here, you just drink it. I think part of that is because people continue to drink kind of the first thing that they've had because they had a good time while they were doing it. And so, what we try to do here is just create that first loving experience drinking sake, so they feel comfortable moving forward in the space."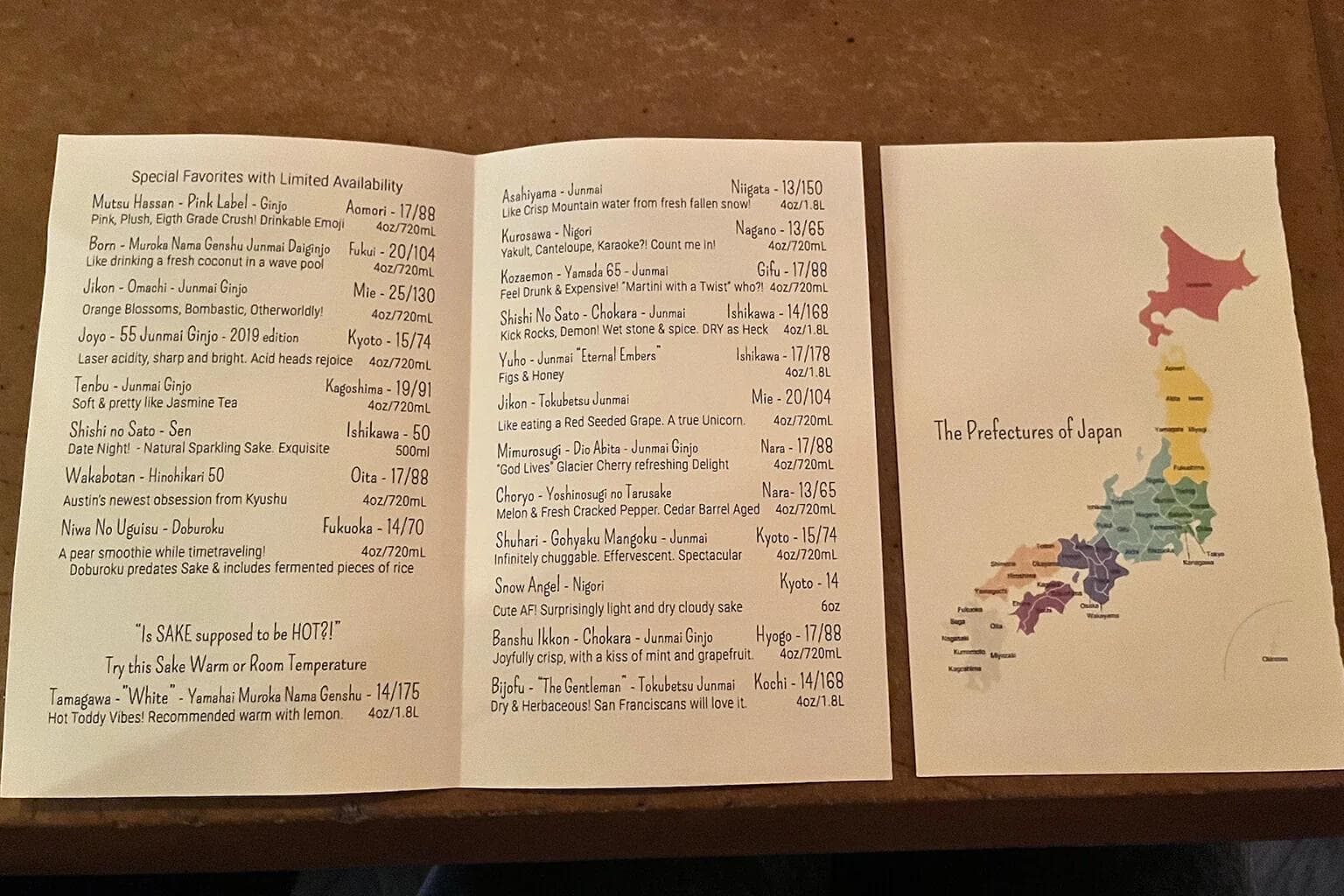 His goal is to make sake fun and familiar, and there are several ways he makes that happen. For starters, he describes each bottle on his drink menu in a language native to him: silly.
"I change my sakes pretty frequently," he says. "I try to keep the list pretty digestible and more compact so it's not super overwhelming, and then all of my descriptions are very stupid. They're just like six or seven perfect words to get you in the mood for what you're drinking, instead of the traditional tasting notes."
To be sure, "Pink, plush, eighth grade crush! Drinkable emoji" is not a traditional way to describe Mutsu Hassen "Pink Label." But does it make you want to try it? Absolutely — and that's the point. It's this amusing, laid-back style that has made Accidental Bar somewhat of a hot spot in Alphabet City. Power's bubbly personality is literally written all over the place, and he doesn't shy away from promoting the most American sake ritual of all: the sake bomb. Although, not the way it's typically done — with the banging and chopsticks — but as a beer cocktail.

"I love the sake bomb unapologetically and so many people judge me for it," he says. "I think it's an absolutely amazing gateway drug for young people to become seasoned sake drinkers. Because you can't drink sake bombs all the time. When we're saying 'create a loving experience,' people who did sake bombs in their youth had fun — that's why they're doing them. So they already have this grain of fun-loving respect for sake, even if it's not yet in the long-form way we'd like it to be. It does a lot more good than people give it credit for."
Another place East and West meet is on the food menu, which consists of small plates whose flavors are just as vibrant as Power is. While I sip on Wakabotan "Hinohikari 50," I munch on assorted homemade (and spicy) pickled veggies — cauliflower, green beans, carrots cut into stars — and a cheese and nori quesadilla.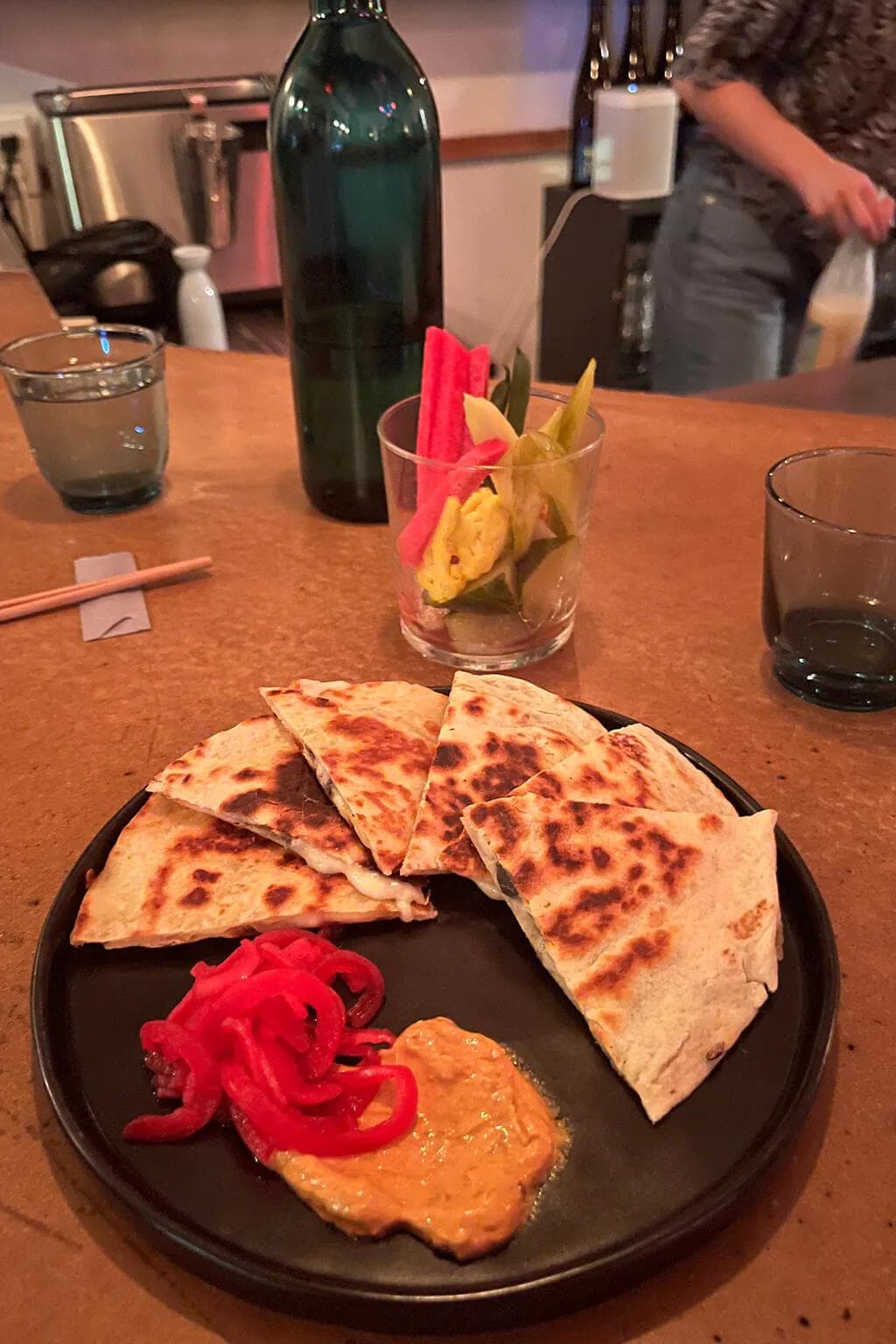 "This is a sake bar, but it's not a Japanese restaurant. And I make that distinction because so many people are used to only having sake in the context of Japanese food or at omakase or these very curated experiences. So our menu is pretty simple. You can look at the food and understand what you're eating. The intention behind that is when something resonates with the sake for them, I want them to take that information home or think, 'Oh, I ate something like this last week. I could've had it with sake.'"
No one should overlook the fact that sake is a firmly Japanese beverage, but for people of other cultural backgrounds to enjoy it, maybe putting it in a more familiar context can be a good thing. The people who come here seem to think so.
"Drinking's supposed to be fun," Power says. "If you're not having fun, you're doing it wrong."