After a long grueling day at the office or wandering across the city as a tourist, perhaps you're ready to sit down and decompress with sake and something to nibble on with friends, colleagues, or by yourself. Where should you go?
Check out an "izakaya" (居酒屋), or Japanese gastropub. Here, both drinks and food are essential aspects of the culture. You'll find a variety of alcoholic beverages, such as beer, sake and shochu, and a menu full of delicious and shareable plates. Some are small and cozy spots with just counter seating. Others are rowdy halls that can accommodate big groups. There are izakaya with tatami seating with a traditional interior, standing izakaya for a quick drink and bite before heading out, and those with Western style table seating. Izakaya come in all shapes and sizes.
While you can find cheap izakaya franchises near train stations and tourist centers, following locals to their neighborhood watering holes or asking a local friend is the best way to find an izakaya.
What is an izakaya?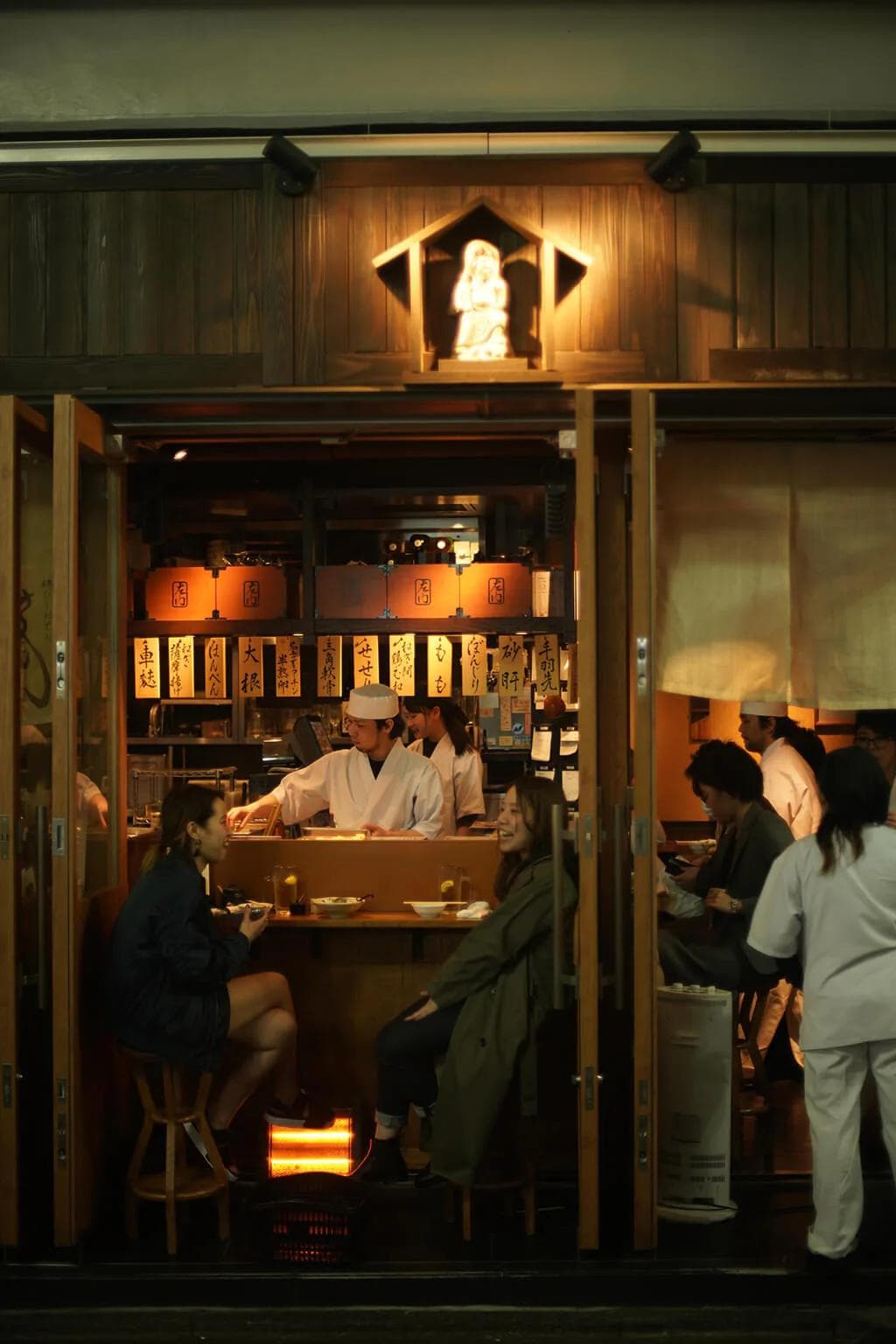 Izakaya are casual and unpretentious eateries that focus on conviviality and socializing rather than formal dining. The cozy and intimate atmosphere makes them a popular destination for after-work gatherings, group meals and socializing with friends. To fully explore sake and Japanese gastro-culture, as well as make new acquaintances, check out an izakaya during your stay in Japan!
The word "izakaya" consists of three kanji characters for "stay," "sake" and "shop." That alone already gives you an idea of what to expect in an izakaya. Drinking culture began to flourish in Edo (the feudal name for present-day Tokyo) during the Edo period (1603-1868). Eating out was a daily occurrence, as the city attracted young male workers with high pay and employment opportunities. Sake stores would sell sake by "masu" (square wooden boxes used as a measuring cup) and offer appetizers to entice drinkers to prolong their stay.
What's the difference between izakaya and restaurants?
It's a little tricky to describe the difference between izakaya, bars and restaurants. You could say that the purpose of an izakaya is to drink alcohol with food, whereas you don't necessarily need to drink at a restaurant, and you may not find full meals at a bar. While you do not technically have to drink alcohol at an izakaya, you may receive a stern look if you don't order a drink.
However, like a restaurant, you can expect a variety of alcoholic drinks and food (hot and cold) on the menu. While you can assume that izakaya usually offer Japanese fare, there is another type of izakaya that serves fusion and non-Japanese cuisine.
Izakaya etiquette
Here are some things to remember when you enter an izakaya:
Wipe your hands with the "oshibori" (wet towel that may be hot or cold, depending on the season) once seated. This is to cleanse your hands. While you may see some Japanese men using it to wipe their faces, please respect the restaurant and use it for your hands only, especially if it's a cloth oshibori!
A server will take your order for drinks first and then take your food order.
Don't forget to say "kampai!" ("cheers" in Japanese) and clink glasses before taking a sip.
When ordering your next drink, it's courteous to ask around the table if anyone else is also interested. Give your empty glass to the server to prevent your table from crowding with empty vessels. (Learn more about sake drinking etiquette.)
Some izakaya allow smoking and e-cigarettes indoors. Check with your server first before pulling out your smokes.
If you do not prefer to inhale smoke with your meal, ask your server if you could be seated away from the smokers, or you may have to give up your seat and head to a smokeless izakaya.
Lastly, don't forget to pace yourself and stay hydrated! While you can easily forget the time and how many glasses you've downed during your meal, drink water along the way!
What are otoshi/tsukidashi?
"Otoshi" (お通し) or "tsukidashi" (突き出し) are small appetizers that are served almost immediately once you sit down so you have something to nibble on with your drink while you wait for your food order to arrive. It includes a seating charge of about $3-$5 (or more at a fancy izakaya), which is a common practice in Japan. While you may encounter izakaya that explicitly say "No otoshi/tsukidashi," expect an extra few hundred yen added to your final bill. Please do not fight this fee with the izakaya.
Types of Tokyo izakaya and where to find them
Skip the chain izakaya with their bold neon signs and check out where the locals and weary office workers drop by after hours for a quick drink before heading home (or staying until the wee hours of the morning). Here are just a few of the thousands of izakaya across Tokyo.
Yokocho (izakaya alleyway)
"Yokocho" (横丁) are back alleys crammed with little bars and eateries that serve a range of of fare. They tend not to have doors or partitions separating the drinkers from the street, so you can peek in. Yokocho are perfect for hopping around; in fact, it's encouraged! Make sure to go with only one or two friends, as many eateries are tiny and cannot accommodate big groups.
Hoppy-Yokocho ホッピー横丁, aka Nikomi-Yokocho 煮込み横丁
Where: 2-3-19 Asakusa, Taito-ku
Hours: open 24 hours
If you plan to visit Asakusa for Sensoji temple and the shops that line the street, check out Hoppy-Yokocho, aka Nikomi-Yokocho. The backstreets of Asakusa are lined with eateries, tables, and day drinkers with plastic tents to cover them from the natural elements.
"Hoppy" refers to a carbonated beverage with a beer-like taste (technically, it's not considered beer due to its 0.8% ABV, but it's a substitute that was popular when beer was expensive). It's often mixed with shochu, similar to a sake bomb in the U.S. It's also known as Nikomi-Yokocho, "nikomi" referring to braised dishes of offal and meat cuts — a specialty in the eateries.
Omoide Yokocho 思い出横丁
Where: 1-2 Nishi-Shinjuku, Shinjuku-ku, Tokyo
Hours: open 24 hours
Omoide Yokocho is formally the site of an open-air black market that thrived during the post-war period. It's a super narrow street lined with about 60 eateries. You'll notice a nostalgic, retro feel with the red paper lanterns that adorn the entryways, the smoke from the shops grilling yakitori and meats, and various delicious smells — all of which stand in contrast to the high-rises and hyper-modern buildings that dominate the cityscape just outside.
Toranomon Yokocho 虎ノ門横丁
Where: 1-17-1 Toranomon, Minato-ku, Tokyo
Hours: 11 a.m. to 11 p.m.
For a trendy and modern spin on yokocho, check out Toranomon Yokocho, located in the rapidly developing area of Toranomon. Here, you'll see 26 affordable eateries from Michelin-starred and celebrated restaurants in Tokyo. Check out the on-site distillery pouring craft gin and beer; small bites from Spain, Thailand and Taiwan; as well as ramen, gyoza and hot pot. So leave some space in your stomach when hopping to the next restaurant.
Kaku-uchi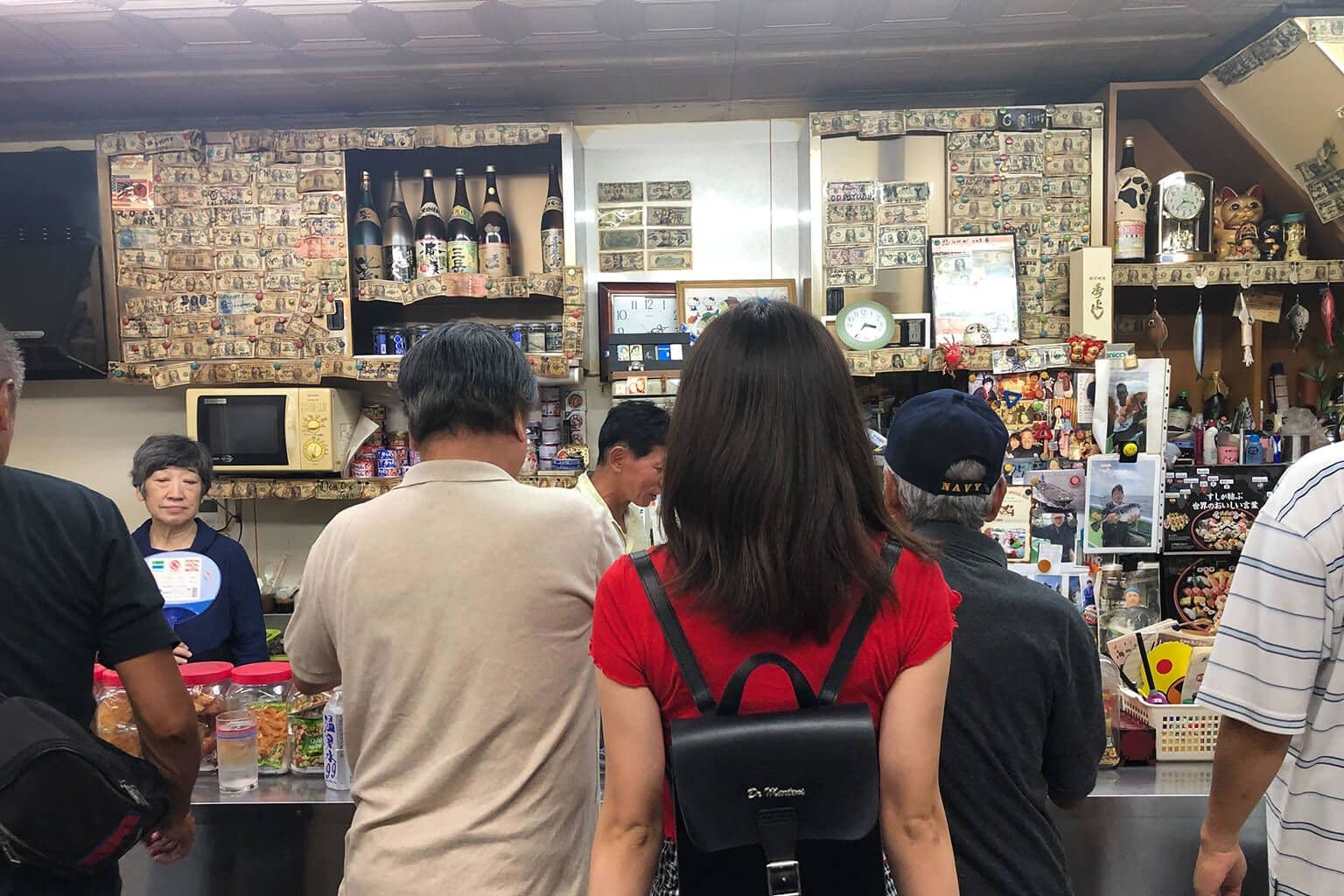 "Kaku-uchi" 角打ち is an alcohol store with a standing bar (like some of these best bars in Tokyo) that serves sake by the glass. The food tends to be simple and no-frills, like dried or canned foods, but the casual vibe is excellent for exploring different varieties of sake. If you like a particular sake, you can buy the bottle to take it home.
Shubiduba 酒美土場
Where: 4-14-18 Tsukiji, Chuo-ku, Tokyo
Hours: 10:00 a.m. to 8:00 p.m. (Mon-Thur, Sun), 10:00 a.m. to 10:00 p.m. (Fri-Sat)
If you're eating your way through the Tsukiji fish market or shopping in the luxury district of Ginza, don't forget to make a detour to Shubiduba to explore the 250 varieties of wine and 15 types of sake by the bottle, and at least ten varieties of each available by the glass. They also offer a "nomikurabe" set (sake flight) if you want to sample their recommendations. If you're feeling peckish, they allow you to bring food you purchased at Tsukiji.
Tasting Bar Shibataya Shuzo Honten Tasting Bar 柴田屋酒店 本店
Where: 5-3-11 Chuo, Nakano-ku,Tokyo
Hours: 11:00 a.m. to 10:30 p.m. (Mon-Sat, holidays), 11:00 a.m. to 10:00 p.m. (Sun)
Travel off the beaten path to Shibataya Shuzo Honten, a third-generation liquor store and standing bar in the cozy neighborhood of Nakano. You'll see an impressive lineup of imported wine, sake, and ten types of house-brewed beer. Don't forget to make space for a bistro-inspired menu.
Taishu sakaba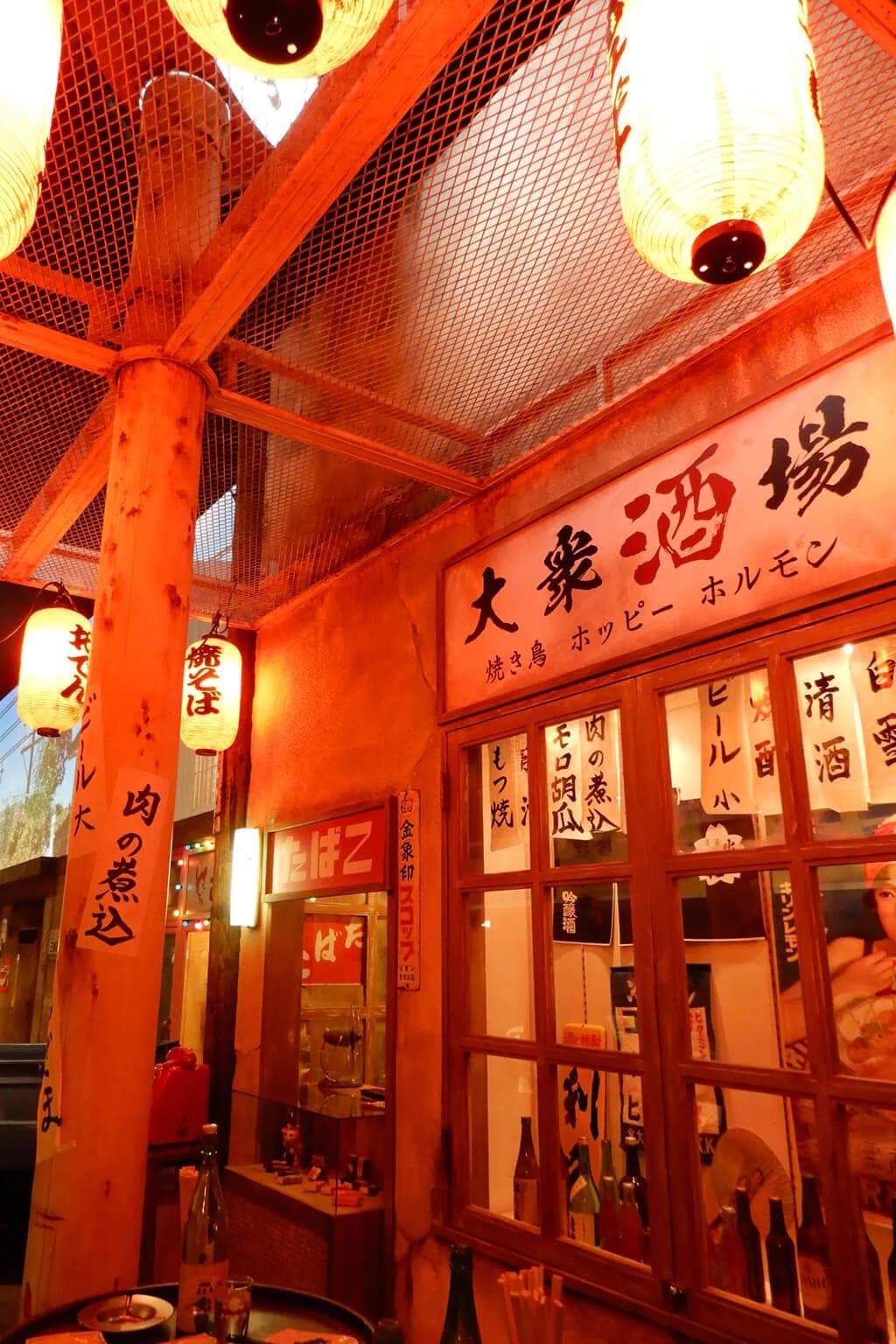 "Taishu sakaba" 大衆酒場 is an eatery with cheap eats and drinks with an old-school feel. It means "the people's drinking place," and was a general term for denoting no-frills establishments catering to blue-collar workers. The nuance differs slightly from izakaya, and many use the two terms interchangeably.
However, there's been a rise in retro taishu sakaba with decorations from the '80s and '90s that are not only photogenic, but a time-traveling experience. It usually attracts the millennial generation, although it's open to all ages.
Taishu Sakaba Beetle 大衆酒場
Where: 1-23-7 Higashi-Gotanda, Shinagawa-ku, Tokyo
Hours: 4:00 p.m. to 1:00 a.m. (Mon-Fri), 2:00 p.m. to 1:00 a.m. (Sat-Sun)
Gotanda isn't a destination point for most tourists, but the office and residential area is packed with small izakaya and eateries, providing solace and comfort for the office workers. Taishu Sakaba Beetle looks like any other drinking tavern, but the operating company owns a handful of successful eateries. It offers everything from offal stew to cold cuts and grilled skewers, and drinks such as lemon chu-hai (shochu cocktail), craft beer, high-balls and more. It has that nostalgic feel of a bygone er,a but with a modern spin to the menu.
Mimasuya みますや
Where: 2-15-2 Kanda-Tsukasamachi, Chiyoda-ku, Tokyo
Hours: 5:00 p.m. to 10:30 p.m. (Mon-Sat)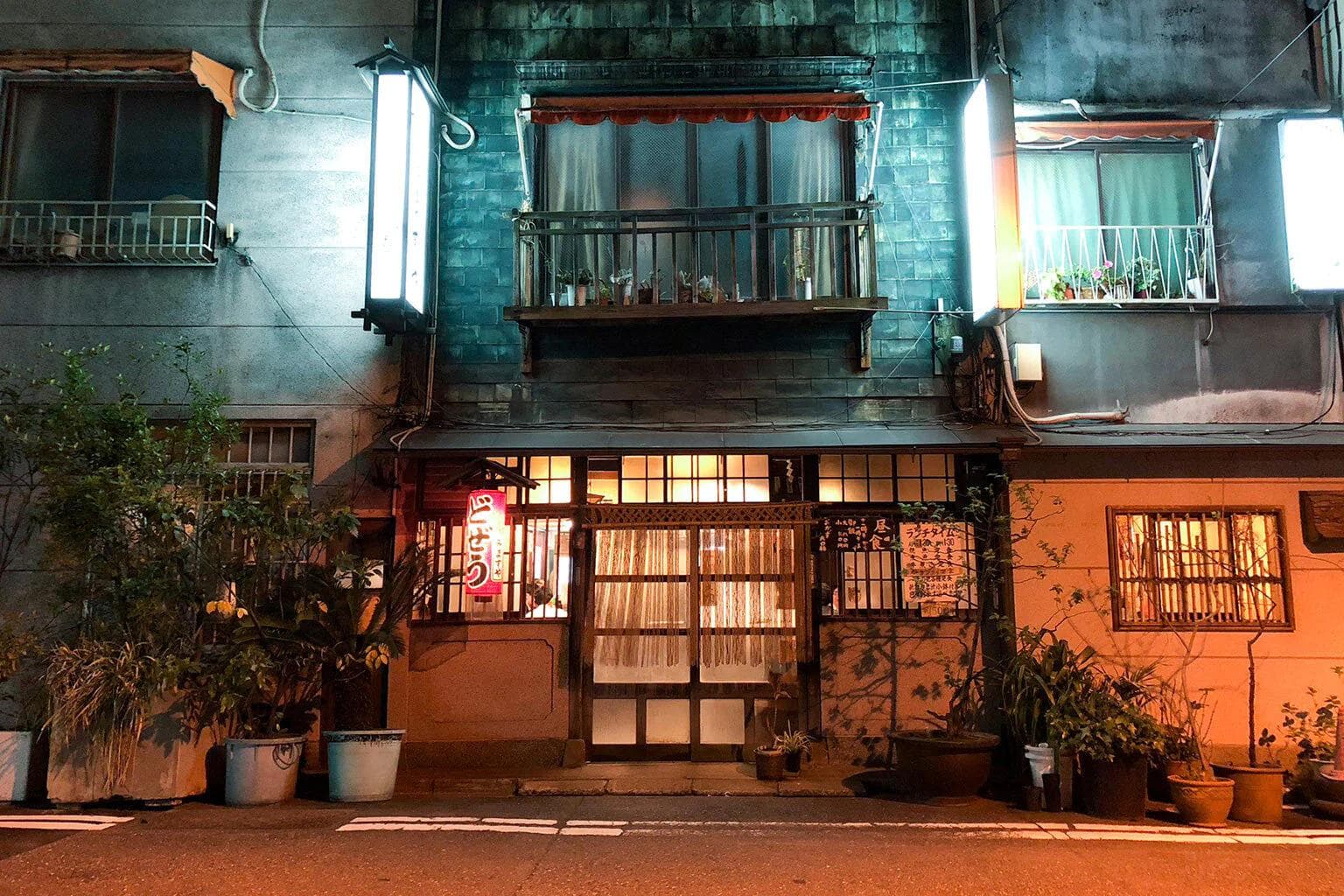 For a real time-travel experience, check out Mimasuya, a traditional izakaya in the Kanda neighborhood. As one of the oldest izakaya in Tokyo (opened in 1905), it survived the air raids during WWII thanks to loyal customers who put out the fires. You'll notice the red lantern in the entrance with the Japanese characters どぜう, an old-school way of noting どじょう or loach fish, which is a specialty of Mimasuya.
It's still run by the third-generation owner, who handwrites the menu hanging on the walls. The menu offers sukiyaki, horse meat sashimi, simmered loach (an Edo period specialty), and various old-school izakaya and homey dishes.
Follow the locals and your instincts to find the best izakaya for you!
While it's hard to come up with a "best list of izakaya" due to the sheer volume of izakaya scattered across the city, and new establishments popping up all the time, just remember that izakaya are where friends and strangers gather to eat, drink and be merry over good food and sake.
Resources:
Chihiro, Yuuki. "What is the origin of izakaya culture? Appearance of the former Gosanke 'Yoronotaki,' 'Tsubohachi' and 'Murasako' [Izakaya history]." DIG-IN, SHOWCASE-GIG, 2020.
https://www.showcase-gig.com/dig-in/izakaya-2/

Rath, Eric C. "Drinking in Tradition: A Short History of Izakaya." SAKETIMES, 2021.
https://en.sake-times.com/learn/a-short-history-of-izakaya

Shimizu, Maho. "3 Reasons Why Izakaya Were Born and Developed in the Edo Period." Urban Life Metro, 2021.
https://urbanlife.tokyo/post/71841/

Terrasson, Nicolas. "Izakaya: the Japanese Tavern." Gochiso History.
https://gochisohistory.com/izakaya/