Bringing Sake to New Audiences
Jessica Joly is bringing sake to new audiences around the country with her passion, energy, and extensive knowledge. Based in New York City and well-known in the sake world, she became the first "Miss Sake USA" (2016) and is a certified International Sake Sommelier by SSI and WSET Sake. As Marketing Director for Sake Discoveries, she works with some of the industry's top clients and restaurants to spread sake awareness through events, branding and education. In Part 1 of our interview with Jessica, we talk about her creation, "Soul of Sake", and her adventures in pairing sake and food.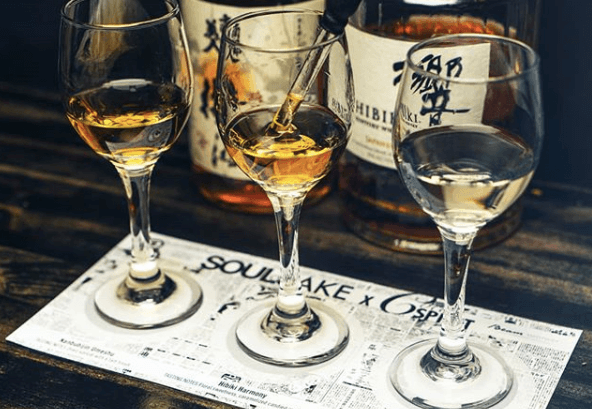 LA: What inspired you to create an event like Soul of Sake?
Jessica: I started Soul of Sake about five years ago. For so long, I noticed that people were shooting sakes and wondered why they wouldn't sip it like whiskey and wine. I thought that I should create an environment that relaxes people and gives a sense of nostalgia, and I always found that soul music brings people back to their childhood and family.
LA: How does it work? Do you curate a playlist?
Jessica: Everyone resonates with Otis Redding or Aretha Franklin and other soulful artists. So I created a late-night program where I paired soul music and sake, and the menus would be records where I would pair the song lyrics with flavor profiles of sake. It was a really fun experiment that became so much more.
LA: Bringing together something very Japanese with something very American is quite appealing. What's your clientele like for Soul of Sake?
Jessica: It captures a new audience; some who are already interested in sake, others who are interested in soul music. Currently, I do Soul of Sake Happy Hour, which is a weekly program so I don't get to pair the lyrics as much anymore because it's so fast-paced, but when I was doing the late night program, we would get a bunch of different people of all ages. People were really interested in enjoying the environment, the music, and the value of the different kinds of sake.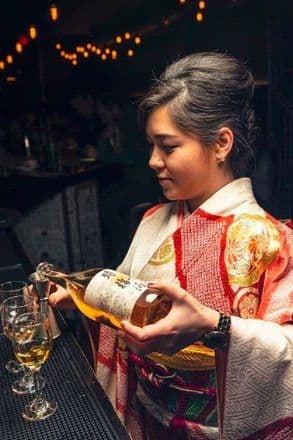 LA: What is Happy Hour like?
Jessica: With the Happy Hour, I pair a different kind of sake with oysters each week.
LA: I love oysters!
Jessica: Exactly! Oysters is such a New York thing and everyone goes for dollar oysters, but no one was doing it in the sake world. With Soul of Sake Happy Hour, you get a glass of sake plus three oysters for $12.00. It's great! And it entices industry people to come. People stop by for a drink and it's a great place to network between chefs or for those in the beverage industry to meet people and just hang out.
LA: That's a really great deal and so much fun--especially for a Monday! What has been the most difficult challenge in opening up minds to sake?
Jessica: People are still intimidated by it; they don't want to try it or they think sake is harsh or strong in flavor. But I think it's really about navigating them towards finding something that they like. We try to say, "Maybe you don't like those clean, crisp styles, but try the plum sakes, try the yuzu sakes. Try something different." I would say that 90% of the time, they weren't aware of these other flavor profiles. It's about breaking down boundaries.
LA: Yes! There's just so much to try with sake, and that's why we offer the Tippsy Sake Box. The three bottles are like sake flights that give people a chance to find something they enjoy. What other sake do you find people enjoy most?
Jessica: It really varies so it's kind of hard to answer. I have tons of people who come in saying they like dry sake because the idea of a white wine, maybe a Sauvignon, is dry with high acidity. But many times with sake what you get on the nose is completely different from what you get on the palate.
LA: So interesting!
Jessica: Simply saying, "I want something dry" doesn't really exclude all the other kinds of sake. There's sake that's fruity with a dry finish, but then they'll say, "Oh, but I don't want sweet." But just because a sake is fruity doesn't mean that it's sweet. So it's tough! But something that's crisp and clear, like Hakkaisan, is a popular intro sake. I always tell people who've never had sake to start there because it's a great starting point.
LA: I really like Hakkaisan, too. It was one of the first sake I've ever tried and very enjoyable to drink. Another sake I tried as a beginner is Nanbu Bijin Tokubetsu Junmai, and I was surprised at how good it was served warm. Can you recommend other sake that can be served at warmer temperatures?
Jessica: Generally speaking, for warm sake, it's best if they're fuller-body flavor. On the label, if you see key words like kimoto or yamahai, those are different types of brewing methods. Those sake are very versatile in that they're great to be enjoyed warm or hot. My personal favorite is Daishichi Kimoto.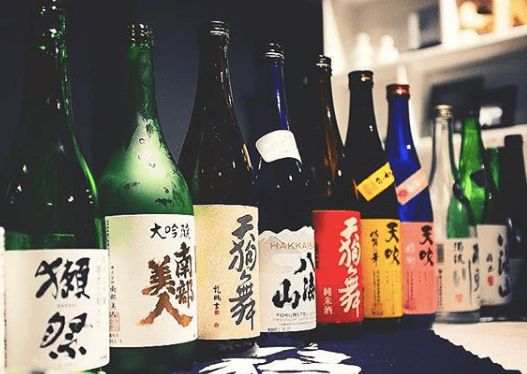 LA: You've also recommended an experiment that calls for starting with a chilled sake and letting it sit in room temperature so that you can taste it at different temperatures. Could you tell us more?
Jessica: Oh yeah! My favorite sake to do that with customers is Tengumai Yamahai. That's the "Dancing Goblin", yamahai style. What's really funky about that one is if you serve that to guests chilled, you get the mushroom and earthy notes, but when you leave it out on the table and it touches room temperature, you get more of the savory and earthy finish, which really starts to open an aroma. That is really the beauty of sake! It's so versatile and you can really enjoy the changes in temperatures.
LA: That must be such a surprise for the guests!
Jessica: It is pretty surprising! I always say, if they're drinking the sake from a wine glass and it's chilled, to try that first, and then cup the glass so it kind of warms up and within about 30 seconds, they can see the change in aroma and flavor.
LA: I can't wait to try that!
Jessica: Some positive things about sake that's not commonly known: There's no preservatives, sulfites, or tannins. It has a lot of health benefits and amino acids. So, I'm not telling people to "Go chug your sake!" but I'm saying there's different ways to approach this if they're scared or intimidated by the flavors and want to just "shoot it". I think if I told them exactly what I told you, they'd actually be in shock that they didn't know these things existed.
LA: Right. These days, consumers really look at ingredients and how it affects their health, so that's really good to know. Let's talk about sake and food. There's a lot of common pairings but I was wondering if you've tried sake with other cuisine like Vietnamese or Filipino food.
Jessica: Absolutely! One of my personal favorites is Amabuki Strawberry. It's a unique sake that uses flower yeast, and that one is specifically strawberry, but it has quite a dry finish. It's pretty aromatic on the nose of juicy strawberry. That sake is amazing with sweet and sour flavors like Tom-Yum soup and spicy dishes like Vietnamese food. It's so wonderful with those kinds of fish flavors and spices. Even with tacos! Those lime, citrus flavors and meat, is wonderful. Whenever you feel in doubt, go with Hakkaisan. My boss and I always like to experiment: What if you put a little bit of lime in the sake? To enhance those flavors. Something as simple as that makes it more accessible and approachable. I love the idea of pairing Western food with craft sake, and not to shy away from pairing with other kinds of cuisine--Vietnamese, Chinese, Thai food--which is all great with sake.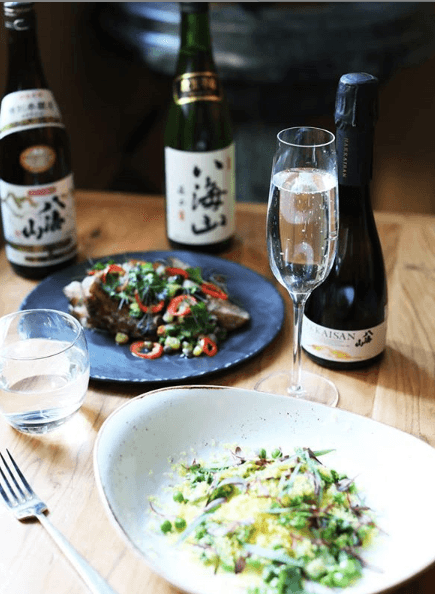 LA: I'm so excited to try these recommendations! Can you recommend a flight of sake for beginners to try? One would probably be Hakkaisan, which you've mentioned.
Jessica: It's a really good starting point. Timothy Sullivan calls it "magic water," so if you can't appreciate the magic water, you might not like that clean and crisp style. I think the second one would be Nanbu Bijin Tokubetsu Junmai. Whenever I go to a friend's place, I always pick this bottle. It's so aromatic on the nose with pear and orange peel--something that everyone can resonate with--but it's also quite dry which makes it food-friendly and super accessible. And the price point is good.
And I think putting a funky-style sake is great, too, like the Tengumai Yamahai that I was talking about earlier because it appeals to drinkers who like whiskey and bold reds, like Cabernets, those full-body, earthy, savory flavors. For a flight, you want to offer three different flavor profiles.
LA: Perfect. I'm planning to host a sake party and will definitely keep these bottles in mind!
- This interview was shortened and edited for clarity.- Jessica Joly is the inaugural Miss Sake USA, International Sake Sommelier by SSI and WSET Sake and the Marketing Director for Sake Discoveries. Enjoy her sake selections and oysters at Soul of Sake Happy Hour, every Monday from 6-8pm at Sakamai NYC.