Everyone knows that New York City is incredibly diverse and extremely densely populated. Still, I was profoundly surprised when I saw the size and diversity of the crowd attending The Joy of Sake in New York on Friday, June 16, 2023.
The line to enter the Metropolitan Pavilion for this three-hour drinking spectacular elicited a very unusual "woah" from me. As someone who has spent practically half her life in the city, there is really not much that throws me anymore. But as I stood in line and subsequently entered the convention space, I was impressed. People of all walks of life were here just for sake: Black, white, brown; wearing casual summer clothes, traditional Japanese yukata — even kilts! After speaking with other fellow sake enthusiasts, I discovered that some had made the trek from such faraway states as North Carolina and Mississippi.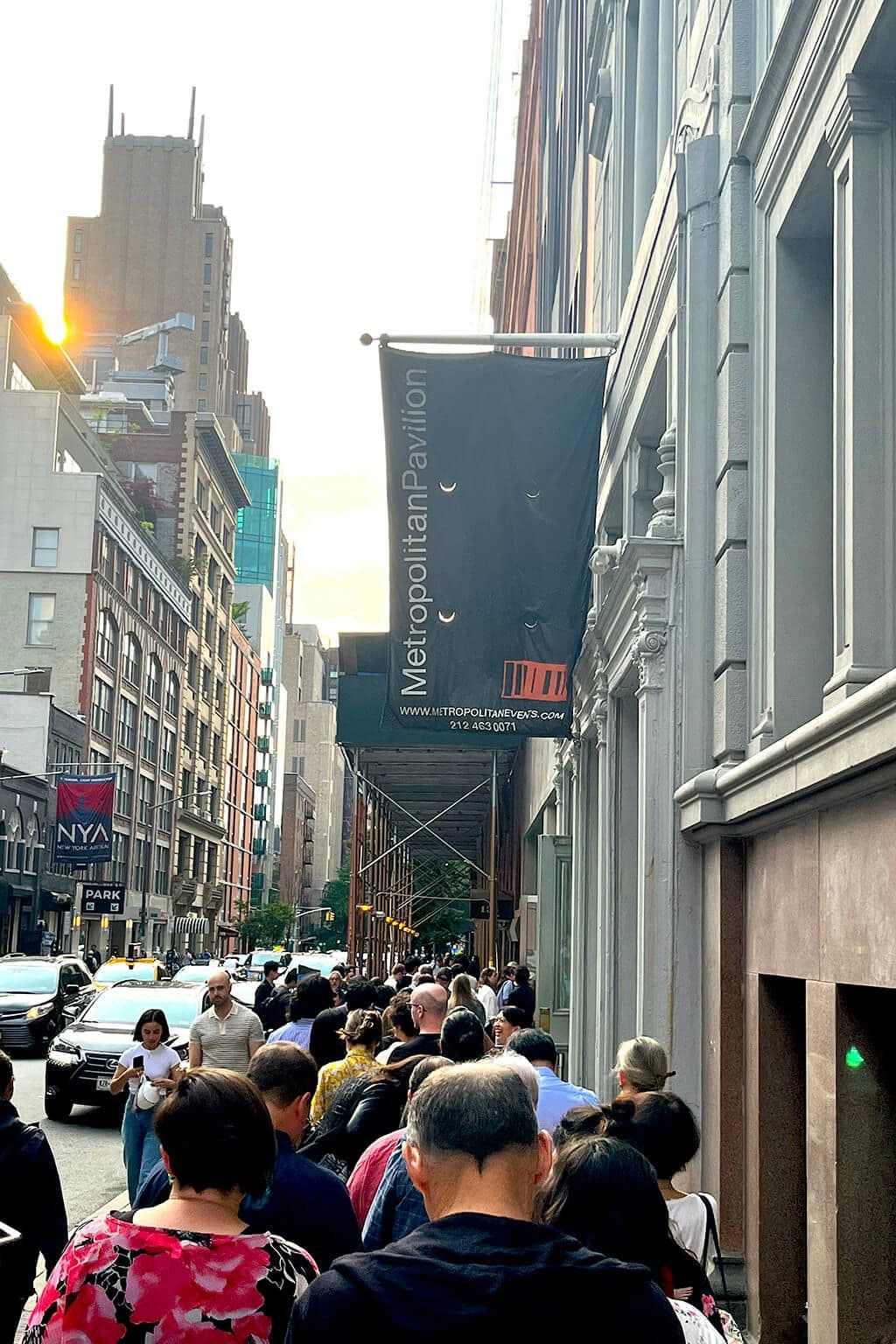 I was moved and strangely proud of how much attention Japan's national beverage was receiving. Trying to spread awareness of and love for sake in the States can sometimes seem like an uphill battle, but The Joy of Sake opened my eyes to just how much progress breweries, sommeliers and other sake professionals have made.
What is The Joy of Sake?
Launched in 2001, The Joy of Sake is now the largest sake tasting event outside of Japan. It occurs every year in both New York and Honolulu, giving U.S.-based sake lovers the exciting opportunity to taste hundreds of sake that have been submitted to the U.S. National Sake Appraisal for judging. This particular event consisted of 576 entries.
Several giant, rectangular tables took up the center of the pavilion, each consisting of seemingly endless rows of sake bottles. Mesmerized and admittedly feeling a bit like a kid in a candy store, I made a beeline for the closest bottle and began making my way down the line. After about five labels in a row, it quickly dawned on me that this was not the correct approach; I'd either get so drunk I'd pass out, or I'd simply burst from overindulgence. Luckily, there is a system in place to help eager tasters such as myself avoid those outcomes.
Bottles are separated by category: junmai (70% RPR or less), ginjo (60% RPR or less), daiginjo B (50% RPR or less) and daiginjo A (40% RPR or less). Each label's name card is also marked to indicate gold award winners ★ and silver award winners ☆. This system makes it easy for attendees to sample sake based on accolades and preferred style.
I also employed the not-too-scientific strategy of tasting sake I'd never seen before, sake I knew of but hadn't tried yet, as well as high-end bottles I'm not likely to sip again until a holiday or birthday comes around. As a fan of Born "Gold," I was eager to try Born "Wing of Japan," which is a beloved bottle that I've not yet had occasion to try. Sometimes you wonder if a drink can live up to its price tag, but as soon as I put the cup to my lips, all questions were washed away by an enveloping floral aroma and pristine taste that made me feel as if I were blissfully strolling through a peaceful meadow.
Another unique sake I tried was Tamagawa "Time Machine" 1712, a "koshu" (aged sake) that we had only just added to our catalog at Tippsy. Its intense amber hue is matched by its sweet, rich, mead-like flavor, which lingered on my palate with the taste and texture of honey. It's an intriguing reminder of how vast the sake spectrum really is.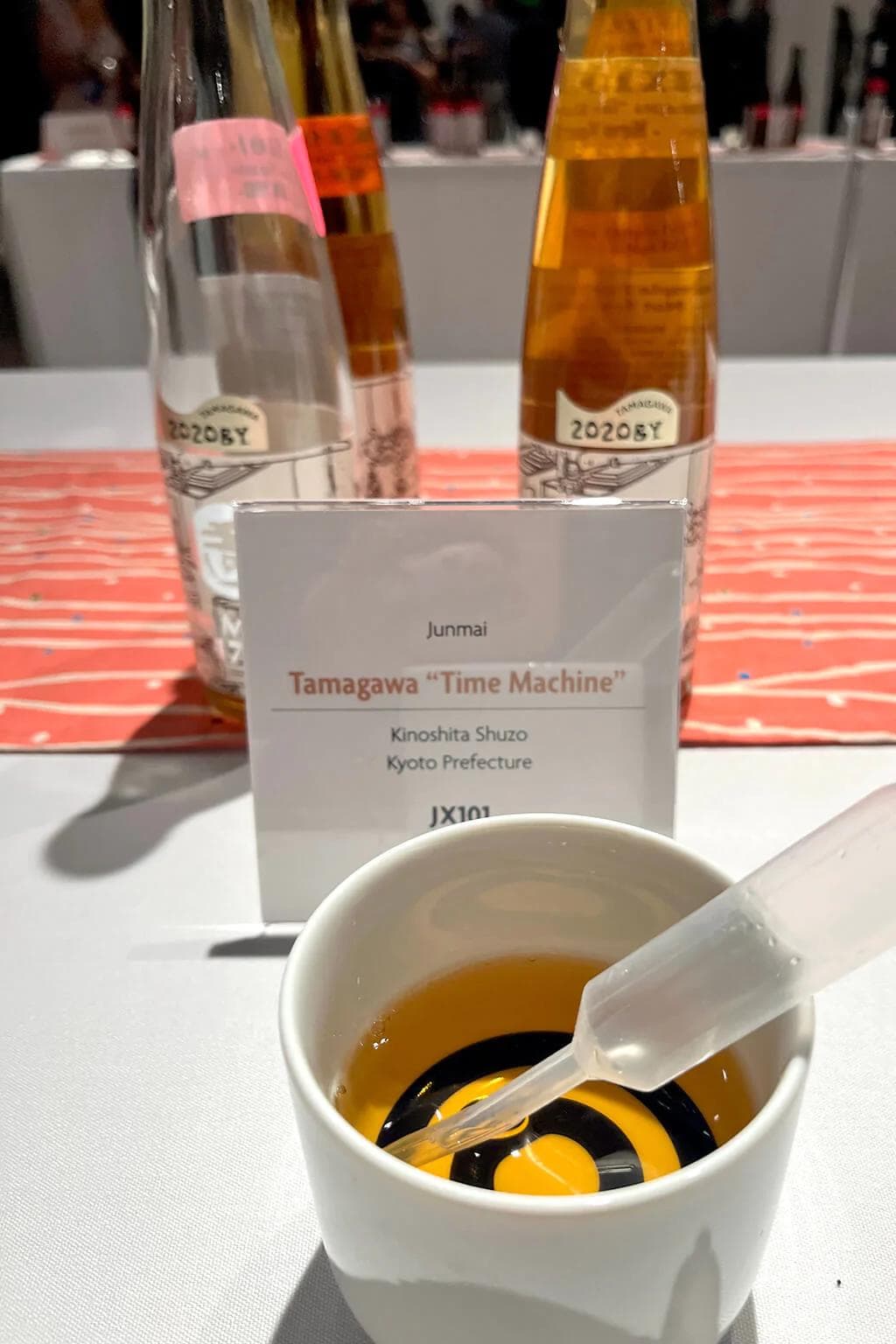 Feeling the need to have something solid in my stomach, I made my way to one of the local food vendors set up along the perimeter of the pavilion. The booth for 75 Degrees Cafe and Dessert won my attention with their black sesame cheesecake and bunny-shaped hojicha pudding. (I am not a cheesecake person, but it was so undeniably delicious that I ate the whole slice.) Fifteen other restaurants, including Juban, Rule of Thirds, Sakagura and more, were also serving specially curated bites ranging from miso-simmered Wagyu beef to tuna tacos. (Visit JoyofSake.com for a full list of vendors.)
But my favorite part of the event — besides seeing familiar faces from Accidental Bar, Tokyo Record Bar, and other local sake institutions — was Brooklyn Kura's "shizuku" (free-drip sake) display. This type of sake is precious because it takes a long time to collect, so it was amazing to see in person. Tasting this shizuku version of Brooklyn Kura's "Number Fourteen" instantly transported me out to sea, where the spray of waves and a warm breeze flooded my imagination.
Takeaways
In the end, The Joy of Sake event in New York reaffirmed my admiration for all of these devoted people doing what they love. Although helmed by different people, the driving principle behind The Joy of Sake and Tippsy Sake are the same: We believe all it takes is one sip of really good sake to open people's hearts and minds. And if I could add my two cents, extraordinary sake are the ones that go beyond taste; they take you somewhere else entirely.